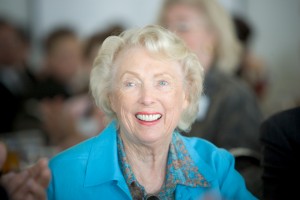 Marion Knott, the last surviving child of Knott's Berry Farm theme park founders Walter and Cordelia Knott, has died at her home in Newport Beach at age 92.
She is survived by her husband, Anthony Montapert, two children, four grandchildren, and three great-grandchildren.
She was born in 1922 on the family's berry farm in Buena Park. After working as a waitress in her parent's restaurant, she helped her parents develop the theme park.
Knott's Berry Farm was sold to Cedar Fair in 1997, but Marion Knott stayed active with philanthropic endeavors. She funded the Marion Knott Nursing Education Center at Hoag Hospital, and her generous donations to Chapman University's film department led the school to name it the Marion Knott Studios.
As an Adjunct Professor at Chapman University, I learned of Marion Knott's death last Friday when Bob Bassett, Dean of the Dodge College of Film & Media Arts, sent an email to the faculty:
"This is a very hard email for me to write, but I wanted you to know that Marion Knott passed away in her sleep last night. Words can hardly express the difference Marion made to our college…She helped me create our Filmmaker-in-Residence program with a $1M endowment. That program was an essential strategy to our growth because at that time nobody had heard of Chapman's film school. Bringing prominent guests from the business to campus truly helped raise our visibility in the industry."
Two decades later, said Bassett, she donated $3 Million in cash to buy equipment for the film students.
"Over the last eight years since we opened Marion Knott Studios, I have routinely had lunch with Marion to tell her the good things that have happened at our film school. She only and always wanted to hear about 'the kids,' asking 'Are they getting jobs, Bob?' I was happy to be able to tell her that they were."
Bassett notes that Marion left an estate gift, and that Chapman is exploring naming opportunities for the gift.
In a blog post on the Chapman University website, President Jim Doti wrote that "Marion was a remarkable lady whose spirit, tenacity and courage moved mountains. She cared deeply about young people and believed in the power and importance of education as a means to building a better world."