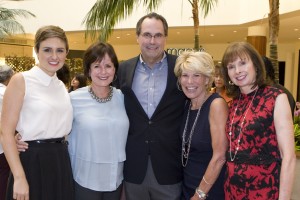 With the sole purpose of raising funds for Big Brothers Big Sisters of Orange County's "High School Bigs" mentoring program, Angelitos de Oro, a Newport Beach-based volunteer women's auxiliary group, raised $300,000 for the nonprofit during its 13th annual Angelitos Card fashion fundraiser Oct. 8 through 14 at South Coast Plaza in Costa Mesa.
Angelitos de Oro has donated more than $5 million to the nonprofit since the auxiliary's inception in 1961.
"Angelitos de Oro is a deeply valued supporter of Big Brothers Big Sisters of Orange County, and we are so grateful for their continued commitment to our vision that every child should have the opportunity to succeed in life and live up to their full potential," said Melissa Beck, CEO of Big Brothers Big Sisters of Orange County. "The 2014 Angelitos Card program was another amazing success and we thank the Angelitos for putting on this fantastic annual fashion fundraiser to benefit at-risk youth."
A partnership between Angelitos de Oro and South Coast Plaza, the Angelitos Card program consisted of more than 100 boutiques and restaurants at South Coast Plaza who offered a 20 percent savings to Angelitos cardholders for one week.
Stores that participated in the Angelitos Card fundraiser included Bottega Veneta, Oscar de la Renta, Donna Karan, St. John, Giorgio Armani, Saint Laurent, Anne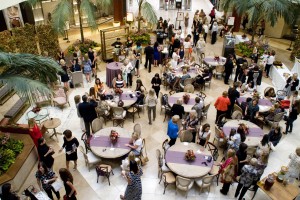 Fontaine, M.Missoni, J.Crew, DKNY and TOD's.
The card was sold for $60, and all proceeds benefitted the nonprofit.
A Preview Day event was held October 7 in South Coast Plaza's Jewel Court, where fall fashion trends were presented by participating luxury boutiques, including Bottega Veneta, Donna Karan and M.Missoni.
Champagne and a light lunch were served, and card holders learned more about how Angelitos de Oro's generous contributions support the important mentorship programs Big Brothers Big Sisters of Orange County provides in the community to at-risk youth. All boutiques participating in Preview Day generously donated 10 percent of their sales proceeds that day to Big Brothers Big Sisters of Orange County.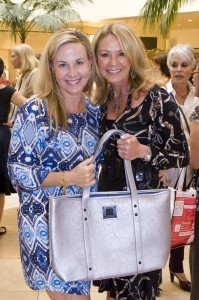 Angelitos de Oro raises funds for Big Brothers Big Sisters of Orange County's "High School Bigs" program, which matches a volunteer high school "Big" with an elementary school "Little." Once a week after school, the "Bigs" provide age-appropriate peer-to-peer mentoring. The program is celebrating its 10-year anniversary this year and served 590 elementary and middle school students in 2013.
The nonprofit has found a significant decrease in truancy as well as increased academic performance as a result of the program.
In 2013, Angelitos de Oro raised $285,000 through funds from the Card program as well as from personal donations from Angelitos members.
To learn more about Angelitos de Oro, visit angelitosdeoro.org.
For more than 100 years, Big Brothers Big Sisters has operated under the belief that inherent in every child is the ability to succeed and thrive in life. Most children served by Big Brothers Big Sisters live in single-parent and low-income families, or households where a parent is incarcerated.
As the nation's largest donor and volunteer supported mentoring network, Big Brothers Big Sisters makes meaningful, monitored matches between adult volunteers ("Bigs") and children ("Littles").
Providing a system of ongoing evaluation and support, Big Brothers Big Sisters is proven by independent studies to help families by improving the odds that "Littles" will perform better in school and avoid violence and illegal activities, and have stronger relationships with their parents and others.
In 2013, Big Brothers Big Sisters of Orange County served over 2,400 children. For more information, visit bigbrooc.org.