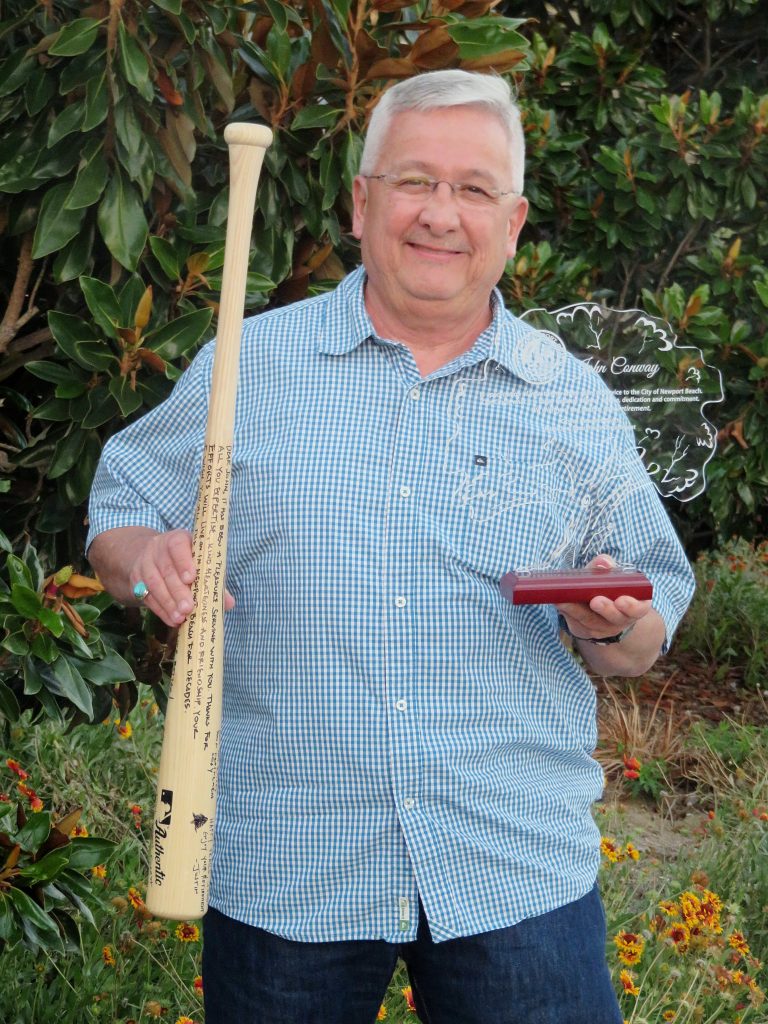 John Conway, longtime urban forester for the city of Newport Beach, retired Friday.
He has been with the city for 23 years and has served in government for 44 years.
"I've enjoyed it," Conway said at the Parks, Beaches and Recreation meeting Tuesday. "I love this city… I'll miss this city."
City staff honored Conway with a short presentation during the PBR meeting.
"Can we vote against this retirement?" PBR Commissioner Walt Howald joked.
The recreation department also presented him with a baseball bat signed by staff (a department tradition) and the public works department gave him an award.
Conway read Recreation & Senior Services Director Laura Detweiler's comment written on the bat: "It's been a pleasure serving with you. Thank you for all your expertise, kind-heartedness and friendship. Your efforts will live on in Newport Beach for decades."
As special as he has been to the Newport Beach community, in the urban forestry world he's known as an expert and leader, noted Municipal Operations Co-Director Mike Pisani. He has been extremely helpful over the years, he said.
"We've been very, very fortunate to have him working for us over the last 23 years," Pisani said.
Conway is a certified municipal arborist, tree risk certified, and pest control advisor.
"It's hard to make Newport Beach a more beautiful place, but that's been John's job and he's done a great job of doing that," Recreation Superintendent Sean Levin said. "John has been a pleasure to work with and we're going to miss him."
Conway came to the city after working for San Bernardino for 15 years and Fontana for another eight.
During his career in Newport Beach, he has increased the total number of trees from 21,000 to more than 35,000, explained city Parks and Trees Superintendent Dan Sereno.
"That, to me, is one of his biggest accomplishments," Sereno said.
But there are many more accomplishments to add to that list, including establishing a three year pruning cycle, 22 pruning grids, year-to-year pruning schedule, Tree City USA educational program, reforestation program for over-mature and problem trees, created a tree designation list of more than 100 trees, wildlife protection policy, and much more. Conway also helped revise the city tree policy at least two times.
It was all a team effort, between the citizens, city staff, commissioners and council members, Conway said.
"He's been a great asset to the city," Sereno said. "We will dearly miss him."
He helped create a unique process within the city that other cities look to and follow, Sereno noted.
Newport Beach is envied by other Southern California cities, Conway added, particularly the pruning program.
"Here in Newport Beach we're like a gem that stands out," Conway said.
He thanked the commission, staff, and "compatriots in battle" for their continued support over the years.
Conway noted that having a sense of humor over the years has helped.
"If you don't have humor in life you're going to make it more difficult for yourself," he said.
There were some tough times, but together they've worked through it, Conway said.
His psychology degree has given him an interesting perspective, Pisani noted. He deals with a lot of people and issues where that knowledge comes in handy, he added.
"I hear him every day counseling customers and it's very satisfying," he said.
Conway has also been a calming voice to both customers and staff. He taught Sereno how to "slow down once in a while."
"I will miss him tremendously," Sereno said. "He has taught me a lot."
Kevin Pekar, currently the park maintenance supervisor, will be taking over the position.
To contact Conway, wish him well, or share stories, email him at [email protected].