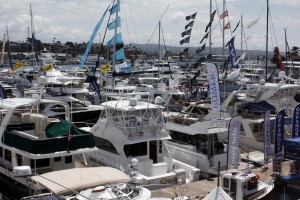 May 15 – 17: The Newport Boat Show in Lido Marina Village celebrates its 42nd year as the premier yacht show in the West. This year's show will feature the newest vessels to reach the Western United States as well as shoreside exhibitors showcasing innovative products and services that make owning and operating a big boat more enjoyable.
Lido Marina Village is located at Via Lido and Newport Boulevard in Newport Beach, one block south of Pacific Coast Highway.
Show hours are: 10 a.m. to 7 p.m. Friday and Saturday, and 10 a.m. to 5 p.m. Sunday. Admission is $15 for adults and free for children 12 and younger. Free offsite parking and continuous shuttle service will be available.
Visit NewportBeachBoatShow.com.