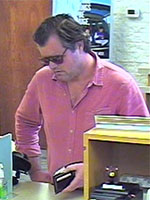 A Newport Beach man was arrested for bank robbery after being identified as the suspect in a series of bank robberies linked to the Rolled Sleeves Bandit.
According to a press release from the FBI, Damian Loren Newhart, 38, of Newport Beach, was taken into custody in Inglewood, California, last Thursday evening by officers with the Santa Monica Police Department who were acting on a tip developed through a joint investigation.
Following news coverage of the alleged Rolled Sleeves Bandit, investigators received multiple tips with information.
Newhart was charged in a federal criminal complaint with a robbery that occurred in Santa Monica on January 14, 2015. The complaint further details Newhart's suspected involvement in multiple robberies in other cities.
The joint investigation was conducted by the Santa Monica Police Department; the Huntington Beach Police Department; the Hermosa Beach Police Department; the Manhattan Beach Police Department; the Orange County Sheriff's Department; and the FBI.
The Rolled Sleeves Bandit was given the nickname after he was seen by witnesses and in bank surveillance photos with his shirt sleeves rolled up in the initial robberies. During the robberies, the Rolled Sleeves Bandit allegedly advised tellers he was conducting bank business before allegedly threatening a gun and demanding cash.
During the robberies, the suspect pretended to be a signatory on what he says is his girlfriend's account and then proceeds to ask the victim teller to verify information. Once the teller appears to be distracted, the suspect presents a note demanding cash, verbally demands cash in various denominations, and announces that he has a gun.
The bank robbery suspect is linked to the following robberies:
November 14, 2014: OneWest 1100 Pacific Coast Highway, Hermosa Beach
December 6, 2014: Citibank 20981 Magnolia St., Huntington Beach
December 22, 2014: Citibank 2710 N. Sepulveda Blvd., Manhattan Beach
January 14, 2015: Citibank 1505 Montana Ave., Santa Monica
January 26, 2015: OneWest 1630 Montana Ave., Santa Monica
January 28, 2015: Bank of the West 19006 Brookhurst Street, Huntington Beach
January 28, 2015: U.S. Bank 19900 Beach Blvd., Huntington Beach