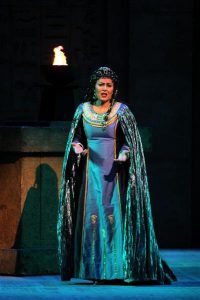 In 1994, Opera Pacific presented a full-scale production of Verdi's grand opera, Aida," the larger-than-life tale about the doomed love triangle of an Egyptian princess, a young Nubian slave girl, and the soldier they both love.
"Aida" is a massive undertaking that takes weeks of rehearsal, dozens of intricate costumes, multiple set pieces, numerous props, and even live animals—not to mention the many stellar operatic voices needed to bring the opera to life on stage.
I learned the intricacies of staging an opera when I was cast as an extra in that memorable 1994 production. I spent weeks in rehearsal, several days learning the makeup and costuming, and on opening night, there I was at Segerstrom Center dressed as an Ethiopian slave as a multitude of voices surrounded me with their angelic sounds.
"Aida" returns to Segerstrom Center on February 23, 25 and 28 courtesy of Pacific Symphony, which brings its semi-staged presentation of "Aida" to the Renée and Henry Segerstrom Concert Hall as part of its opera initiative called "Symphonic Voices." 
Normally in the orchestra pit during a traditional opera production, Pacific Symphony will be on-stage as the opera unfolds before them (and the audience), complete with dancing, acting, staging, costumes, and props.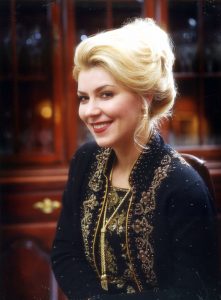 Newport Beach resident Milena Kitic, a renowned mezzo-soprano who has performed numerous roles with opera companies around the world and sang the title role in Pacific Symphony's opera presentation of "Carmen," plays the role of Amneris, the Egyptian King's daughter, in "Aida."
Kitic noted that while this is a semi-staged production, it still takes a lot of work behind the scenes to make the production come alive.
"It's grand opera—it's a lot of work," said Kitic during a recent phone interview. "It's complicated work for an opera singer, really strenuous. We have to watch ourselves. Nobody knows what we go through as long as the final product is beautiful. That's when the magic happens. Everyone is focused on what they need to do."
Kitic said that her character, Amneris, is as realistic as she is dramatic.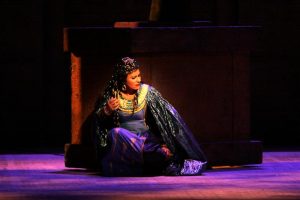 "She is a woman in love with a man who is not in love with her," explained Kitic. "There are moments where she wants to express her love to him but realizes that Aida has something going on with him so she becomes more and more jealous. The emotions make the role very dramatic, but you have to control that on the stage."
Kitic said that "Aida" is a great introduction for those who have never seen an opera.
"This would be nice start for them. The Pacific Symphony productions are beautiful and very well done, and the cast is amazing. I recommend starting with this one."
"Aida" is sponsored by Newport Beach residents Catherine Emmi and Cameron Emmi, longtime Pacific Symphony supporters (Catherine and her late husband James endowed the Principal Cello Chair and the Principal Viola Chair), and Opera Focus.
The concert opera is part of Pacific Symphony's Classical Series, which is made possible by the Hal and Jeanette Segerstrom Family Foundation, with additional support from the Westin South Coast Plaza, KUSC and PBS SoCal.
For tickets, visit PacificSymphony.org.