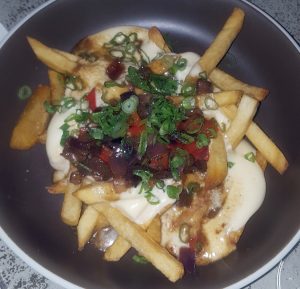 By Christopher Trela & Catherine Del Casale | NB Indy
 We couldn't let a week go by without sharing our delight at the new Happy Hour menu and "Shaken and Stirred" cocktails at Mix Mix Kitchen Bar in Santa Ana.
This is the restaurant opened last November by Chef Ross Pangilinan, formerly the chef at Leatherby's Café Rouge at Segerstrom Center.
We fell in love with Chef Pangilinan's cuisine several years ago and made regular forays to Leatherby's for pre-theater dining.
We've now made regular visits to Mix Mix, and are happy to report that Mix Mix is only a 15-minute drive from Segerstrom Center, and worth the trip.
"Our cocktails were designed to present an experience for all the senses," said Chef Ross. "The Smoked and Oaked is crafted table side and as the drink is prepared, a billow of sweet vermouth smoke rises, momentarily filling the air. And as bartenders put the finishing touches on our Silly Rabbit, guests watch as a mezcal mist is spritzed into the glass and then torched, momentarily igniting its surface."
In addition to those and other endlessly-creative cocktails, the $6 "Snack" items available during Happy Hour include Tuna Poke Toast, Albacore Tostada, Local Goat Cheese Toast, Prosciutto Toast, Deviled Eggs with salmon, Cheese Steak Fries, Chorizo and Potato Croquettes, Organic Trumpet Mushrooms, and Roasted Cauliflower.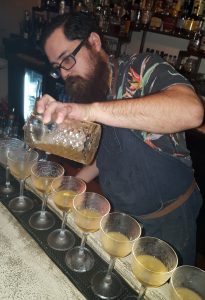 "Mix Mix doesn't just have out-of-this-world food but drinks to match," declared Catherine after our most recent visit to Mix Mix to sample the Happy Hour menu and cocktails. "I'm not usually a whiskey drinker but the way their cocktails were mixed I may have changed my mind. The Hillbilly was one of my favorites with barrel hitch Oregon oak whiskey, elderflower liqueur, coach American, cardamom-orange bitters and star anise. The combination of bold flavors actually blended together to make a light and slightly sweet drink. But my favorite drink here is the Silly Rabbit, a spicy tequila based drink that is a must-try. And kudos to mixologist Joe Carlin, he's so much fun to watch and talk to while he makes these drinks."
"I am addicted to the Smoked and Oak cocktail—I love the taste, and the presentation," said Christopher. "The Happy Hour menu is also impressive. I think I've sampled almost all of the dishes and cleaned my plate each time. The Cheese Steak Fries with house made cheese whiz and oxtail may be my favorite, although the Tuna Poke Toast with avocado, sea weed and radish served on grilled bread and the Albacore Tostada with orange pepper, Sriracha mayo, ginger soy, cilantro, and guacamole are also awesome."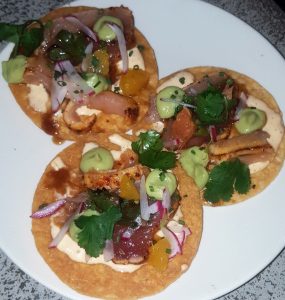 Mix Mix Kitchen Bar is located at 300 N. Main St. in the heart of Downtown Santa Ana. The restaurant is open for dinner Tuesday – Thursday from 5 to 10 p.m. and Friday and Saturday from 5 to 11 p.m. Brunch is offered every Sunday from 11 a.m. – 3 p.m.
For more information, visit mixmixkitchenbar.com.
For those curious about Chef Ross, he attended Le Cordon Bleu in Pasadena and then went on to work at various Southern California restaurants and in France for the two-Michelin-starred Les Trois Marche.
At the age of 21, Patina Restaurant Group recognized his skills and offered Ross his first sous chef position at Pinot Provence in 2005. After two years, he returned to France to work in the Michelin-starred Regis restaurant and then opened the modern Italian restaurant Sinatra within Encore at the Wynn in Las Vegas.
Chef Ross returned to Patina Restaurant Group in 2009 as Executive Chef at Leatherby's Café Rouge, where he led the culinary team for seven years. That has led to Mix Mix, his global dining concept that draws from his heritage and the myriad techniques culled from his culinary journey.