By Norm Bour | NB Indy
Imagine that you and eleven of your closest friends grab some libations and steaks, and barbeque them while cruising Newport harbor–all for about $10 per hour per person.
Newport Pontoons offers this great local getaway right there on Coast Highway. It's a unique business launched just over a year ago, and one more than worth getting to know.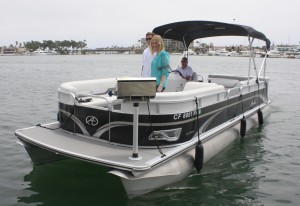 For many years, I have been recommending a book called "The Blue Ocean Strategy," which guides business owners and entrepreneurs through the process of creating their own "Blue Ocean," which means one with little or no competition. Why struggle in the "Red Ocean" where the competition devours itself? How appropriate that the comparison actually involves the ocean as well?
Newport Pontoons owners Garrison and Brandon Williams found a demand for a market that did not even exist.
"It was fueled (no pun intended) because tooling around the harbor in a motorboat was just too darn expensive," shared Garrison during a recent interview. He realized there was a need for affordable ways to enjoy the water at a fair price and a leisurely pace. This is not your father's or grandfather's version of a pontoon, with lounge chairs floating on pieces of woods.
Newport Pontoons made a splash at the Lido Boat Show as pontoon boats had never been prevalent before in those "upper end" markets.
They can do speeds up to 43 knots, so imagine skiing behind one of them with a handful of friends and room to spare.
The Avalon boats they rent and sell are made in Michigan and tested on the Great Lakes for stability. They've also been travel-tested thousands of miles along the Eastern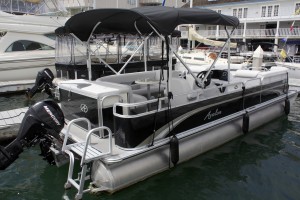 seaboard.
Most people think of pontoons for lakes (such as Lake Arrowhead), and not for salt water, but these boats are stable enough to cruise to Catalina in more comfort that you are used to–and they're virtually unsinkable.
In addition to renting the boats, Newport Pontoons offers more than 70 different models for sale. While smaller electric boat have seemingly cornered the market in Newport Beach, throughout the rest of the U.S., pontoon boats dominate with up to 70% of all boat sales.  
The pontoon boats can be outfitted with any luxury than you would find in other boating options. Newport Pontoons has a large selection and inventory, and they control seven slips and boats. They also offer a timeshare rental program that allows owners to rent their boats, generate income, and still use it when they want.
For more information, visit NewportPontoons.com, or call (949) 631-3333.
 Is your business unique? Do you command your own "Blue Ocean?" There are more than 20,000 businesses that are licensed in Newport Beach. We're looking for those hidden gems: unique stores or people that everyone really should know about.  
 Contact Norm Bour at (949) 495-6162, or [email protected]