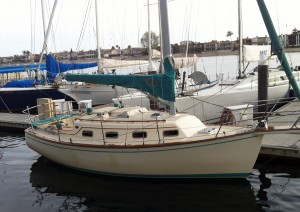 Robert and Jean Schrimmer met while attending Buchnell University in Pennsylvania. After college they married and moved to Newport Beach, where over the years their children and grandchildren enjoyed quality time on the waterfront sailing in Newport Harbor.
Recently, the Schrimmers decided to downsize their fleet. After weighing his options, Robert Schrimmer decided to donate two vessels – an Island Packet and a Pursuit, both in very good condition – to the Newport Sea Base.
"I wanted to see it put to use in a program," said Schrimmer.
"Each donation is taken and looked at on an individual basis to determine if we use them in our program or turn them over to put revenue back into our programs," said NSB Executive Director Shana Bannert. "Donating a boat to the Newport Sea Boat offsets the cost of delivering high quality program offerings to all youth of our community. All donations impact our ability to maintain a waterfront facility and the costs associated with offering such valuable resources to the public."
The Newport Sea Base is a place where sunlight, sailboats and sea lions are part of the day's agenda. They have a commitment to developing character and inspiring a love for the marine environment in the hearts of youth.
"By donating your boat the Newport Sea Base, you allow more youth to experience and have access to the waterfront" notes Bannert. "We consider vessels of all sizes, although vessels in good current condition are essential. Whether you have a luxury yacht, an off-shore cruising sailboat, a Duffy Boat, a Boston Whaler or anything in between, donating your boat to the Newport Sea Base can be a win-win situation for all."
The Newport Sea Base mission is to serve all youth of Greater Orange County by providing fun, quality marine educational programs that instill solid values, promote effective teamwork, develop leadership skills, teach nautical safety skills, and provide a venue for all to enjoy the wonders of the waterfront. Year-round, girls and boys of the community and beyond are taught environmental science, first aid, boating safety, dinghy and keelboat sailing, stand-up paddle boarding, canoeing, kayaking, motor boating, and other aquatic-related subjects.
For more information, visit NewportSeaBase.org.