Prescription Drug Take-Back Day
The Newport Beach Police Department and the Drug Enforcement Administration will host a local event for National Prescription Drug Take-Back Day at the Oasis Center from 10 a.m. to 2 p.m. on April 26, according to a community message sent out on Wednesday.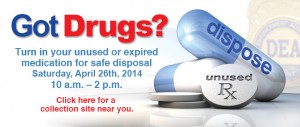 The event "will give the public an opportunity to prevent pill abuse and theft by ridding their homes of potentially-dangerous expired, unused, and unwanted prescription drugs," the statement explains. "The service is free and anonymous; no questions asked."
Last October, Americans turned in 324 tons (647,211 pounds) of prescription drugs at over 5,683 sites operated by the DEA and its thousands of state and local law enforcement partners, according to the NBPD message. In its seven previous Take Back events, the DEA and its partners took in over 1,733 tons (over 3.4 million pounds) of pills.
"This initiative addresses a vital public safety and public health issue. Medicines that languish in home cabinets are highly susceptible to diversion, misuse, and abuse," it reads.
For more information, visit dea.gov.
 .
Woman Arrested After Crashing Car Into Bay
Police stated that a woman had crashed her vehicle into Upper Newport Bay early Wednesday morning, the Daily Pilot reported.
Amy Melissa Gibson, 29, of Costa Mesa, was apparently intoxicated when she drove her Jeep past the dead end of University Drive, through a barrier, down a trail and over the side of a bridge, according to the newspaper and KTLA-5 report. The off-road vehicle landed in the shallow, marshy water below.
Gibson was transported to a local hospital with minor injuries, police said. She was arrested on suspicion of driving under the influence.