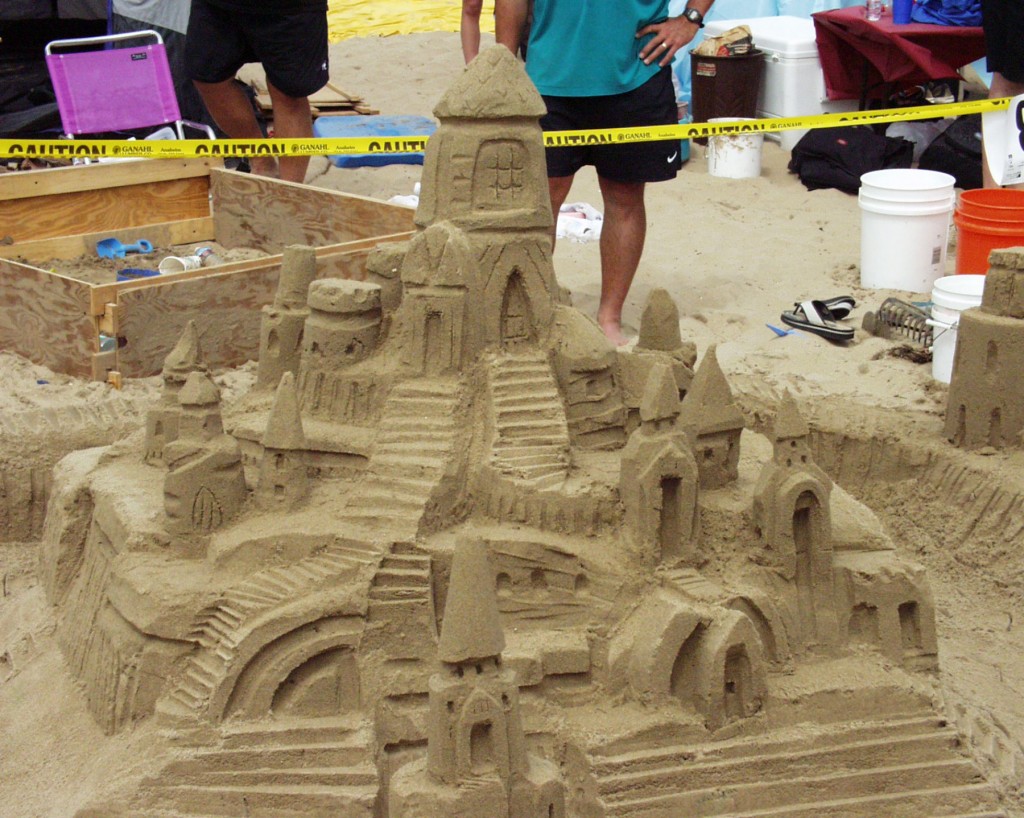 Sand Will Take on New Life at CdM Beach
The sand at Corona del Mar State Beach will transform Oct. 5 during the 53rd Annual Sandcastle Contest.
Thousands of spectators will attend the free event, hosted by the Newport Beach Chamber of Commerce Commodores Club.
Groups of all skill levels are encouraged to participate, "from children to professional architects," the press release from the NB Chamber explains.
The contest will run from 11 a.m. to 4:30 p.m. Participants will stop building their sandy designs at 2:30 p.m. Prizes will be award for overall, humor, creative, commodores award and more. A panel of judges will review the creations immediately after building time period ends and an awards ceremony will follow.
The event is presented by Doggie Walk Bags and Sand Castle Kits, with event sponsor Speedpro Imaging.
This year's theme is "It's a Beach Party!"
Teams can register as masters (architectural firms) for $60, businesses for $40, families for $30 and other groups (youth, civic, clubs, etc.) for $30.
To sign up, visit newportbeach.com or call (949) 729-4403. A limited number of on-site registrations will be available starting at 9 a.m. on the morning of the event.
Clean Up the Back Bay
Back Bay Drive will be closed to all users (pedestrians, bicycles and vehicles) from San Joaquin Hills Road to Eastbluff Drive (North) from approximately 9 a.m. to noon Saturday for the Annual Upper Newport Bay Cleanup Day.
The Annual Upper Newport Bay Cleanup Day is a shining example of partnership in action. Over 1,000 people venture out into the marsh from the land and the water to remove over 15,000 lbs. of trash and recyclables.
To participate, come to the Cleanup Headquarters and Main Registration Point at the Peter and Mary Muth Interpretive Center, 2301 University Drive. Shuttle service is provided to other areas of the Bay. Individuals, families and groups are all welcome.  There will also be a variety of educational booths related to keeping the environment healthy and clean. Rain Barrels Intl. will be on hand to help participants conserve water by offering rain barrels, only $10 after a rebate. Other exhibitors include Inside the Outdoors.
Those assisting with the cleanup should wear old clothes and shoes. Please bring a reusable/refillable water bottle.
To sign up and for more details, visit newportbay.org/stewardship/cleanupday.
Prescription Drug Take-Back Day
On Sept. 27 from 10 a.m. to 2 p.m., the Newport Beach Police Department and the Drug Enforcement Administration will give the public its ninth opportunity in four years to prevent pill abuse and theft by ridding their homes of potentially-dangerous expired, unused, and unwanted prescription drugs.
Bring your medications for disposal to the OASIS Senior Center at 800 Narcissus Ave.
The DEA cannot accept liquids, needles, or sharps, only pills or patches. The service is free and anonymous; no questions asked.
Last April, Americans turned in 390 tons (over 780,000 pounds) of prescription drugs at over 6,100 sites operated by the DEA and its thousands of state and local law enforcement partners.
In its eight previous Take Back events, the DEA and its partners took in more than 2,100 tons (over 4.1 million pounds) of pills.
This initiative addresses a vital public safety and public health issue. Medicines that languish in home cabinets are highly susceptible to diversion, misuse, and abuse. Rates of prescription drug abuse in the U.S. are alarmingly high, as are the number of accidental poisonings and overdoses due to these drugs.
The DEA is in the process of approving new regulations that implement the Safe and Responsible Drug Disposal Act of 2010, but until new regulations are in place, local law enforcement agencies and the DEA will continue to hold prescription drug take-back events every few months.
For additional information visit the Drug Enforcement Administration website at dea.gov.