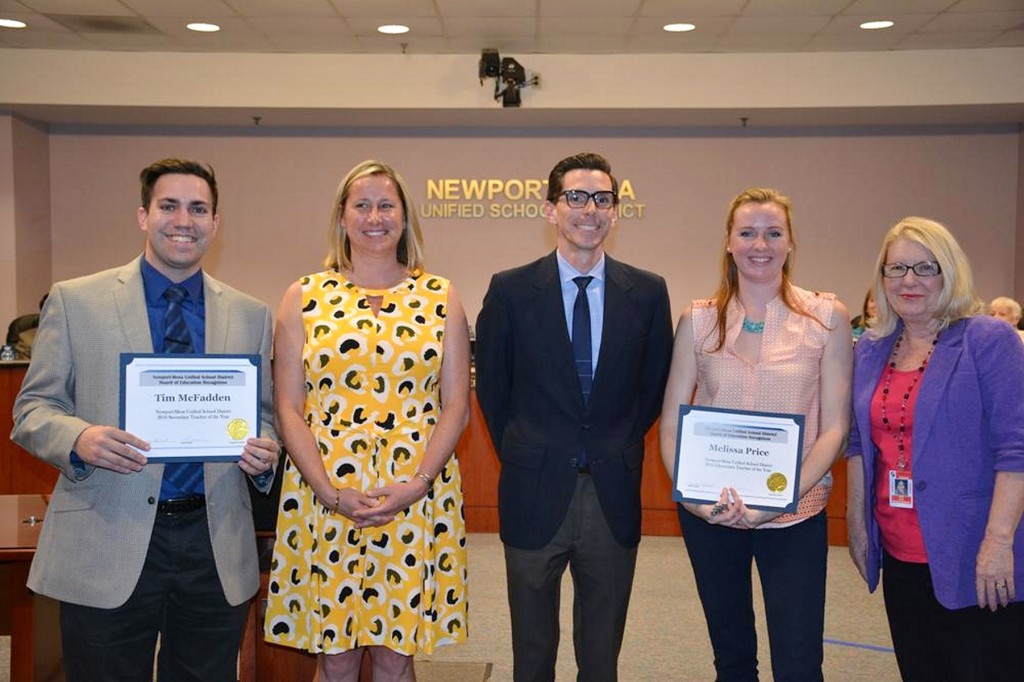 Several school district employees were honored this week by the board for their hard work and dedication.
The Newport-Mesa Unified School District Board of Education recognized Teacher of the Year recipients, a National Board Certified teacher and Employee Super Star Award recipients at Tuesday's board meeting.
Teachers Melissa Price from Adams Elementary and Tim McFadden from TeWinkle Intermediate were chosen by the Newport-Mesa Federation of Teachers as candidates for the Orange County Department of Education Teacher of the Year competition.
Price, NMUSD's Elementary Teacher of the Year, is an autism teacher and is known for implementing creative ways to engage students.
McFadden, NMUSD's Secondary Teacher of the Year, is a music teacher who inspires students to learn not only the fundamentals of music, but develop a real love for their craft and instruments.
Mary Schiesser, another Adams Elementary teacher, was recognized on Tuesday as the most recent National Board Certified teacher in the district.
The National Board for Professional Teaching Standards is an organization of teachers and other education stakeholders whose aim is to advance the teaching profession and to improve student learning. The certification process is rigorous and includes a classroom-based portfolio and a set of exams and exercises organized around student work and standards-based teaching.
A dozen district employees were also honored with Super Star Awards, a program that recognizes employees who "go far beyond the call of duty."
Super Star Awards were given to: Diego Arias, counselor at Ensign Intermediate School; Annette Arora, administrative assistant at Costa Mesa Middle/High School; Erin Gordon, special education teacher at Victoria Elementary School; Kelley Katz, teacher at Back Bay High School; James May, teacher at Corona Del Mar High School; Jamileth Paley, school community facilitator at Wilson Elementary School; Daniel Patterson, assistant principal at CdMHS; Deborah Pridmore, nutrition services staffer at Estancia High School; Merrilee Randall, teacher at College Park Elementary School; Janna Reid, nutrition services staffer at Newport Harbor High School; Cynthia Ridens, administrative assistant at Killybrook Elementary School; and Jean Shanley, special education teacher at CMHS.