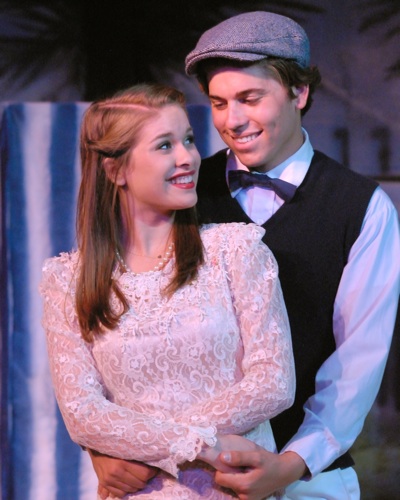 "The Boy Friend" is back in town! Playing tonight through July 1 is Newport Theatre Arts Center's new production, "The Boy Friend" by Sandy Wilson.
Set in the French Riviera during the Roaring 20s, the musical follows a group of young ladies as they attend Madame Dubonnet's finishing school, Villa Caprice, where their behavior is refined by both the headmistress and the French maid, Hortense.
As the girls prepare to attend the Carnival Ball, what each really longs for is a boyfriend to make the evening complete. Polly Browne, heiress and the most proper of the lot, concocts a story about the perfect gentleman – her imaginary boyfriend, who will be arriving to escort her to the ball.
Alas, while her story is enough to make the other girls green with envy, it is only that – a story.  The truth of the matter is that the visitor she is expecting is her father, who refuses to entertain the notion of allowing his daughter to have a boyfriend.
What ensues is a tale of secret identities and hidden relationships, as Polly meets her dream man Tony, and convinces him that rather than the daughter of a millionaire, she is a humble secretary at the school.
He in turn, is actually the Honorable Tony Brockhurst; son of an English Lord and Lady. Tony has dropped out of university and "disappeared" to live the humble life of a messenger boy.
Unfortunately, the Brockhurts are also in town for the ball, and catch sight of their son, causing him to flee before being able to escort Polly to the ball, and dashing her fairy-tale dreams.
As we follow Polly and Tony's story, other relationships develop as well, including the unveiling of a past relationship between Mme. Dubonnet, and Polly's father, Percival Browne.
The story culminates as the ball is in full swing at the Café Pataplon, and we discover whether everyone will drop their pretenses and allow love to prevail.
This lighthearted musical got its start back in 1953 at London's Player's Club.  After also running at the Wyndham's Theatre for over 2,000 performances, it jumped the pond and headed to Broadway, where Julie Andrews made her Broadway debut in the role of Polly.
Fifty years later, it also provided Andrews with her directorial debut when it played at the Bay Street Theatre in Sag Harbor. The musical even inspired a 1970's film version starring modeling icon Twiggy.
This telling is produced by NTAC mainstay, Rae Cohen, and directed by Larry Watts. Thanks to the intimate venue, audience members will feel like they are at the ball right along with the girls and their fellas, and will almost feel the angst of young love, as our couples traverse the paths leading to them to each other.
Tickets range from $20-$25, and may be purchased by ephone at (949) 631-0288. Details at ntaconline.com.