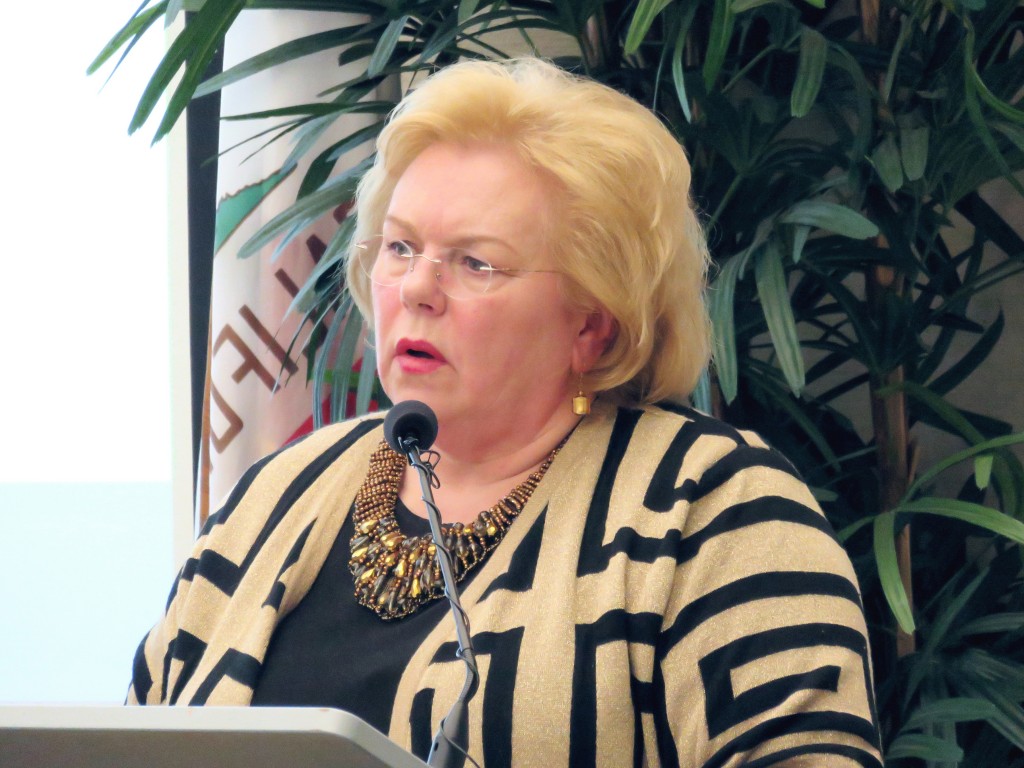 Newport Beach woke up to a discussion of jobs and the economy at a meeting this week.
About 50 people attended the Newport Beach Chamber of Commerce's monthly Wake Up! Newport on Thursday in the Friend's Room at the library.
The June guest speaker was Lucy Dunn, president and CEO of the Orange County Business Council. Dunn spoke about jobs in OC, education programs, partnerships, housing market, information technology, traffic, water usage and the drought, the local and state economy, and more.
"Housing is critically important for Orange County's economic prosperity," she said.
The OC Business Council just released their 2015 housing scorecard, which uses numbers provided by every city in the county and compares the jobs created and housing building permits issued.
The gold standard is one house for every one and a half jobs, she explained. In some parts of the county the figure is one house for almost three jobs.
Part of the reason for that is that a lot of young people are commuting into OC and living elsewhere, she noted.
"We can't find places for them to live," she said.
The Orange County population is aging, she said. The largest demographic will soon be 65 and older.
"Who will pay into our tax system when we're all retiring in place?" she asked. "How will you, my boomers that are retiring, maintain your high quality of life? How will we get our public services, municipal services, if we don't have our young people be able to live where they also work?"
Based on current numbers, the county instantaneously needs 50,000 to 62,000 homes for all the people that work in OC. Statewide, one million homes are needed, she added.
"We have not met our need for the population growth and the jobs creation since 1989," Dunn said.
Dunn spoke about retaining and creating jobs in the county.
For years unemployment in Orange County was as low as three to four percent.
"We got spoiled," she said.
But during the Great Recession, unemployment increased to about 10 percent.
The OCBC got to work to retain, grow and attract business and high-paying jobs, she said.
Since February 2013, OC unemployment rate has been under seven percent, Dunn said. The current rate is about 4 percent, the lowest since the recession, she added.
"This means we've made good progress," Dunn said.
On a positive note, OC executives have been more optimistic about their economic future, Dunn explained. The California State University, Fullerton, Business Expectations Index shows 83.8 confidence in the OC economy. For comparison, in 2008 and 2009 they had extremely negative views bottoming out at 15.2 percent in the first quarter of 2009. Aside from a dip in the fourth quarter of 2011, the number has pretty steadily risen since 2009.
"It's an impressive outlook," Dunn said. "It shows that our folks tend to be optimistic, which then tends to free up their wallets for investment in the county.
A Chapman University study also showed an optimistic trend: More households are optimistic about their own financial situation and the overall economy. Renewed consumer confidence is a good sign for business, she noted.
Dunn also spoke about the educational programs the OCBC provides, including the Community College Working Group and the Latino Educational Attainment Initiative.
"(We're) helping our children be prepared for a global economy," Dunn said.
The OCBC works with community partners to identify the county's educational needs and develop strategic solutions.
They focus on S.T.E.A.M. disciplines (Science, Technology, Engineering, Arts and Math), Dunn said.
"We're a highly creative community," Dunn commented, referring to the Arts portion of the STEAM studies.
The LEA focuses on teaching the parents, sometimes basic things like how grade point average is calculated, the importance of homework and remembering to check the child's backpack.
"We (also) teach them that college is attainable and affordable for their child," Dunn said.
By teaching the parents, the child's grades can improve, Dunn pointed out.
They also have programs in Korean and Vietnamese, she added.
"We're really trying to get out there and teach our community the importance of education," Dunn said.
Dunn also mentioned the Business Council's Turning Red Tape to Red Carpet Awards.
The awards recognize outstanding public agencies that are proactively eliminating barriers to economic growth and opening the door to private sector jobs creation, Dunn explained. They try to reward good behavior, she added.
"Frankly, I got sick of all the press, all the time that said government is all about waste, fraud and abuse," Dunn said. "Sometimes government does stuff right and they're not very good at promoting their own goodness."
It's a competition between OC cities with a review panel of leaders from key business sectors.
Awards include business retention, sustainability and green development, public/private partnerships, outstanding achievement, and more. They receive about 50 nominations every year from a diverse range of applicants, Dunn said.
For more information, visit newportbeach.com and ocbc.org.