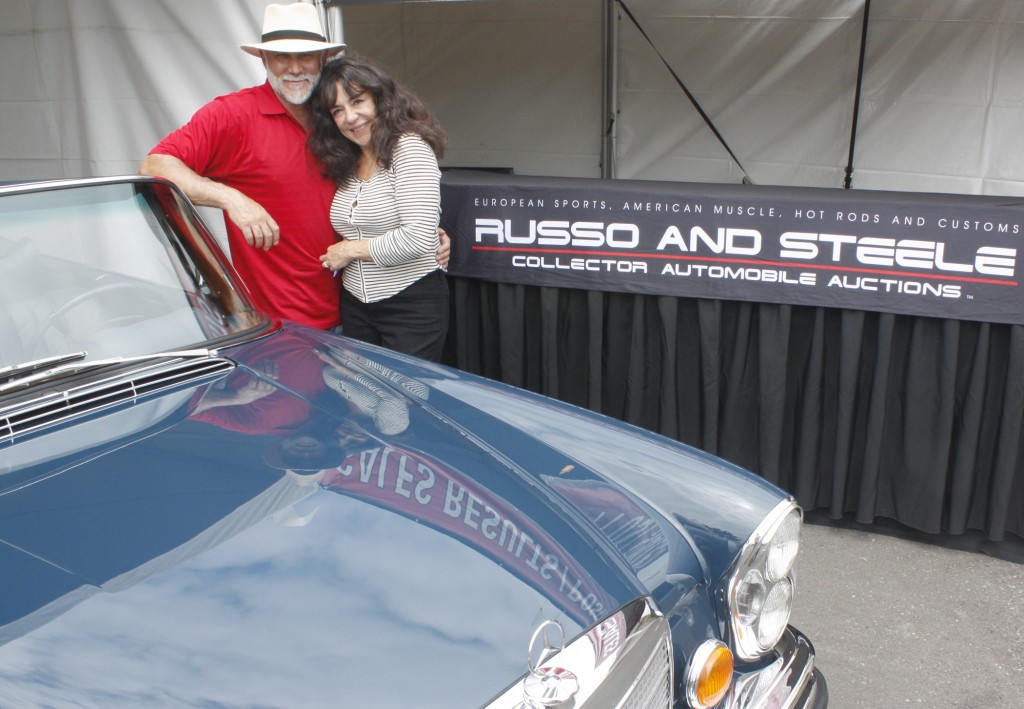 Classic car fans and automobile aficionados will be driving, flying and even sailing into Newport Beach this weekend for the third annual Russo and Steele Collector Automobile Auction that takes place June 5 – 7 at the Newport Dunes Waterfront Resort.
More than 450 automobiles, from vintage cars to modern custom vehicles, will be auctioned off to an audience of bidders from around the world.
Lido Island resident Drew Alcazar, the founder of Russo and Steele Automobile Auctions, said that this year it feels like the company has some wind in its sails.
"We sold out the consignments over two weeks ago," said Alcazar this week at Newport Dunes while a crew of assistants began checking in automobiles. "That was nice to have all the cars in and done so we could get the catalogue done and the website done. Most people don't realize how much work is involved, to orchestrate how the cars are going to appear on the block, all of the descriptions, the digital catalogue—it takes countless hours after a car is consigned."
Another reason Alcazar is excited about this year's event: bidder registration is up 50 percent over what it was this time last year.
"The first year everyone is always giddy, but the sophomore year is always kind of tough," noted Alcazar, whose company has a long track record of successful automobile auctions in Monterey and Scottsdale. "Year three you come back and get the altitude back to where it should be. We have much better quality cars this year, the variety is spectacular. When you look aat the mix of European sports cars and American muscle cars—it's not just another Jag or BMW. There are some cars we have here you will not see anywhere else."
Alcazar said he did learn a few things form the previous two years that he changed this year.
"Newport Beach has its own drummer that people march to. By 10 pm it's lights out. At the Scottsdale and Monterey auctions, we have our best cars later in the evening, but here we're not going as late as in past years. We adjusted the hours to noon to 7 p.m. We're also doing Friday through Sunday, instead of Thursday through Saturday. More people have the weekends at their disposal. During the week they're doing what they have to do to afford their toys. Those are some big strategic changes for us."
Alcazar emphasized that you don't need to be a bidder to have fun at the Russo and Steele auction.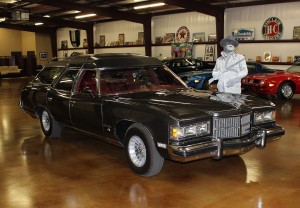 "People say I can't afford to buy a car, so I say just come and have fun. The atmosphere is electric, it's great entertainment. We want to be exclusive but not exclusionary. Little fish grow to be big fish. Someone might buy a mustang today, then buy a Shelby, then a Ferrari. It's not always about one car, one time, one person. Our best clients are ones that have multiple cars in their collection. They sell one, buy another."
Among the notable cars on the auction block this year is one that may at first not appear to be custom or collectible. It's a 1975 Pontiac Safari station wagon once owned by longtime Newport Beach resident John Wayne. He had the roof raised because not only was he tall, but he liked to wear his cowboy hat while he drove. The highest bidder will also get an eye patch from the personal John Wayne memorabilia collection of Michael Wayne, the Duke's late son, and a notarized letter signed by Gretchen Wayne on behalf of Batjac Productions, John Wayne's production company.
Other celebrity vehicles to be auctioned include a 1934 Ford Sedan formerly owned by Eddie Van Halen, and a 1971 Ford T-bird formerly owned by Burt Reynolds.
Gates open at noon Friday through Sunday. General admission is $20. There will be food booths, a bar, vendors, and hundreds of classic cars to peruse. A digital catalogue is available on the Russo and Steele website, along with the approximate auction times of each vehicle.
For more information, visit RussoandSteele.com.