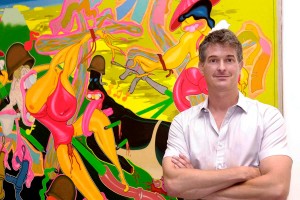 The Orange County Museum of Art has appointed Chief Curator Dan Cameron as Interim Director and CEO at the museum while the search for an executive director and CEO continues. This appointment commences January 1, 2014, following the departure of Dennis Szakacs as Director and CEO at the end of the year.
With more than three decades of organizing acclaimed exhibitions of contemporary art throughout the United States and abroad, and curating several exhibitions at OCMA including the highly acclaimed 2013 California-Pacific Triennial, Cameron's experience and perspective will greatly help the museum during this period of transition.
"As we near the end of Dennis' tenure at the museum and thank him for his many contributions and exceptional leadership, we are grateful that Dan has agreed to step into the director's position and maintain the momentum that OCMA has gained in recent years," stated President Craig Wells.
Among his accomplishments, Cameron was the first U.S. commissioner for the "Aperto" section at the 1988 Venice Biennale. In 1994 he curated "Cocido y Crudo" at the Museo Reina Sofia in Madrid, the most comprehensive exhibition of new international art ever presented in Spain.
In 2003 he presented "Poetic Justice," the 8th Istanbul Biennial; and in 2008 he launched "Prospect New Orleans," the largest biennial (now triennial) of international contemporary art in the United States.
From 1995 through 2006, as Senior Curator at the New Museum of Contemporary Art in New York, he organized retrospective exhibitions of Carolee Schneemann, Paul McCarthy, David Wojnarowicz, and Faith Ringgold, among others.
Since his arrival at OCMA in January of 2012, Cameron has curated several exhibitions including "Pairings," a series of 12 installations from the collection, each focusing on the work of two artists presented in juxtaposition with one another.
This year Cameron organized the inaugural California-Pacific Triennial, the first survey exhibition devoted to contemporary art from throughout the Pacific Rim. The 2013 California-Pacific Triennial included twenty-three artists from fifteen countries that border the Pacific Ocean, together with nine artists from California and two from Seattle, Washington.
"California Landscape into Abstraction: Works from the Orange County Museum of Art," his current exhibition, explores ways in which artists from the West Coast have played a role in transforming landscape into abstraction and in some instances, back again.
Cameron's appointment follows several years of substantial growth and accomplishment at OCMA, with an ambitious exhibition program that rivals those of much larger museums, and groundbreaking educational programs that explore new and better ways of connecting people through art.
In the past ten years, 15 OCMA-organized exhibitions have traveled to 37 museums across the U.S. and abroad, and more than 20 exhibition catalogs were published or co-published – key measures of scholarly and artistic contributions to the art world.
Research, conservation, and public access to the collection have all been enhanced with a series of important collection exhibitions supported by substantial grants from major public foundations. The collection's focus was broadened from Southern California to include national and international artists, with a particular focus on artists from diverse ethnicities and cultures.
The search committee from the OCMA Board of Trustees continues its work with Heidrick & Struggles to determine the next director and CEO for the museum.
For more information on OCMA, call (949) 759-1122 or visit ocma.net.