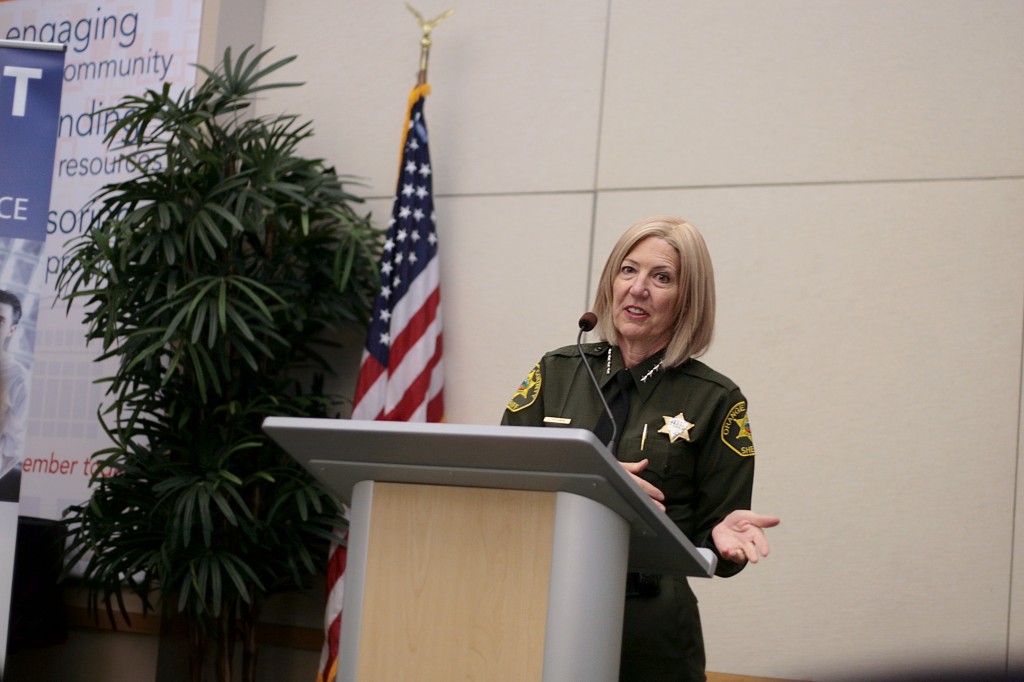 Prisoner realignment, emerging drug trends and patrolling Newport Harbor were the main topics of discussion at the Newport Beach Chamber of Commerce's monthly Wake Up Newport meeting, attended by more than 60 people in the Friend's Room at the Newport Beach Public Library early Thursday morning.
Special guest Orange County Sheriff Sandra Hutchens speak also spoke about permits for carrying a concealed weapon, the relationship with the immigrant community, working on mental health issues with young kids, working with doctors and pharmaceutical companies, e-cigarettes, crime trends and more.
She also spoke a bit about the county's involvement in Operation Stonegarden, a federal grant program that provides funding to further increase border security. The Orange County Sheriff's Department works with the Coast Guard and other agencies up and down the California coastline.
Her main three topics were the prisoner realignment program, emerging drug trends and the Newport Harbor.
The idea for prisoner realignment started because of lack of medical care due to overcrowding, she explained, and it has been going on for two decades.
"So the state had a lot of time to deal with this," Hutchens said, "but they kept putting it off."
It came to a crisis point a few years back, she said. People were angry at this point about the state's inability to increase capacity or decrease population, she said.
One of the proposed plans was to release certain state prisoners onto the street, she said.
"(It) would have been a horrible idea," Hutchens said. "They would have re-offended, they would have ended up in county jail.
The state prisons would have no room to take them, so they would be stuck in the county jail.
"So we would have ended up taking care of them anyway at the county level," she said.
The other option was to get the county sheriff's to cooperate to allow newly convicted inmates into county jails.
Under the new AB109, if they are a non-violent, non-sexual, non-serious for the current offense, they head to county jail, she explained.
There are currently 1,040 "what would have been state prisoners" in the Orange County jail system, Hutchens said.
Prior to the program starting, there were about 5,700 in OC jail, today it's an average of 7,000, right at capacity, she said.
"We are bursting at the seams," Hutchens said.
They have also had their first claim of lack of medical care due to overcrowding, she said.
The county has been awarded two grants that provides state money to build additional facilities, Hutchens explained. A 512-bed facility is being built off of Irvine Boulevard and Bake Parkway. A second facility with more than 300 beds and room for programming will also be built.
Very closely related to the jail population is drug use, Hutchens explained.
"Just about every inmate who's in my custody has used and abused drugs," she said. "That is the underlying problem that causes them to commit crimes."
And Newport Beach is no exception.
"We do have a drug problem in Newport Beach and Orange County," she said. "Every city in Orange County, nobody is immune."
Heroin is a big problem among OC youth, including kids in Newport Beach, she said. Often the issue comes after they get addicted to prescription drugs, which can be easy to come by from a doctor for a legitimate reason, and then they abuse it, or from others in their own home.
"We were given (pain medication) for something and we never throw away our pain medication," she said, so it's still sitting there in the medicine cabinet.
Prescription drugs are expensive on the street, Hutchens explained, and heroin offers a cheaper and similar or better high.
"So that is a problem," she said.
Another problem are "designer drugs," like molly or bath salts, she said.
There are more than 250 designer drugs, she said. The problem with them is that they aren't regulated, she added.
There are too many good kids getting into these drugs, she said.
"I'm passionate about it because I think our only chance to reverse this trend to keep more people out of jail and keep our kids off drugs is to start talking to them now, in elementary school," she said. "Talk to them about drugs, set the right example… Once kids get on drugs…It's heartbreaking."
Don't be afraid to talk to them, she said. Kids will listen, Hutchens encouraged, the parents just need to start the conversation.
Her last topic was the harbor. The county has 62 full-time staff members that cover all of the OC harbors, she said. Last year, there were about 3,000 calls for service in Newport Harbor alone, Hutchens said. They also work closely with the Newport Beach Police Department, she added.