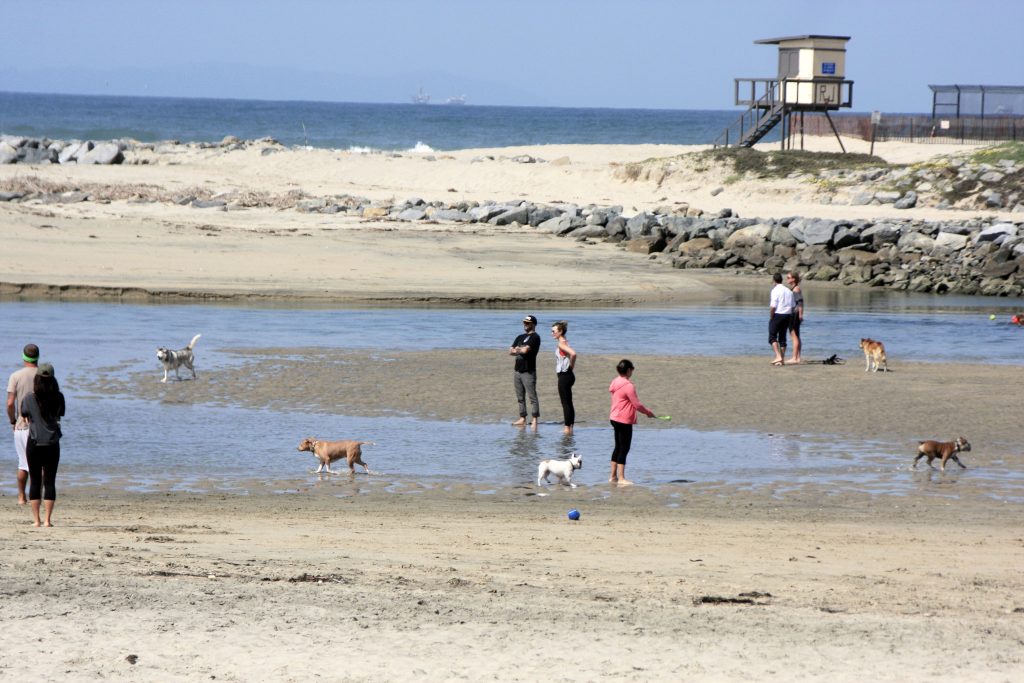 Dogs running and playing off-leash along a strip of sand at the mouth of the Santa Ana River dubbed "Doggy Disneyland" will likely no longer be outlaws following a county decision this week.
Orange County Supervisors unanimously voted to amend the law regarding the restraint of dogs on public property to allow the county to designate off-leash areas for dogs. The approved resolution specifically applies to the unincorporated county-owned property downstream from Pacific Coast Highway at the outlet of the Santa Ana River, between Newport Beach and Huntington Beach.
The longtime de facto dog beach will become official if it gets passed during a second reading on May 10. It would take effect 30 days later.
Orange County Board of Supervisors Vice Chair Michelle Steel, whose district covers Newport Beach, proposed the item.
"This is just common sense," Steel said. "I don't want dog owners to worry about getting tickets that were never given out in the last 40 years anyway."
She questioned how people can put a leash on dogs when they want to run and play in the water, as dogs should. It's a great area for both the dogs and their owners, she added.
"These dogs are free," Steel said. "There are so many happy dogs there."
They are going to work on the details and address the concerns raised at the meeting, Steel noted.
Steel's proposal is in response to requests from community members, mostly dog owners from Newport Beach, she said at a press conference earlier this month.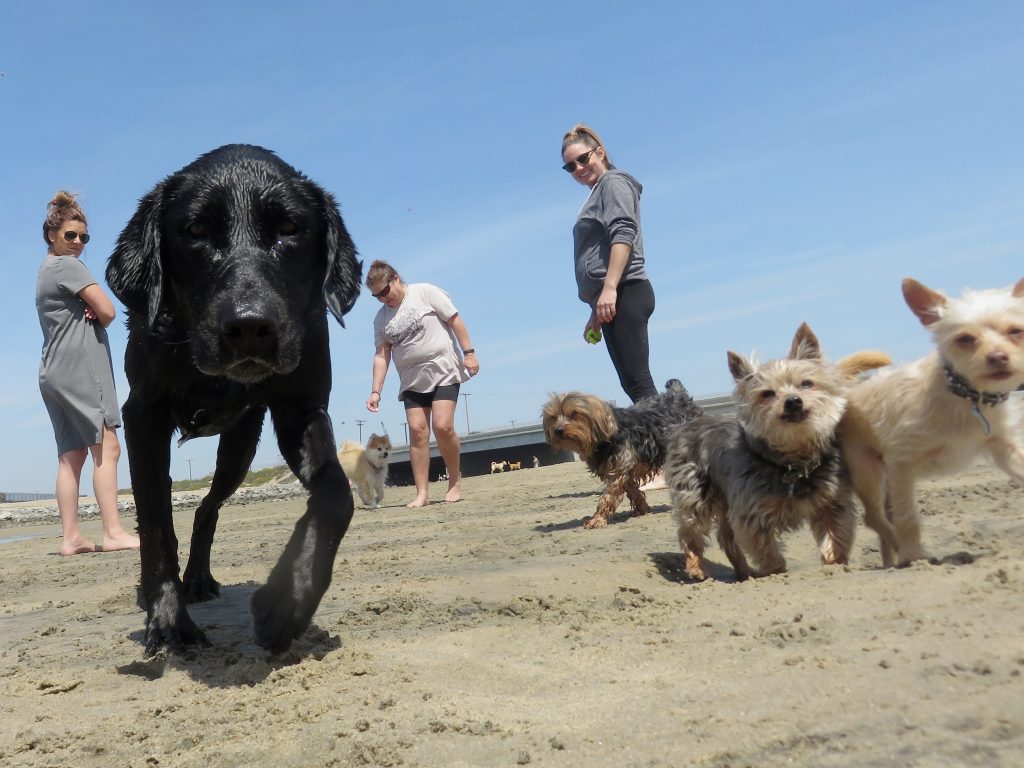 Mayor Diane Dixon initially brought the issue forward.
"This is the perfect example of 'Let the people speak and let their voices be heard,'" Dixon said previously, "and that was my intent."
Trash receptacles, doggy poop bag dispensers, and better access are all on the list of things to discuss for the city. They also want to get the community involved in self-policing, she added.
Emails sent to the supervisors and speakers at the meeting on Tuesday were overwhelmingly in support of the ordinance, including comments from Newport Beach councilmen Tony Petros, Marshall "Duffy" Duffield, and Scott Peotter, council candidate and dog beach proponent Mike Glenn, and "Save Dog Beach" organizer Jon Pedersen, as well as many others.
"This area is Disneyland for dogs," said Lindsay Lier on Tuesday. "The area on the beach is not used by anybody else except for the hounds and their families."
The only reason why the issue was brought forth was because of "a few squeaky wheels" have complained, Lier said.
This stretch of sand has a long history as a dog beach, agreed Glenn. But some "recent additions to the neighborhood who took issue with it," he explained.
"I do not want dog beach taken away," Lier added.
The majority of speakers agreed with Lier and Glenn in support of the dog beach, saying it brings the community together, it's therapeutic for both humans and dogs, good place for dogs to socialize, and that dog fights or waste are not very common, most owners are responsible. People described it as a "magical place," "sanctuary," and "pure gold."
The land isn't good for much else, several speakers agreed, but it's perfect for hounds and their humans.
But there has also been outcry against the dog beach.
"It isn't all 'Disneyland,'" said longtime Newport Beach resident and dog owner, David Granoff.
There are a number of irresponsible dog owners who don't supervise their dogs and allow their pets to poop and/or create havoc, he said.
"The illegal/unspecified dog beach is a nuisance," wrote Michele Brooks in a letter to the county supervisors. "Dog owners have, in recent years, begun to think that the rights of animals supersede the rights of human beings and their safety. Please get rid of the dog beach."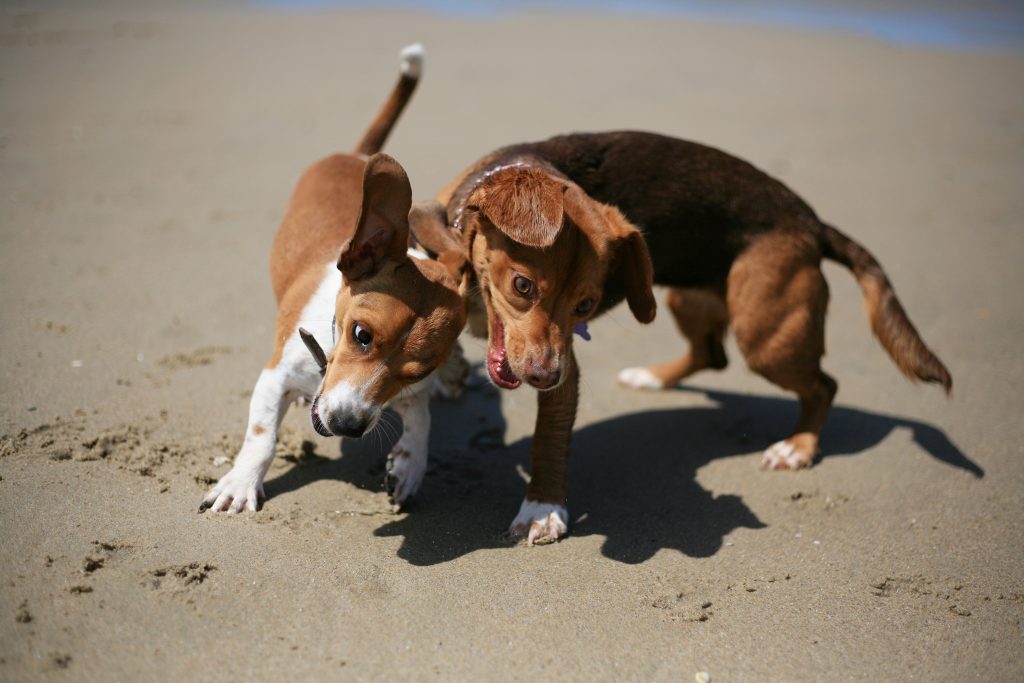 Unleashed dogs often run outside of the river area, she noted. It's not "cute" to allow the dogs to "frolic," she wrote, that means crazy dogs running up and frightening both children and adults.  
It prevents others from enjoying the beach, explained Brooks in her letter. And enforcement is inadequate, she argued.
Vivien Hyman, whose view from her home overlooks the unofficial dog beach, also opposed the dog beach.
"I feel very strong about the leash laws that we have in place. We have these laws to protect the public and our children and to keep the environment clean," Hyman said.
It's a public safety and health issue, she argued. People can get attacked, dog feces can spread disease, and it misdirects resources by diverting the attention of lifeguards to save a dog, rather than watching or caring for humans, Hyman said.
"When dogs are off leash you lose 100 percent control of your dog," Hyman said. "This is a public beach, this is for the public it's not for dogs."
She also raised concerns about water quality.
Supervisor Todd Spitzer noted that he looked at a year's worth of water quality testing data
"I don't see anything significant about water quality being impacted except on rain flow days, which would make sense because it's at the mouth of a channel and this is where rain and urban runoff go," Spitzer said.
Petros mentioned the "overwhelming support" of the dog beach at the Parks, Beaches and Recreation Commission meeting on March 1.
"Clearly, for many years the public, our residents and others, have enjoyed that area as an open space for their pets," noted Petros, who represents District 2, which covers the beach in West Newport. "I am here to just personally let you know that I support this activity."