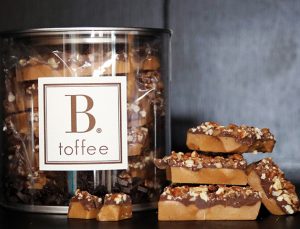 By Christopher Trela & Catherine Del Casale
We've been fans of B. toffee ever since founder Betsy Thagard of Newport Beach launched her confectionary company several years ago.
Her toffee has taken off big time: not only is it available locally at Whole Foods and A Market, but Thagard is a Platinum Sponsor of the Newport Beach Film Festival.
As a sponsor, Thagard has been handing out her delicious treats at the festival's after-parties, including the VIP Welcome Private Reception Party at The Island Hotel, the Opening Night Gala at Fashion Island (featuring more than 3,000 guests), a VIP Private Party at the Balboa Bay Resort, and The Centerpiece Gala hosted by Room & Board Furnishings.
We've been sampling both her milk chocolate and dark chocolate toffees at the various events. Catherine prefers the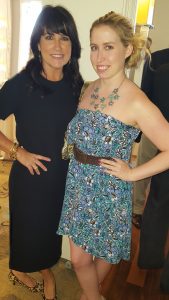 milk chocolate, Christopher loves the dark chocolate ("goes perfect with coffee"), but no matter which version, we agree that the confectionery does sweeten up the silver screen.
"We are honored to sponsor the Newport Beach Film Festival for the second year in a row," said Thagard. "Our toffee is made with only the finest, freshest, and most natural ingredients, and we cannot wait to share our superior product with festival-goers. Partnering with this extraordinary nonprofit organization aligns with our commitment to 'B. Giving Initiatives' in our local community."
For more information on B. toffee, visit btoffee.com.