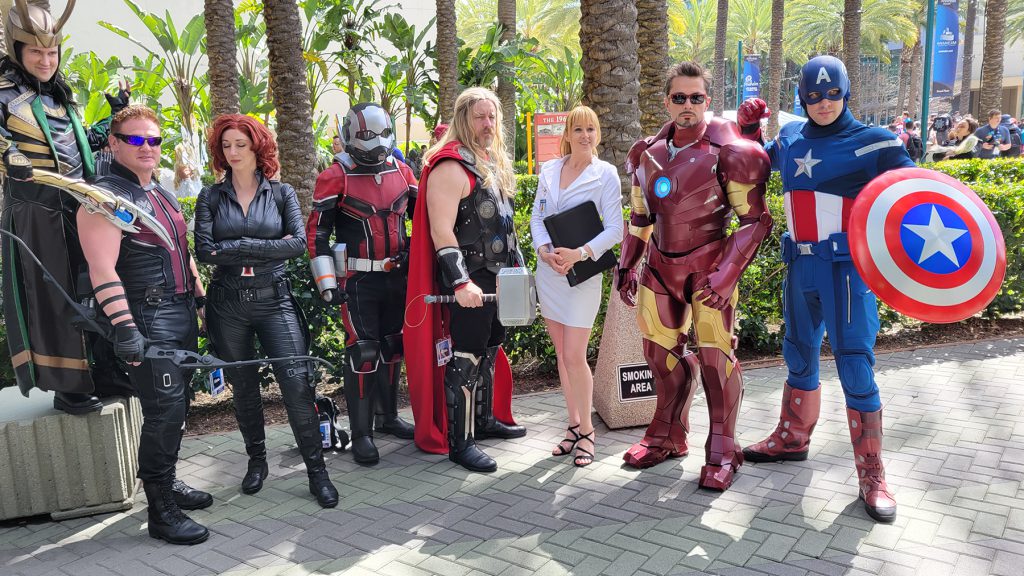 WonderCon returned to the Anaheim Convention Center March 24-26 bigger and better than ever.
Created by the same folks that host ComicCon in San Diego every summer, WonderCon is a smaller version of ComicCon with fewer celebrities but plenty of costumed characters, panel discussion on topics related to comics, cosplay, and superheroes, and dealers selling everything from original fantasy-themed artwork and movie posters to clothing, memorabilia, anime, comic books, and other items that incorporate the comic and science fiction theme.
While there were hundreds of retailers inside the Convention Center, the real show was outside the main hall, where fans dressed as their favorite characters from movies, comics and anime paraded around and posed for photos.
Observations upon attending WonderCon this year: Avengers costumes were in abundance, as well as popular DC characters such as Batman, Superman and Wonder Woman. The Mandalorian and Star Was worlds were well represented. Some fans created their own characters and outfits, others borrowed ideas from existing characters and morphed into alternate versions.
As described on the WonderCon website: WonderCon features 900+ exhibitors in a 412,000 square foot Exhibit Hall filled with comics, original art, toys, and merchandise from many popular artists, publishers, and retailers. Attendees enjoyed exclusive movie and television programming, panels featuring the top comics publishers in the country, anime, autographs, games, the Masquerade, and portfolio review. WonderCon offers the complete convention experience!
NB Indy Editor Christopher Trela and NB Indy photographer Lawrence Sherwin (along with many other Newport Beach comic & movie fans) attended the event and captured the fun.