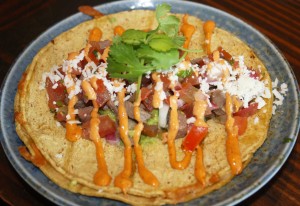 By Christopher Trela & Catherine Del Casale | NB Indy
This weekend is the Third annual Golden Foodie Awards at the Fairmont in Newport Beach, presented by the OC Restaurant Association to honor the best culinary creations in a variety of categories.
We went down the list of categories and nominees, and were happy to see that nearly every category had a Newport connection. We made our selections of who we hope/think will win. We'll report back next week with a list of winners.
Golden Pastry Chef Award: Chef Shelly Register (A Restaurant).
Best New Restaurant: The Winery Restaurant & Wine Bar Newport Beach.
Best Happy Hour: We're split between Wildfish Seafood Grille and Chapter One: The Modern Local.
Best Tacos: SOL Cocina. We love SOL's creative and authentic take on tacos.
Best Sushi: Bluefin. Christopher calls it "Art on a plate."
Best Mediterranean Cuisine: LUCCA. Chef Cathy Pavlos opened Provenance in Newport Beach earlier this year, but LUCCA in Irvine is her flagship restaurant.
Best Italian: We're split between CUCINA enoteca's modern American-Italian and Mare Culinary Lounge's authentic Italian.
Best Wine List: The Winery Restaurant and Wine Bar. Oh my, what a list.
Best French Cuisine: Marché Moderne.
Best Steak: Our favorite A Restaurant steak was not nominated, so we went with The Ranch.
Best Bartender: Koire Rogers. We love his creative concoctions at ARC.
Best Food Writer: Cathy Thomas, Dave Lieberman and Anita Lau are all nominated, but since we're food writers, we don't want to judge other writers (but Go Anita!).
Best Indian Cuisine: Tamarind of London
Best California Cuisine: 370 Common in Laguna Beach. Comfort food taken to another level.
Most Delicious Dessert: Tie between Maro Wood and Waterline Restaurant.
Best Seafood: Bluewater Grill.
Best Asian Cuisine: AnQi Gourmet Bistro & Noodle Bar. Two words—Garlic Noodles!
Newport Beach Wine & Food Fest Wrapup
We attended the inaugural Newport Beach Wine & Food Festival held at the Newport Beach Civic Center green last weekend (a superb venue for this kind of event), and came away impressed with just how good the festival turned out to be.
The Festival folks estimated attendance to be about 900 people on Saturday and 1,100 on Sunday, although the festival was spread out across the vast lawn so that it never felt crowded.
Everyone we talked to was having fun, and remarking on the quality of the food, which was light years above what used to be served at the old Taste of Newport food event.
We sampled a lot of creative food, tasted wines from numerous wineries, watched cooking demos from celebrity chefs, listened to live music, attended a sommelier-guided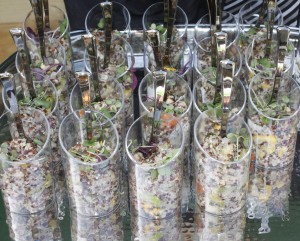 wine tasting, and overall had a thoroughly good time.
Plans are to make the Newport Beach Wine & Food Festival an annual event. Judging from this year's success, we think the Festival will become renowned as one of the best wine and food festivals in So Cal.
Ruby's Introduces Dinette Concept
Almost everyone knows Ruby's Diner, the 40s-themed restaurant (launched 30+ years ago in Newport Beach) that serves signature shakes and burgers in a fun setting.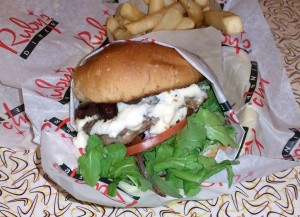 Ruby's recently unveiled a new concept called Ruby's Dinette at its Costa Mesa location on 17th St. The concept catapults the Ruby's theme forward two decades to the 1960s, with staff in mod outfits, décor that includes 60s-era posters and video clips, and a menu that takes the old Ruby's burger to another dimension.
We went for dinner last week and liked the fast-casual concept of ordering at the counter and having the food brought to our table.
Since it was our first time, the helpful staff explain the menu, and even let Christopher sample a taste of draft beer (a handful are on tap) before making a decision.
Catherine ordered a "Getting' Figgy With It" burger with aged cheddar cheese, roasted garlic and fig jam, while Christopher had the Zorba the Burger: a lamb patty with feta cheese, chopped Kalamata olives, grilled tomato and red onions, arugula, oregano and garlic. We also shared the chili fries.
"I loved the combo of sweet and savory," said Catherine. "And I'm pleasantly surprised by all the gourmet options Ruby's Dinette had to offer, at a great price."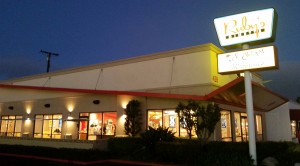 "I agree—my lamb burger was a delicious, juicy mouthful, and for two people to have a gourmet meal like this, plus beverages, for $30 total, is impressive," said Christopher. . "I want to go back and try their Brie, Bacon and Apple melt with Brie cheese, thick-cut bacon and red delicious apple slices on grilled Parmesan sourdough," said Catherine.
Ruby's Dinette is open for breakfast, lunch and dinner. For more information, visit Rubys.com.
Moulin Comes to Newport
We were sad to see Pascal's Epicerie close earlier this year (but he still has his Café Jardin at Sherman Gardens), but now another French bistro has taken its place.
Moulin, created by Laurent Vrignaud, opened this week serving breakfast, lunch and dinner daily from 7 a.m. to 7 p.m.
The menu includes French breads, pastries, rotisserie chicken, charcuterie and cheese plates, and traditional bistro fare.
Christopher popped in for lunch on Wednesday and loved the décor, and the food. We'll be writing more about Moulin in a future column.
Moulin is located near the corner of Jamboree Road and North Bristol Street, adjacent to Juliette Kitchen + Bar.
Visit moulinbistro.com for more info.
Fig & Olive & Champagne
Fig & Olive is offering what we think is a fantastic $65 Prix Fixe menu through Oct. 11 that includes a glass of Veuve Clicquot Champagne along with a choice of appetizer (including lobster bisque, crab & heirloom tomato salad, or beef carpaccio), choice of entrée (truffle risotto, zucchini blossom & goat cheese ravioli, chicken tajine, yellowfin tuna a la Provencale, or filet mignon), and a choice of two desserts.
For more information, visit FigandOlive.com.