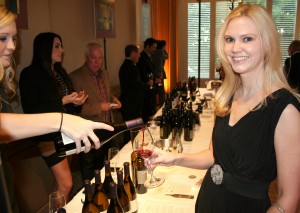 Think launching a world class wine event is difficult? Try sustaining it over six years. It's an impossible task, but leave it to Pacific Symphony to achieve the impossible.
On Saturday, February 9, the symphony hosts its sixth annual Pacific Coast Wine Festival, an evening of first-class wine tasting, a gourmet wine-paired dinner, and a silent and live auction of rare bottles and exceptional experiences.
In just six years, PCWF has become one of the most respected wine auctions in California, as well as a major fund-raising event for Pacific Symphony (raising a total of more than $800,000 for the Symphony's artistic and education programs).
I've had the privilege of being a volunteer at the first two wine festivals, and more recently experienced the wine tasting and dinner as a guest. I've been impressed with the quality of the wines and the dinner, the enthusiasm of the auction bidders, and the sincerity of all attendees in assisting the Symphony via this festive event.
Every year, organizers do their best to outdo the previous year, and it looks like they've done it again. This time, two wine "celebrities" join in on the fun: Master Sommelier Michael Jordon (of the much-lauded The Ranch Restaurant in Anaheim) offers color commentary during the live auction and shares wines from the Piedmont wine region of Italy, and Master of Wine and Cape Wine Master Peter Koff shares his precise expertise at a table of wines from South Africa.
"This will be a unique opportunity to taste with and learn from two amazing experts," says co-chair and festival founder Mike Kerr, a Pacific Symphony board member whose passion for wine, and wine collecting, led to the launching of PCWF.
"The wines in our silent and live auctions will be phenomenal," continues Kerr. "One of the highlights is the offering of eight bottles of a brand new wine from Screaming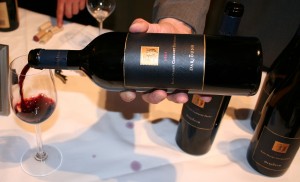 Eagle. Called Second Flight, the new wine was eight years in the making, and combines estate-grown Cabernet Franc and Merlot. The auction lot includes two bottles each of a four-year vertical collection from the years 2006 to 2009. This will be a rare opportunity to own a piece of Napa wine-making history."
Limited to just 350 wine enthusiasts and music supporters, this year's event – held at The Island Hotel in Fashion Island – gets underway at 5 p.m., as guests stroll through multiple rooms to taste over 60 wines, enjoy Parma prosciutto tastings and bid on silent auction items. At 7:15 p.m., guests are led into the ballroom to enjoy a five-course meal with wine pairings designed by the Island's Executive Chef David Mann, along with entertainment by members of the Pacific Symphony Youth Orchestra. The evening culminates with a live auction featuring some of the finest wines and auction lots in the United States.
Tickets start at $375 per person–a hefty price tag, but given the exclusive wines and the event's mission, well worth it.
For tickets, visit PacificCoastWineFestival.com.