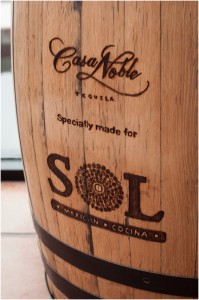 By Christopher Trela and Catherine Del Casale | NB Indy
Someone recently asked us how we select the restaurants we write about, and if our meals are comped. Both good questions!
We receive information on various local restaurants from a variety of PR companies that handle those restaurants. They often hold media tastings and invite food writers from local publications to sample new menu items, new beverages, etc. This also gives us the chance to talk to the chefs and restaurateurs, and get more background on the menu items, and the restaurant. We also chat with fellow food writers to compare notes.
We attend restaurant openings to get a sense of what the restaurant will be offering to the public, and talk to the owners about their concept. Sometimes, a chef will invite just the two of us to try new menu items and get our feedback. Occasionally, we hear about a restaurant we haven't tried, so we'll go on our own to check out the menu.
In all cases, we don't aim to write a traditional restaurant review, but rather to offer our hopefully fun-to-read take on the menu, the ambiance, the chef, etc. I always bring my digital voice recorder to record our comments, and my camera to take photos of the food and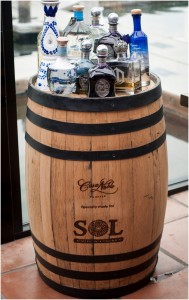 the restaurant.
One PR company that handles some of the best restaurants in OC is Moxxe PR, created by Mona Shah-Anderson. We love Mona, because she's passionate about food, and about the restaurants she represents, which include Bruxie (six locations in OC), ARC in Costa Mesa (one of our new favorites), The Winery (moving into the old Villa Nova spot this fall), and SOL Cocina on Coast Highway.
Mona recently invited us, along with a handful of other food writers, to experience SOL's new Tequila Thursdays event featuring a SOL single barrel reposado tequila.
I love good tequila straight up, Catherine loves it in a cocktail, so of course we said yes to the invite.
SOL's tequila is custom blended at Casa Noble's tequila distillery. Only 360 bottles were produced, and it's only available at SOL in Newport Beach and Scottsdale, Arizona.
According to GM Matt Baumayr, the tequila is balanced with caramel and chocolate notes that make it an approachable sipping tequila with enough backbone to hold up in one of their hand-crafted cocktails.
We agree with Baumayr. I thought the SOL tequila was indeed balanced and smooth on its own, while Catherine had it mixed as a skinny margarita and a house margarita.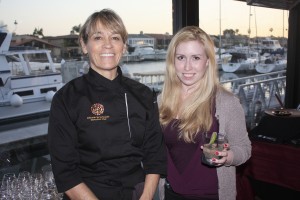 "This doesn't taste like it has less calories but it does," exclaimed Catherine after a few sips of her drink. "It has a little bit of tanginess to it and more of a lime flavor. But the  house margarita with their new tequila is my favorite–it has a splash of orange juice added to their regular house mix of flavors, which gives it a rich taste."
As a bonus, owner and executive chef Deborah Schneider was on hand making her signature street tacos. A few food writers stayed and ordered additional items from Chef Deb's authentic menu featuring south of the border cuisine.
Tequila Thursdays takes place most Thursday evenings from 6 to 8 p.m., through June 27. During Tequila Thursday events, guests enjoy a complimentary tasting in the bar, and can then order the featured tequila all night for half-off the normal price. Of course, SOL carries more than 70 different tequilas, so there's always something for everyone–and then some.
Upcoming events include Dos Armadillos on June 20, and Casa Noble on June 27.
For more information, visit SOLCocina.com.