By Christopher Trela and Catherine Del Casale | NB Indy
Summertime, and the dining is easy–especially when so many restaurants are adding special seasonal dishes to their menus.
But the summer fun doesn't end with restaurants. Newport's "official" bakery has added new items with a summer flair, and one shop is spicing things up this summer.
 WONDERLAND BAKERY
Wonderland Bakery at The Bluffs Shopping Center on Bison Avenue has been named the official bakery of Newport Beach and dubbed the town's official "Sweet Ambassador." Anyone who has been to this "Allyson in Wonderland" themed store (named after founder Allyson Ames) knows why it has become so popular.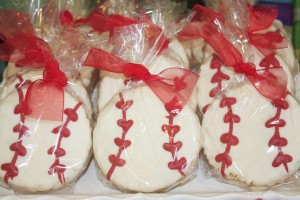 Wonderland's fame has gone national. They recently made the official cookie for the "Superman" premiere, and last year created the official Major League Baseball Official All Star Cookie.
Baseball cookies are only one of the sweet treats available this summer at Wonderland Bakery. They have Fourth of July cookies, Rice Krispee treats in the shape of flip flops, and other fun desserts.
"We also have cookie decorating parties to go," said Sondra Ames, co-owner of Wonderland Bakery (and Allyson's mother).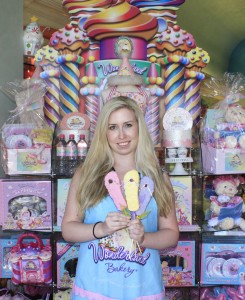 "We have a plate of 10 undecorated cookies, and we provide  icing and sprinkles–we bake, you decorate. We do them in any shape or theme, and we can ship anywhere."
"We're also doing Christmas in July," added Ames. "All Wonderland-brand merchandise is buy one, get one free. That includes, aprons, T-shirts, wands, talking animated bear, Allyson doll, anything that's our brand."
For more information, call (949) 640-9095 or visit WonderlandBakery.com.
 SAVORY SPICE SHOP
We usually let others do the cooking, but summer is barbecue season, so we were ready to fire up the grill when Savory Spice Shop in Corona del Mar Plaza gave us some samples of their spices and rubs to try. We bought steaks, lamb chops, chicken, and hamburger, and applied the spices and rubs to see which ones we liked best.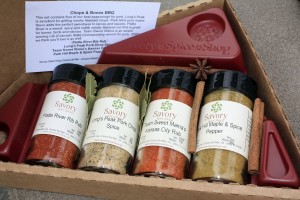 As usual, Catherine and I both liked several of the spices, and differed on other ones.
We both enjoyed the Platte River Rib Rub, which contains Spanish paprika, salt, brown sugar, black pepper, medium chili powder, roasted garlic, toasted onion, nutmeg and hickory smoke flavoring. We thought the taste was Southern BBQ style with a touch of spice.
We also liked the Long's Peak Pork Chop Spice, which is a blend of salt, garlic, onion, black pepper, shallot, ginger, hickory smoked salt, hickory smoked flavoring, regular mustard powder and crushed brown mustard.
My favorite was the Roman Pepper Steak Seasoning– sea salt, black pepper, garlic, white pepper, crushed red pepper, lemon peel, rosemary, basil, citric acid and lemon thyme.
We like the fact that Savory Spice Shop has more than 400 spice blends to choose from, and they can custom-blend to suit any taste bud.
Individual spice blends vary in price; boxed sets generally range from $23 to $25.
For more information, call (888) 677-3322, or visit SavorySpiceShop.com.
VILLAGE INN
Hard to believe that The Village Inn on Balboa Island has been around for more than 80 years, which makes it one of the oldest restaurants (possibly the oldest) in Newport Beach.
Locals love to stroll over for lunch or hang out in the lounge to listen to live music, but it's also been a popular place for those renting homes on Balboa Island for the summer.
As the saying goes, everything old is new again, and new is the watchword at Village Inn. The restaurant has new owners (Daniel and Jessica Miller) who took over a year ago and have been making improvements to the cuisine and ambiance.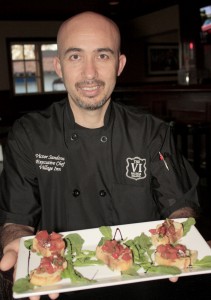 They brought in Chef Victor Sandova earlier this year, and he's remade the menu and added some items that have become extremely popular, including the Village Burger ($12), which starts with 8 ounces of Angus beef and then adds aged cheddar, applewood smoked bacon, arugula, and house spread.
"We're doing new twists on old classics," Sandoval told us during our recent dinner at Village Inn. "We've got a pot roast that's become very popular, I have a Portobello mushroom burger which is my take on a veggie burger, we've got signature cocktails, I've added some unique salads–everything on this menu has been done especially for this restaurant, and it's been well received by our customers."
Catherine and I ordered two signature drinks: the Balboa Buzz and the Newport Martini, which were colorful and disappeared fast.
We had the toasted bruschetta ($9), a baked brie salad ($12), goat cheese mashed potatoes ($5), short ribs ($24), and crème brûlée for dessert ($8).
Catherine's comments: "Since eating at the Village Inn I don't think I have stopped talking about how amazing the brie salad is. I'm not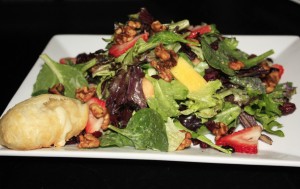 normally a salad girl, preferring to stick to meat and potatoes, but this salad was perfect. It had a small puff pastry filled with melted brie alongside a leafy green salad with seasonal fruit including strawberries, pineapple and honey dew, plus caramelized walnuts and an orange citrus vinaigrette drizzled on top.
Another notable dish was the goat cheese mashed potatoes, which tasted as good the next day as they did freshly made (there was so much I had to take some home). And the blood orange crème brûlée was a nice twist on what can be a boring dessert. It had a tropical summer taste to it while still showcasing the usual textures and flavors of regular crème brûlée."
We'll be writing more about the Village Inn, and our conversation with Chef Sandova, later this summer as we sample more menu items.
For more information, call (949) 675-8300, or visit VIBalboaIsland.com.
MARIO'S: A TASTE OF ITALY
Another restaurant that's been around several decades is Mario's, located in a small shopping center at the corner of Coast Highway and Superior Avenue.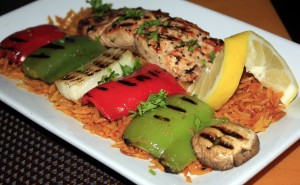 This small Italian bistro has a casual ambiance that's a perfect spot to grab lunch, and it transforms at night into a candlelit cafe.
Owners Mandy and Tony told us that they have people who came to Mario's as kids who now bring their own children to dinner at the restaurant. They said that many families vacationing in Newport come back to Mario's year after year.
The menu is simple, and after sampling it during two recent visits, very tasty. We'll be writing about them more in July, but we can tell you that the dishes we tried, from pasta to salads to appetizers, were all colorful, flavorful, and reasonably priced (nearly everything on the menu is under $20).
For more information, call (949) 722-7151. They don't have a website, but you can find them on facebook.