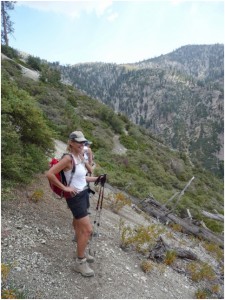 I was hiking with a friend in Crystal Cove State park when she turned to me and said, "I have wanted to hike here for the past 15 years and never made it, why did it take me so long. I love this."
We continued the discussion about how so often we talk about doing things but get busy with the "to do" lists, and other obligations that we push aside things.
These things that fill us up emotionally and physically are just as important as getting the "to do" lists done. It takes effort to make the time to do these things, but they are easy to push aside because they are not "must dos."
As much as I totally believe in living in the moment, I also know that sometimes we have to get clear about things we want to experience.
Every summer, I promise myself I am going to take advantage of all the amazing activities that Orange County has to offer, such as the Orange Country Fair or Music in the Park, and yet I always seem to find just as many excuses to not make the time for them.
Vacations, family activities and change in schedules seem to get in the way, let alone just plain forgetting about the activities.
In the next couple of weeks alone, we have America playing at the 4th of July celebration at Newport Dunes, Hollywood U2 playing for free at the new Civic Center Green next Sunday, and then the OC Fair starts.
I am also amazed at how many people are not even aware of the hiking trails at Crystal Cove State Park, or how many people have not taken a sunset walk along the beach, or picnicked at one of Newport's beautiful parks, or biked from one beach to another, or visited Sherman Gardens.
What is even more amazing is most of these activities are low cost or free. You can't beat that.
As simple as it sounds, I have learned that putting events in my calendar helps me to remember and keeps activities as a priority.
Life does need to be intentional at times. It is fun to get a group of friends together and plan to meet at one of the free concerts, or take your family on a hike, or enjoy a well-deserved lunch at Rose Café or the Shake Shack.
But it does not end there.
Newport has some amazing restaurants with every type of food you can imagine. Ocean views, outside dining, great happy hours at amazing prices–what more could we ask for?
It is easy to keep frequenting the same places, and it is good to have our favorites; however, it is also fun to try somewhere new.
It is fun also to go to one of the great specialty food stores such as Whole Foods, Trader Joes or Bristol Farms, buy some interesting new foods, and make a picnic to take to the beach or a park.
Think about trying something new next time. I remind myself all the time that people come from all over the world to spend time here, and we get to live here every day. It is easy to forget how amazing Newport is. I am making sure I don't forget, so I'm making plans for a new experience. How about you?