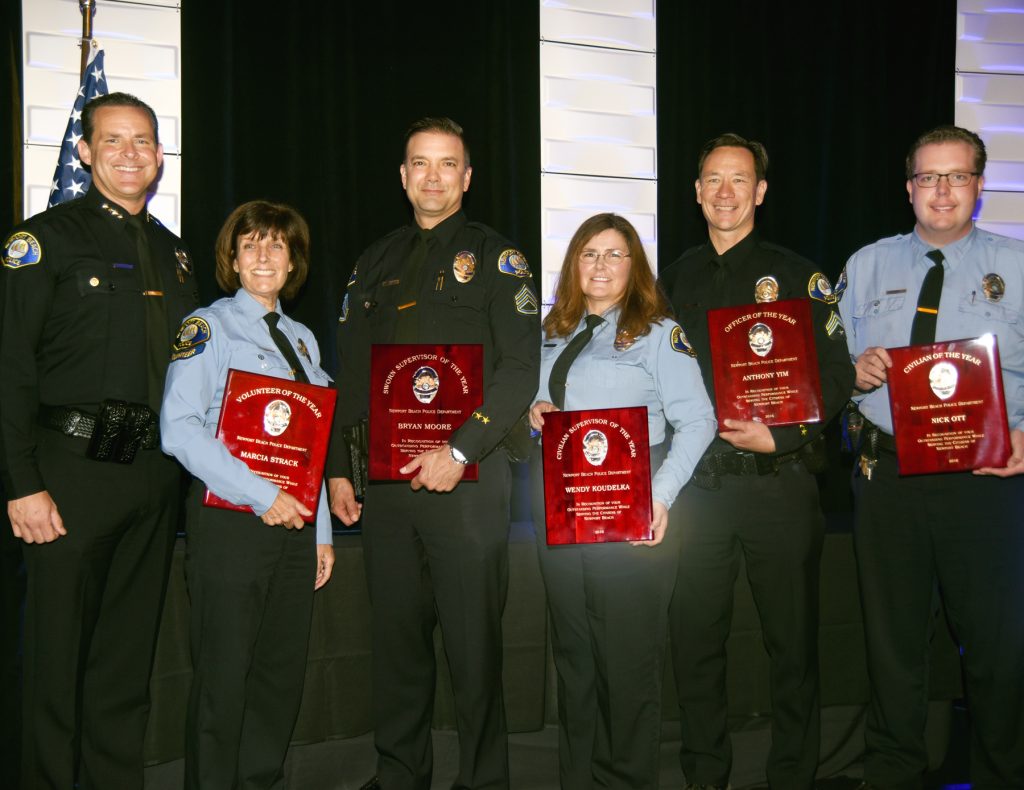 The Newport Beach Chamber of Commerce hosted the 46th Annual Police Appreciation Breakfast on Wednesday, honoring the men and women of the city's police department.
The sold-out event at the Hyatt Regency Newport Beach was attended by all members of the City Council, several of the city's staff, Orange County District Attorney Tony Rackauckas, County of Orange Supervisor Michelle Steele, former mayors Rush Hill and Keith Curry, and Newport-Mesa Unified School District trustees Martha Fluor and Karen Yelsey.
Mayor Kevin Muldoon welcomed everyone and told the hundreds of attendees that "the Newport Beach Police Department is recognized as one of the best in Orange County, but in my opinion, you are the best in the country. Of course, I may be a little biased."
Carol McDermott, Police Appreciation Breakfast Chair for the Commodore's Club, opened and closed the morning's program. She admitted that she enlisted the help of her grandson when it came to jokes, although her most memorable did not come from him.
"There are four food groups for policemen," she declared in introducing Police Chief Jon Lewis, "Jelly, powdered, glazed, and frosted."
"Wouldn't be a police breakfast without a donut joke," responded the newly-appointed Lewis, who officially became the 10th chief of police for the city last March.
Lewis called the event a "well-deserved thank you," and told the audience that he was "grateful and humbled by your support." Also thanking the families of police officers, he declared, "We are one team, one family, one mission."
In keeping with the message, Lewis introduced a video made in connection with the department called "Your Police Officer."
"With all that's happened recently, in the world of law enforcement, it's easy to feel a little more distant and removed from your public servants," Lewis said. "We thought today it was important to give you the opportunity to get to know us a little better. In a sense, give you access to see your police officers as they truly are: protectors, servants who work in your community every day."
Twelve awards were handed out during the ceremony, which was emceed by Michele Gile of KCAL9 and CBS2. Also a Newport Beach resident, Gile shared her personal thanks for the department's work, particularly during a home invasion that she and her daughter experienced last year.
Among the award highlights was the Civilian of the Year Award to Animal Control Officer Nick Ott, who oversaw the widely-covered rescuing and rehabilitation of Henry, an abandoned golden retriever found wandering the beach with a 42-pound tumor. Henry's negligent owner was charged with various counts of animal cruelty in December and the case is currently being handled by the district attorney's office. Henry lives with a new family now and is a happy and healthy dog.
Perhaps stealing the show was 28-year veteran Wendy Koudelka, who was honored as Civilian Supervisor of the Year. The department's Communications Manager told the audience that she knew Jon Lewis would be chief of police one day.
"I trained this man!" she exclaimed, gesturing to a surprised Lewis, and revealed to everyone that she thought he was the "cherub of justice…with his baby face." Later called "cherub-in-chief" by Michele Gile, it's not a moniker Lewis is not soon to forget.
Awarded Officer of the Year, Officer Anthony Yim echoed many of his fellow honorees' sentiments with a heartfelt thanks not only to the department and distinguished guests of the breakfast, but to the entire city. Acknowledging a rocky relationship between police and civilians around the country, he said citizen's support of their often thankless work was important.
"In today's society, we appreciate it."
To view the video "Your Police Officer," visit bit.ly/yourpoliceofficer.