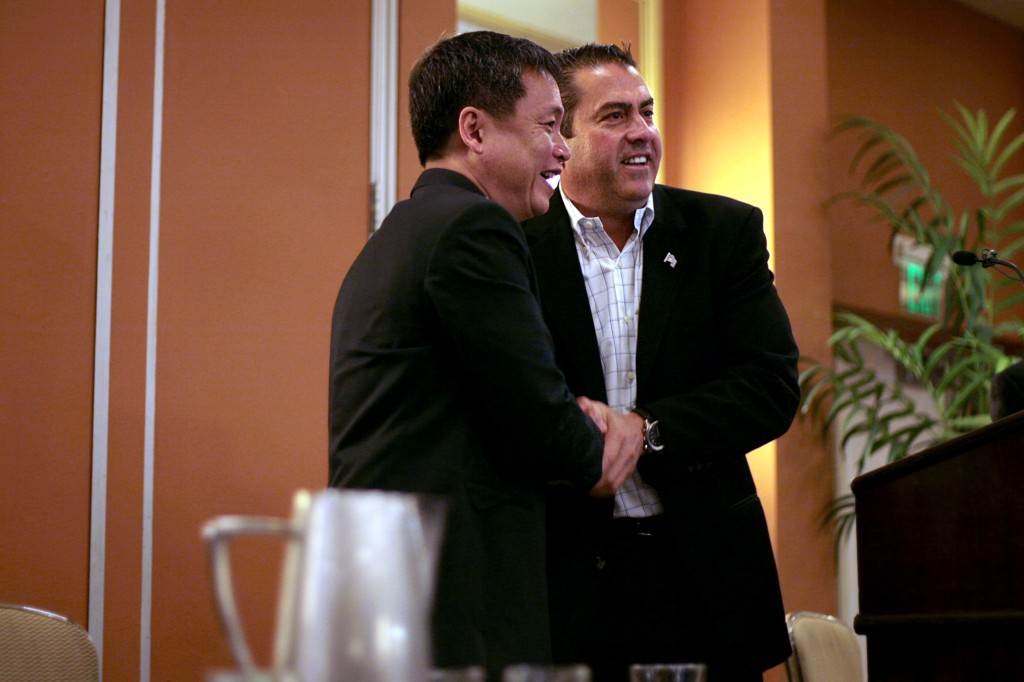 About 200 people attended the Gordon Cologne Breakfast during the 2014 WateReuse California Conference on Monday.
The event, held at the Newport Beach Marriott Hotel and Spa, included several notable speakers. The four officials discussed drought-proofing and how to deal with water shortage issues around the world.
"Water reuse is increasingly becoming a viable and sustainable option," said Harry Seah, chief technology officer for Singapore Public Utilities Board.
Currently, only a small percentage of the world's used water is recycled, Seah said.
"Water reuse has the potential to make a far greater impact," he said.
Congressman Dana Rohrabacher agreed.
"We can reuse our water and purify it," he said, "over and over again."
It was difficult to convince citizens about the "toilet to tap" idea, he said. Today's technology can purify the water so that it's pure and safe, he said.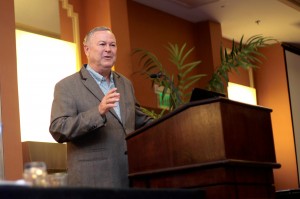 "That, I believe, is the future," Rohrabacher added.
The breakfast also honored the Orange County Water District's achievement of earning Singapore's Lee Kuan Yew water prize for its Groundwater Replenishment System.
"The Lee Kuan Yew water prize is the highlight of Singapore International Water Week," Seah said. "The award recognizes outstanding contributions toward solving global water problems by applying groundbreaking technologies or implementing innovative policies or programs for the benefit of mankind."
The OCWD was awarded the prize for its work in groundwater management and water reclamation using advanced water reuse technologies and achievements in public policy and community outreach that have advanced public acceptance of water reuse, Seah explained.
"It is a tremendous honor for us to receive it," said Shawn DeWane, Orange County Water District board of directors president.
"OCWD is a sterling example of a water reuse program that meets multiple objectives," Seah said.
Those objectives include: Scientific studies, technology development, and public outreach efforts, he explained.
The Groundwater Replenishment System takes highly treated wastewater, that otherwise would be discharged into the Pacific Ocean, and purifies using a three-step advanced treatment process consisting of microfiltration, reverse osmosis and ultraviolet light with hydrogen peroxide. The process produces high-quality water that exceeds all state and federal drinking water standards, according to the GWRS website.
The system is currently expanding to create an additional 30 million gallons per day. It will bring the total production of the GWRS up to 130 million gallons per day. Completion is anticipated in 2015.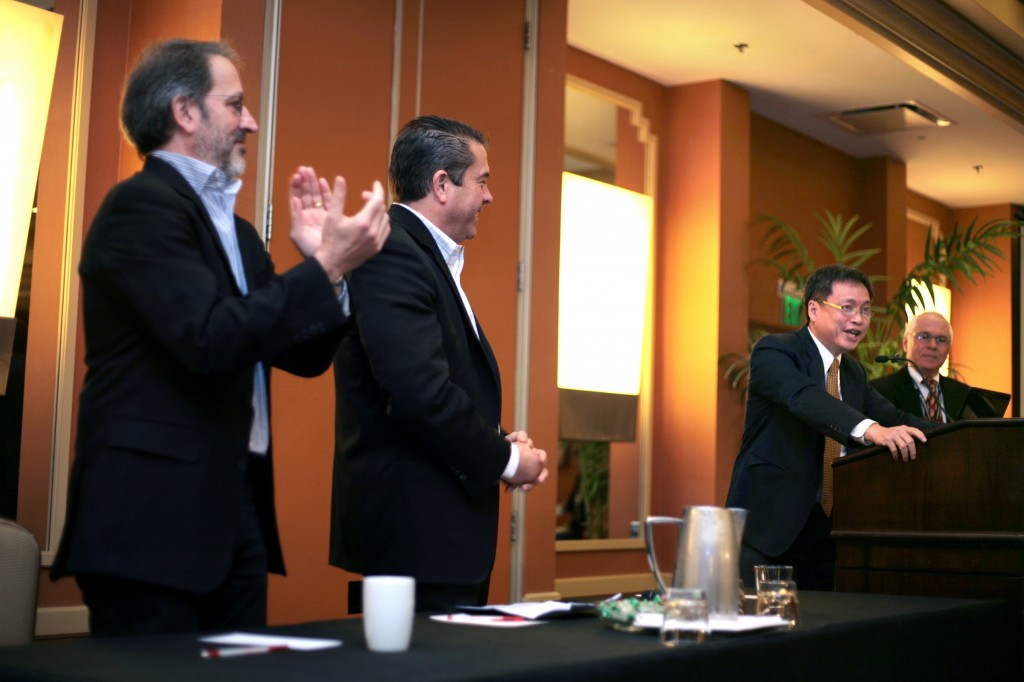 It cost $481 million to build the project and was funded through local, state and federal grants covering $92.8 million of the costs and Orange County Water District and the Orange County Sanitation District sharing the remaining $388 million.
The GWRS is the largest water purification project of its kind in the world, according to the website.
About 70 percent of Orange County's water demand is met locally by the groundwater basin, according to DeWane
"The return on investment for our cities has been tremendous," he continued. "They get high-quality, reliable water that's locally controlled at about a third of the cost of imported water."
"Clean, affordable water is fundamental to our quality of life," DeWane said.
The system "uses less than half the energy required to pump imported water from Northern California to Orange County and other parts of Southern California" and "uses less than one-third the energy that it takes to desalinate ocean water."
"Every drop of water we create locally frees up another drop someplace else in the state to water the very crops that sustain the food basket that serves America," DeWane said.
The OC Water District has "gotten it right, for a long, long time," Rohrabacher said.
The system is "visionary," Rohrabacher said. The alternative, letting the water go into the ocean, is an absolute waste of a natural resource, he added.
"I hope that OCWD continues to evolve and remains at the forefront of innovation in water treatment and water reuse worldwide," Seah said.
In Singapore, they don't call it wastewater, he explained, they prefer to call it used water.
"In a way, we are trying to redefine the relationship with water," he said.
Shortages occur in Singapore, despite all the rainfall, because they have limited land to store water, Seah explained.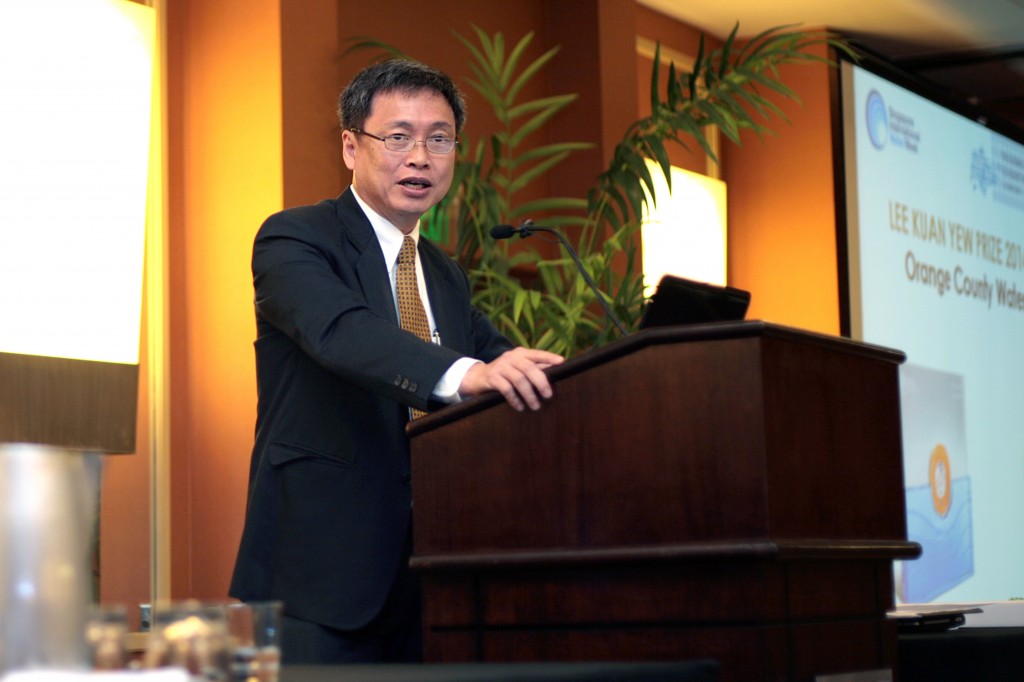 Water in Singapore comes from four sources: Rainwater catchments, imported water from Malaysia, reclaimed water called NEWater, and desalinated seawater
The four "taps" have helped create a diversified supply of water, Seah said.
"We try to collect every single drop," Seah said.
NEWater is high-quality, recycled water "produced from treated used water that is further purified using advanced membrane technologies and ultra-violet disinfection, making it ultra-clean and safe to drink," according to the PUB website.
They call it NEWater to try and avoid any negative connotations, he explained.
They are looking to expand the program, Seah said. Currently, recycled NEWater meets about 30 percent of Singapore's total water demand. They are looking to increase that amount up to 55 percent.
"The value of NEWater lies in its capability to strengthen our water supply resilience, especially against weather extremities like dry spells and droughts," Seah said.
Public outreach about the importance of water is also importance, Seah said.
"Every drop of water is precious," Seah said.
Singapore PUB's tagline, "Water for All: Conserve, Value, Enjoy," really sums it all up, he added
That should be a similar for Orange County, the other speakers agreed.
There has been a massive increase in population in Orange County over the last 50 years, he said. It's important to think about what people will need, in terms of water and energy, years down the road, Rohrabacher said.
"We (need to) ensure that the future is taken care of as we move through the present," Rohrabacher said. "We need to make sure we are ready for our future and clean water and ground replenishment of water are a part of that formula."
As chairman of the Europe, Eurasia and Emerging Threats subcommittee in congress, Rohrabacher is tasked with overseeing certain issues.
"Well if there is ever anything that is an emerging threat in this world, it's whether or not we are going to have the clean water that's necessary 10, 20 years down the road," he said.
Other speakers included Dave Smith, Managing Director of WateReuse California, and Jay Famiglietti, University of California, Irvine professor and member of the Santa Ana Regional Water Quality Control Board.
Richard Harris, a senior policy advisor for Nossaman, LLP, and lobbyist for WateReuse, and Wade Miller, executive director of WateReuse Association, also gave an overview of water-related bills and current government actions.
For more information, visit pub.gov.sg, watereuse.org, gwrsystem.com, and ocwd.com.