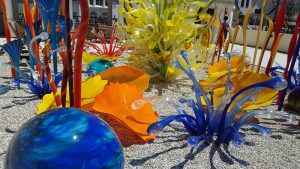 We often take the most common things around us for granted. We see the harbor and the beach and don't always appreciate what's in our own backyard—even if that backyard is 26 watery miles away.
Newport locals have been visiting Catalina for many years, since its only just over an hour travel time via the Catalina Flyer. If you have not been to Catalina in a while, this is an ideal time to go, thanks to several new attractions.
My 30-hour journey started on an overcast Sunday as the Catalina Flyer pulled out from its berth next to the Balboa Pavilion.
An hour later, I unloaded my bags and headed to the Pavilion Hotel, a favorite lodging on the island. With just 73 rooms, it is intimate yet accessible, since it fronts the main street, Crescent Avenue, and is just minutes from everything in Avalon.
The outside sitting and lounge area bring back more carefree times and calmness when staying somewhere with minimal services, but maximum charm.
First stop: the newly built Catalina Island Museum on Metropole Ave. Construction of this beautiful 18,000-foot structure was a three-year effort and cost $9.2 million, but the results are exquisite.
There is abundant outside display areas for exhibits and events, plus an amphitheater for movies and presentations. The interior is museum-like yet inviting, with rooms of memorabilia and historic displays and exhibits, along with an intimate theater where you can view a short clip of the history of the island and of the exhibit we came to see: the Chihuly Glass Exhibit.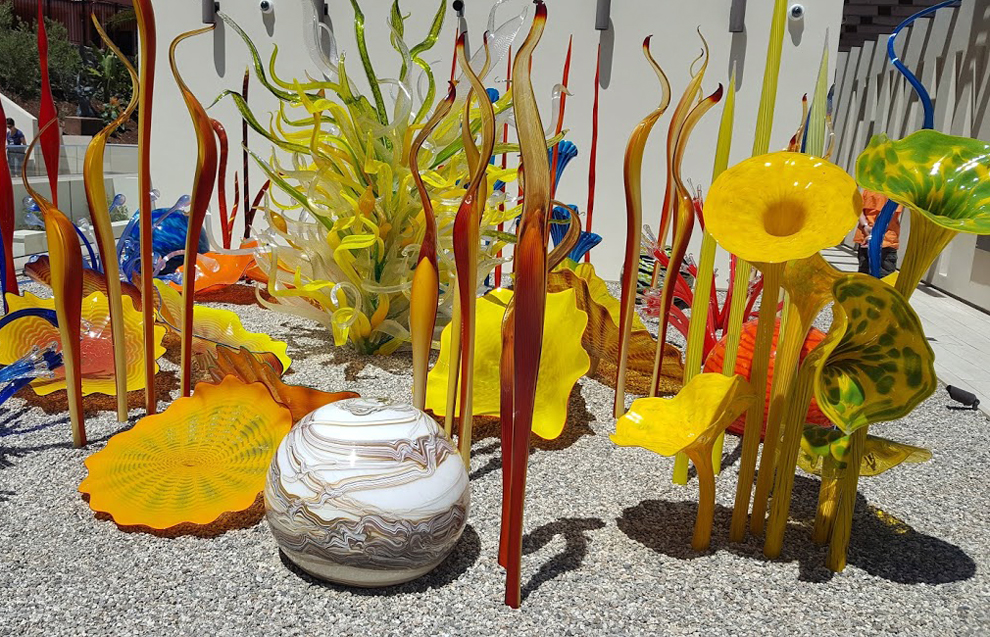 The expression "a picture speaks a thousand words" holds true when describing Chihuly. For over 50 years Dale Chihuly and his team have created glass art with unimaginably vibrant colors and shapes and sizes, from coffee table size to 20-foot-tall towers.
"Chihuly was here for our opening," shared Gail Fornasiere, the Director of Marketing for the Catalina Island Museum, "and he is an amazing and imaginary artist."
This exhibit is only one of two Chihuly exhibits on the West Coast (the other is in Seattle). These art sculptures have been installed worldwide and reside in museums as well as in outside venues, including rock gardens and amongst water treatments.
The Catalina exhibit starts on the foyer as you gaze up at a 20-foot chandelier dangling above your heads. Even more striking is another outside tower with vibrant colors and the favorite of the museum, a bright yellow starburst pattern hanging inside its own gazebo.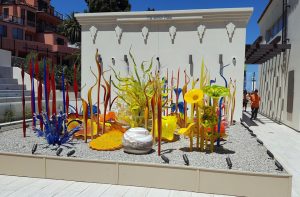 The exhibit runs through Dec. 11.
The next day featured a behind-the-scenes tour of the iconic Avalon Casino, which has been the focal point and main landmark of the island for almost 80 years
The tour takes you through the Green Room (still looking like it did almost a century ago), plus onto the stage area and the enormous dance floor which held up to 6,000 dancers in it's heyday.
The original movie projectors can be viewed on this tour, plus you can traverse the hidden passages once graced by the biggest stars from the last century.
Last stop before heading home was a lunch break at Descanso Beach Club, a "private" club which charges a reasonable $2 to use the beach and is open to the public for food and libations.
Too busy to go to Hawaii? Don't want to deal with international travel to Mexico? For just $70 round trip per person (or less if you can find a GroupOn deal) you can hit Catalina for the day, or stay overnight and enjoy the leisurely pace at the right speed.
For information on Catalina Island, visit visitcatalinaisland.com.
For information on the Catalina Island Museum, visit catalinamuseum.org.