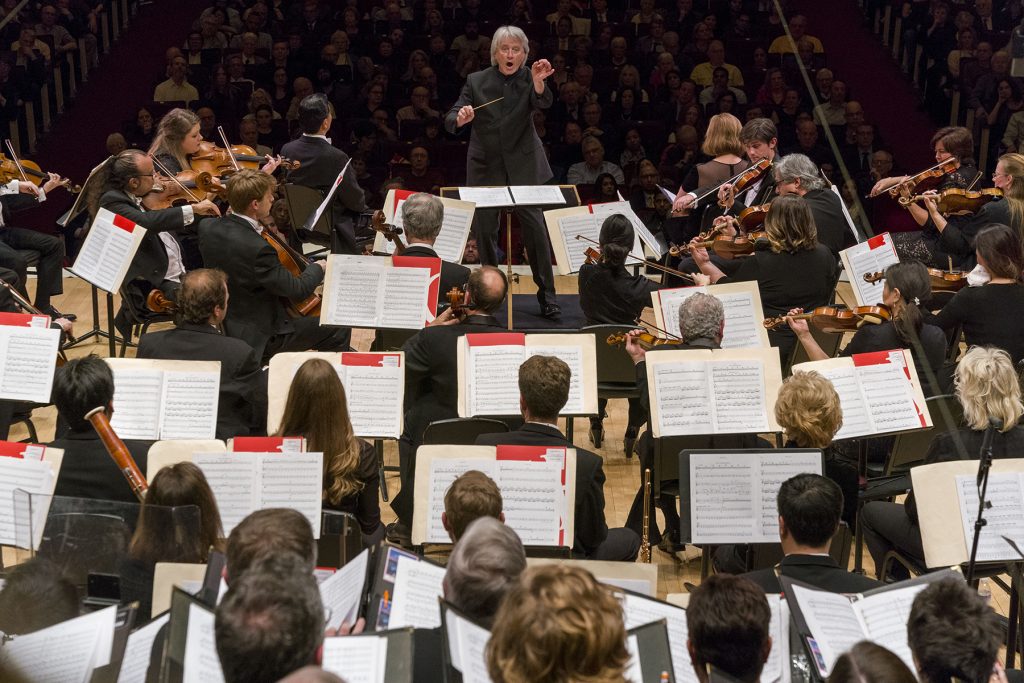 Forty years is not a long time in the life of a symphony orchestra, but it's long enough for the Pacific Symphony to have established itself as a world-class arts organization whose rise to prominence in the classical music world has been both meteoric and memorable.
Founded in 1978, the Pacific Symphony is the largest orchestra formed in the United States in the last 50 years. It's a remarkable claim, made possible by having a world-class concert hall – the Renee and Henry Segerstrom Concert Hall – and a world class conductor in Carl St.Clair, who has guided the orchestra for nearly three decades, making him one of the longest-tenured conductors of the major American orchestras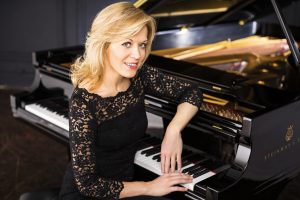 Pacific Symphony launches its 40th season on Sept. 27 with a program that includes American composer Frank Ticheli's "Shooting Stars," commissioned for Pacific Symphony's 25th anniversary and newly revised for this season's celebration; Ravel's "Boléro," highlighting musicians of Pacific Symphony as soloists on stage and in a specially commissioned anniversary film; and guest soloist Olga Kern performing one of her signature pieces: Rachmaninoff's Piano Concerto No. 3.
When I started writing about Pacific Symphony in the early 1990s, St.Clair had just arrived in Orange County. Orange County was still coming of age as a cultural community, and St.Clair was there to elevate the Pacific Symphony and transform it the world-class organization it needed to be.
I had the pleasure of interviewing St.Clair many times. Although I played violin and had a classical music background, I relied on St.Clair to guide me through his series of Mahler concerts, explain his affinity for German composers, and reminisce about his mentor, the great Leonard Bernstein.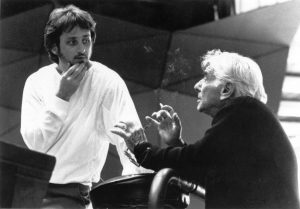 A few years later, I found myself working for Pacific Symphony as the PR director leading up to and during the orchestra's 25th anniversary season. I'll never forget sitting in the back of an empty concert hall watching the symphony rehearse, thinking how lucky I was.
Actually, it's Orange County that got lucky. A few years after St.Clair began his tenure, John Forsyte arrived as the Pacific Symphony's new president (he recently celebrated 20 years with Pacific Symphony). Together he and St.Clair brought the orchestra to greater artistic heights while garnering new symphony supporters and launching a variety of educational initiatives.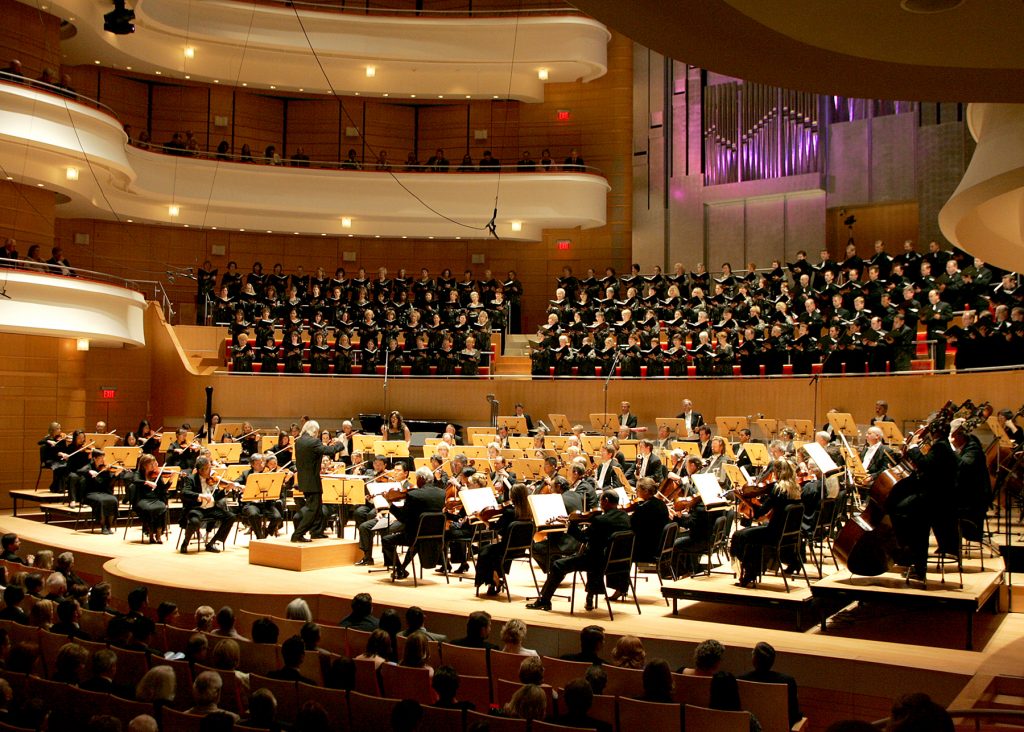 "The 40th anniversary is a landmark season for Pacific Symphony," said St.Clair, who will lead the orchestra in his 29th season as Music Director. "It has been my pleasure to work with these brilliant musicians over the years, and I look forward to conducting the Symphony in repertoire that showcases their virtuosity and humanity. This will be a season of celebrations: from the Bernstein centennial concert in October, which is particularly meaningful to me because of my cherished experience studying with this great artist, to a concert in April marking the 50th anniversary of the moon landing that will feature a work we've commissioned from Michael Daugherty, one of the most widely performed American composers of his generation."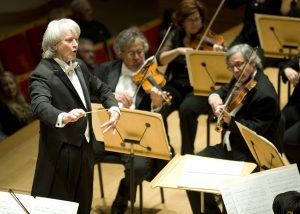 "With the 40th anniversary season, we're building on the momentum generated during the 2017-18 season, which includes Pacific Symphony's Carnegie Hall debut at the invitation of Philip Glass, and a five-city tour of China, the orchestra's first international tour since 2006," said Forsyte. "All this provides a musical springboard that naturally unfolds into a season of celebrations as the orchestra enjoys growing national recognition while leading a cultural renaissance in the communities of Orange County."
According to the Pacific Symphony, the 2018-19 classical season continues the Symphony's commitment to American music through performances of works by Leonard Bernstein in honor of his centennial, and contemporary American works commissioned by the orchestra. The season also reflects the orchestra's diverse repertoire—from core symphonic works to full length operas—and penchant for re-interpreting the classics for the 21st century, through choreography, lighting, and other multidisciplinary elements.
One of the programs I'm looking forward to is called Bernstein @ 100 (October 25-27), which celebrates the composer/conductor's 100th birthday. 
As a 1985 conducting fellow at Tanglewood where Bernstein taught and performed virtually every summer for 50 years, St.Clair was directly influenced by Bernstein and has a profound perspective on Bernstein and his works.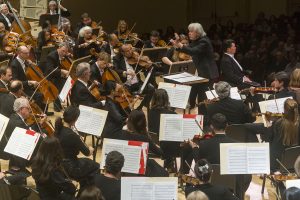 The Bernstein @ 100 program features the composer's "Prelude, Fugue and Riffs," which was dedicated to Benny Goodman and will be performed with Pacific Symphony's principal clarinetist Joseph Morris; "Chichester Psalms" with the Pacific Chorale; "Serenade" (after Plato's Symposium), featuring violinist Augustin Hadelich; and soprano Celena Shafer singing Broadway selections by Bernstein.
For more information, visit PacificSymphony.org.
The Symphony's website provides background on the performances and the performers, along with Spotify playlists of works to be performed.
A side note: the Symphony's blog, written by Writer-in-Residence Timothy Mangan, features engaging articles, audio and video to enhance patrons' experience before and after performances. He also writes the Symphony's monthly newsletter, Pacific Overtures.
Mangan was the longtime classical music critic for the OC Register until the newspaper started downsizing several years ago. Mangan is a cheerleader for the arts, and a wonderful writer who comes from a classical music background.