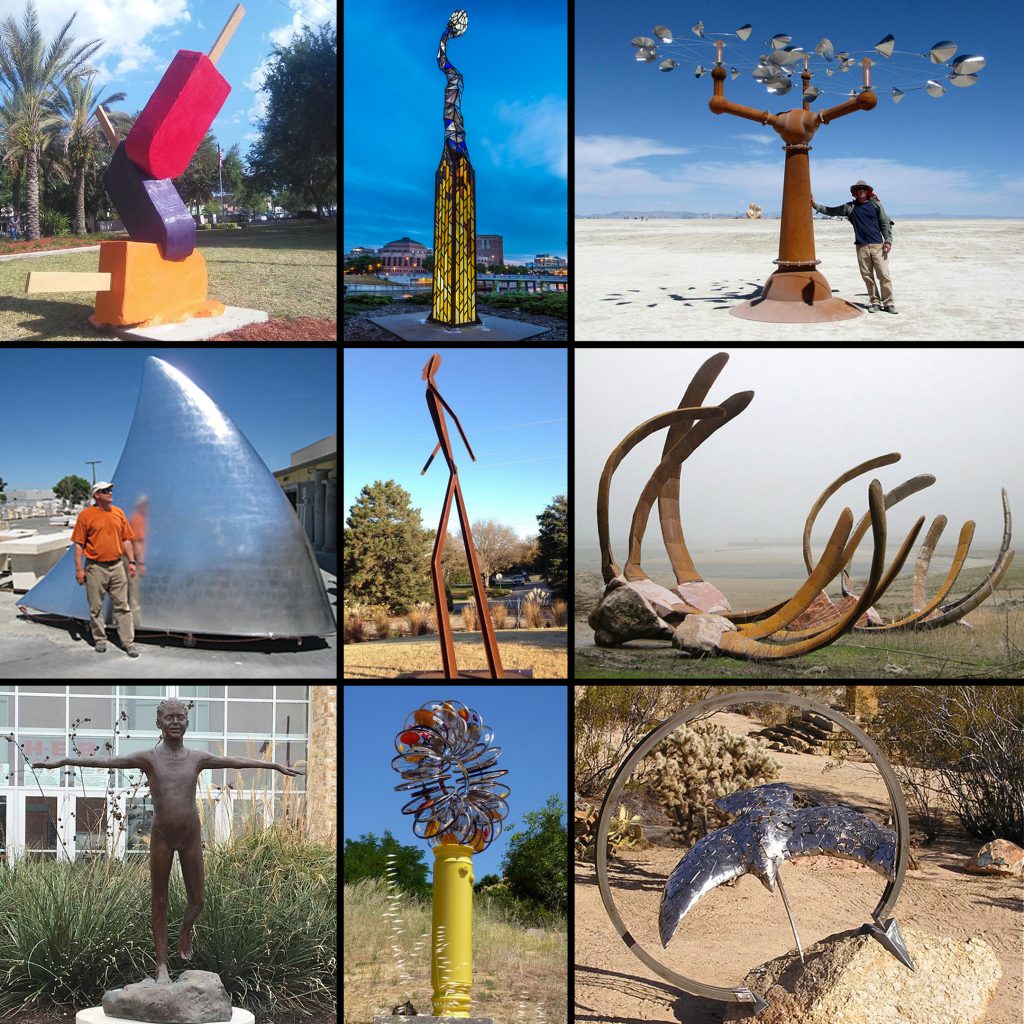 The next phase in the Newport Beach Civic Center Park sculpture exhibition is one step closer to being placed following a public forum on Wednesday where the selection panel decided on which pieces to recommend.
About a dozen people attended the public forum and only a handful of residents made comments on any of the selections.
The panel selected nine pieces to recommend to be prominently showcased for two years in the Civic Center Park, beginning in October. They also chose three alternates. The pieces still have to be approved by the Arts Commission and City Council.
"This (is a) very exciting opportunity to make this park in Newport something that stands out and excites the public and the families in the area," said selection panel judge and City Arts Commissioner Grace Divine.
Several of the judges mentioned that colorful and kinetic pieces were of particular interest.
"I would like to see work that can be approached and appreciated from multiple levels," said Irvine Fine Arts Center Director Pat Gomez, another judge on the selection panel.
There was general consensus on the top nine sculptures to recommend, but some disagreement on the three alternates.
The top three recommendations with unanimous support from the panel are Burnt Matchstick, No Swimming and Popsicles.
The other top choices they ultimately voted to recommend are: Life is a Balancing Act, Cosmic Glints, Getting Your Bearings, Contender II, Flight, and In Affioramento.
Judges also selected three alternates: Depth of Form, Kinetic Beam 4, and Cultural Pedestrians.
The choices are a variety of style, materials and size. They were aiming for a diverse selection for the park.
"It is quite representative of a wide range of styles and media and gives the panel a real opportunity to look through a variety of works for selection," said Richard Stein, president and CEO of Arts Orange County.
A total budget of $45,000 has been allotted for the project. If the budgets for each of the selected works (as requested by the artist up to $6,000 each, including transportation and installation) add up to more than $45,000, there are a number of options to move forward, Stein said. Commissioners can swap out a selected piece for an alternate piece with a smaller budget or they can considering offering smaller honorariums to each artist, he explained. If that situation arises they will deal with it at that time, he added.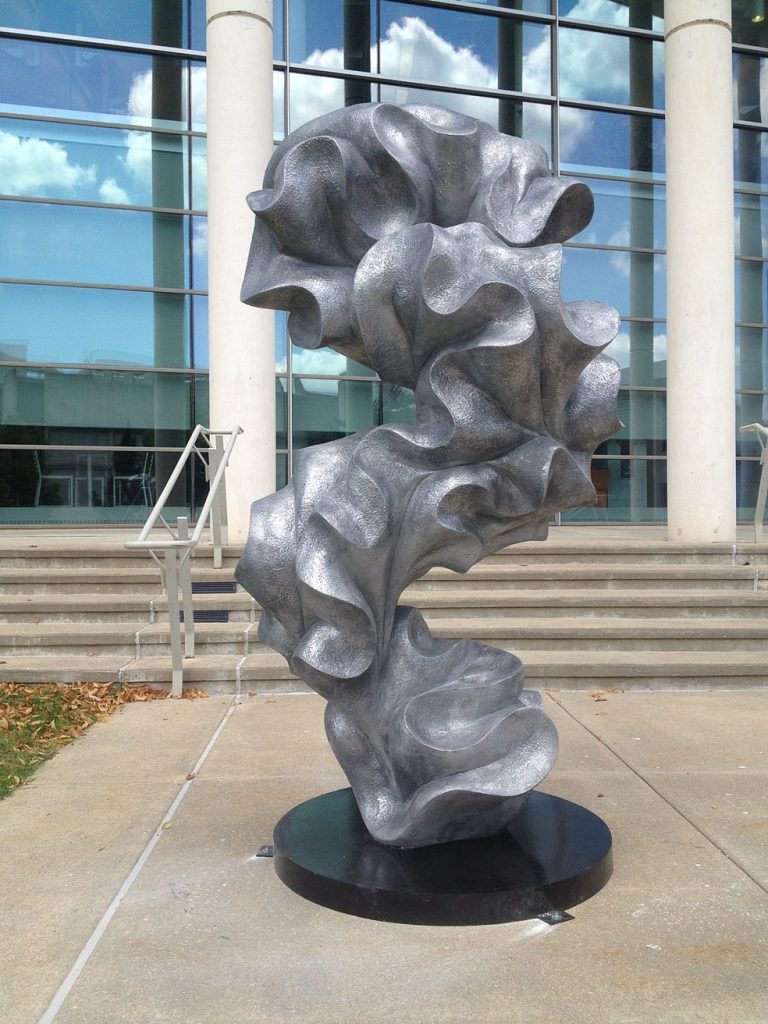 Based on the top nine recommendations from Wednesday's meeting and the artists' requested budgets, the phase three sculptures add up to a total of $44,132.
Wednesday night's discussion proved a bit difficult for the judges to agree on the which pieces to recommend as alternates.
Depth of Form, a cold-cast aluminum piece by Jacob Burmood of Louisburg, Kan., was discussed quite a bit and ended up being the first sculpture the panel chose as an alternate, but still didn't completely agree upon.
It resembles an oversize piece of twisted cloth, subjected to unseen forces, like gravity, pressure, heat, and tension. The curves, creases and edges are meant to convey fluidity.
The abstract piece is "exceptional," Gomez said.
All but Commissioner Miriam Baker were on board with the 7.5-foot silver sculpture.
"It doesn't do much for me," Baker said.
Judge Bob Nicoll, creative director for Blizzard Entertainment, made a plea for a sculpture titled Community Unity, created by Santa Ana-based artist Cole McLaughlin earlier this year.
It depicts an oversized thumbs up, the same shape often found on social media sites to "like" something, painted white with multicolored figures holding hands along the edges.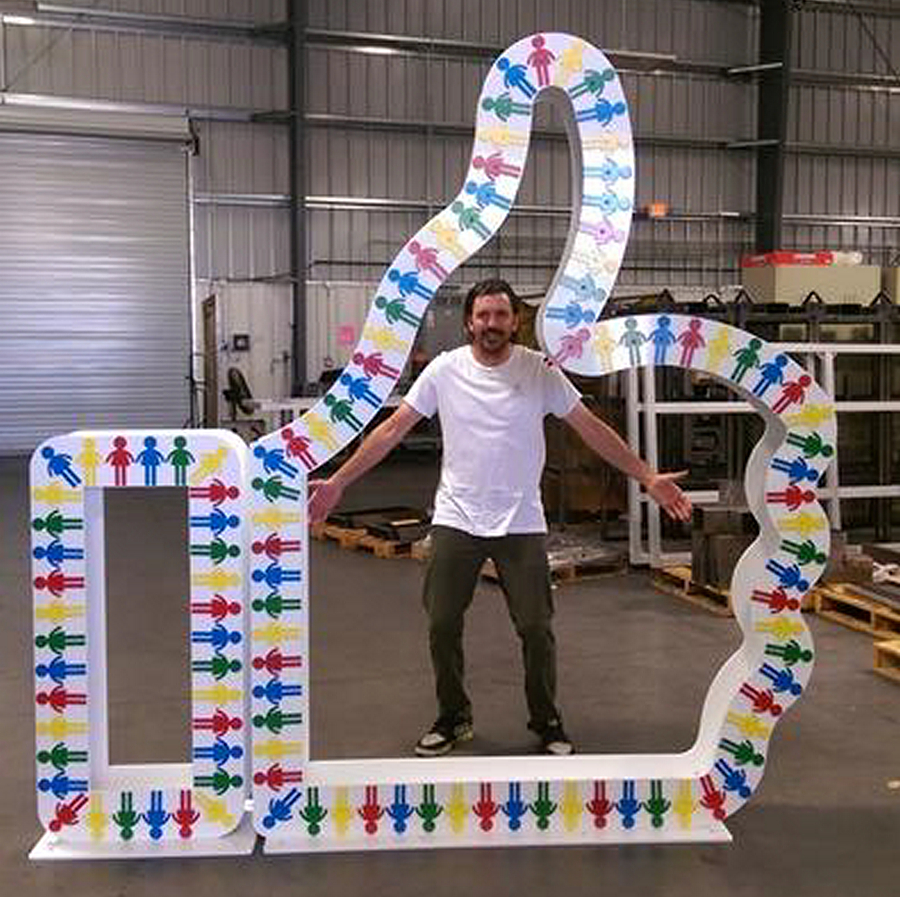 Nicoll said knew he was "fighting an uphill battle" as he argued in favor of the piece.
"(It) spoke to community, it was full of color… and it was a positive affirmation," and playful, Nicoll said.
It had scale and would read well in the natural landscape, he pointed out.
"Thinking about where we are, and a voice in our community during these times," Nicoll said.
Although he didn't win over the other judges. It was a bit simple and commercial, several others agreed.
"I don't know that it would hold my attention," Gomez said.
It would be better fitting in a toy shop, Baker said.
Another sculpture that was the topic of quite a bit conversation Wednesday was Celilo by Gabe Babcock of Corvallis, Ore.
The 12-foot by 15-foot by 7-foot cedar, basalt and steel sculpture depicts three posts in an inverted triangle with a large boulder suspended by wire between the three points.
Divine said it does "absolutely nothing" for her artistically-speaking.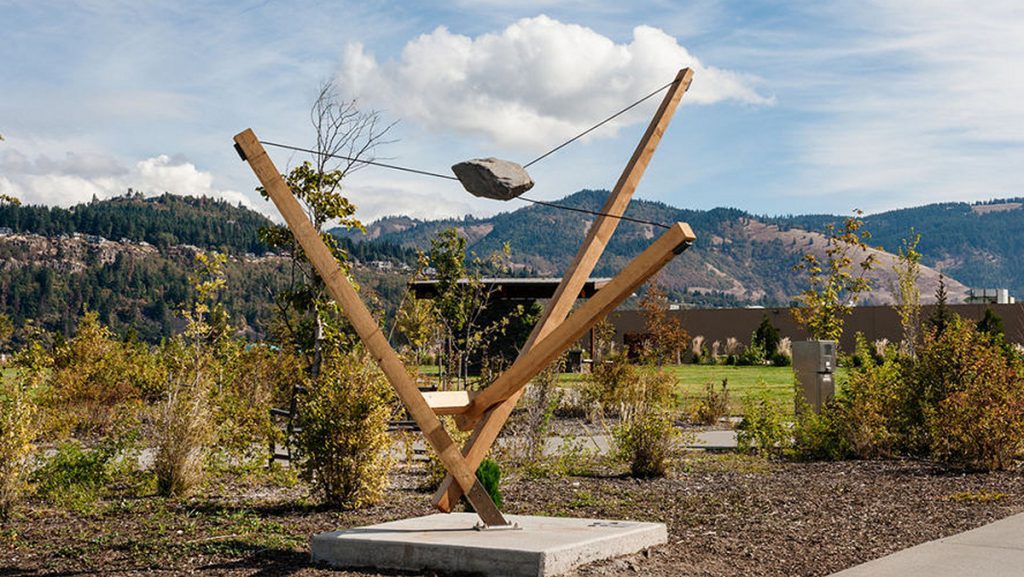 It seems unbalanced and it makes her uncomfortable, Divine said.
Each submission was reviewed and it was determined that Celilo was not dangerous or unstable, Stein pointed out.
"I have a gut feeling about it and it just made me feel like it's lacking equilibrium in some way," Divine said.
"But that's the point of the piece," Gomez replied. "Actually, that's why I love that piece."
It's about the tension and balance, she explained.
People might have a more visceral reaction at first, then step back and consider how it's being held together, Gomez said. Some might find it disturbing, she finds it fascinating, she added.
"I actually do appreciate the fact for an artwork to be able to evoke that sort of unease or that sort of feeling and make you wonder," Gomez said.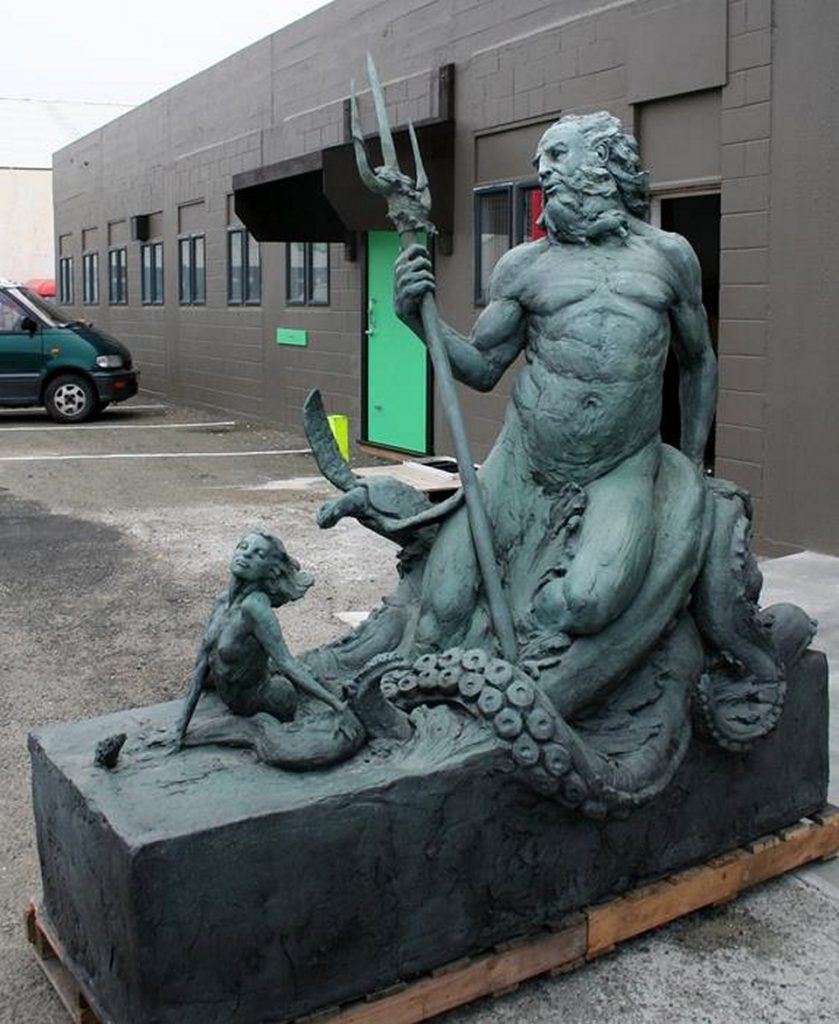 Nicoll agreed, adding that the combination of textures and sense of counterbalance and weightlessness to it.
Divine also raised some concerns about the appropriateness of Neptune, a bronze statue of the Roman god of the sea surrounded by marine life by Kansas artist Craig Campbell. As he is bare-chested and sitting atop an octopus, Divine thought it may be a bit risqué for small children.
Judges also raised some concern about the sharp trident of the Portlandia maquette by Raymond Kaskey. Another issue with this small statue, as Gomez pointed out, is that it is extremely specific to Portland. It's the one-tenth model that was used during the fabrication of the large-scale version in the Oregon city. Portlandia represents commerce, agriculture and the sea. The female figure is a 3-D representation of the woman on Portland's city seal.
"What is its relationship here?" to Newport Beach, Gomez questioned.
Ultimately, the judging panel settled on Cultural Pedestrians, a set of five concrete and steel pieces by Colorado artist Sue Quinlan, as an alternate. It displays different faces at the top of each 6-foot tall, 7-inch wide posts, that represent the different cultures in the world.
Many of the judges liked the sculpture, but not necessarily more than other worthy pieces. It was selected as sort of a compromise to other options.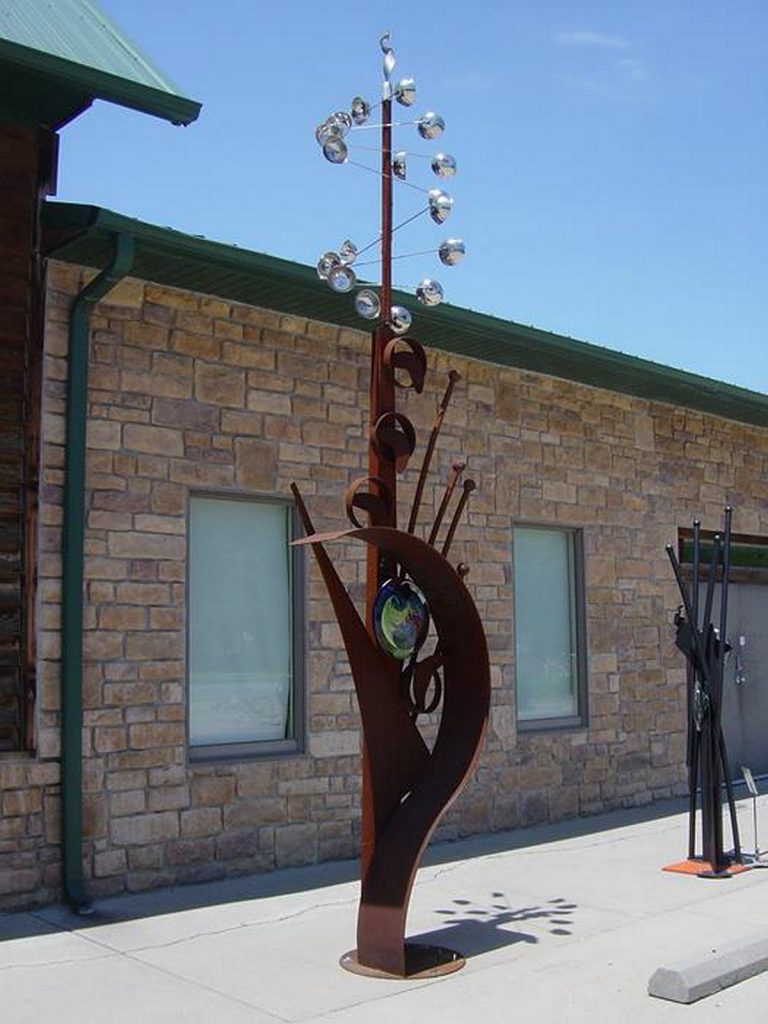 As the third alternate, the panel chose to recommend Kinetic Beam 4, a 15-foot tall carbon and stainless steel and blown glass sculpture by Kansas artist Rollin Karg.
The rust colored piece incorporates a variety of shapes along with a round blown glass centerpiece.
They were on the same page earlier in the evening when they decided on the top nine to recommend for placement in the sculpture garden.
Judges and members of the public agreed that Popsicles, the steel, wood and stucco sculpture of a stack of three giant colorful popsicles that earned the top "people's choice" spot in the poll, should have a spot in the selection. Several mentioned the Popsicles sculpture specifically as one that they liked and fits with the goal of the exhibition.
The popular pick titled was made in 2016 by Florida-based artist, Craig Gray.
It's a fun, "feel-good" statue that will attract people to the park and also is an interesting piece in the pop art movement, several judges agreed.
In a phone interview last week, Gray said he was inspired by all the quirky roadside Americana icons he saw as a kid.
It's fun, and maybe a bit kitschy, but he hopes it people enjoy it. His sculptures encourage people to stop for a moment, smile, and take and share photos.
There was also a lot of discussion of the poll's "people's choice" runner up, Burnt Matchstick by Karl Unnasch of Chatfield, Minn. It's a 40-foot tall steel, stained glass and clear acrylic sculpture with interior LED lights.
Matchstick is an exciting piece, Divine said.
"There is something magical about putting together glass and metal," she commented.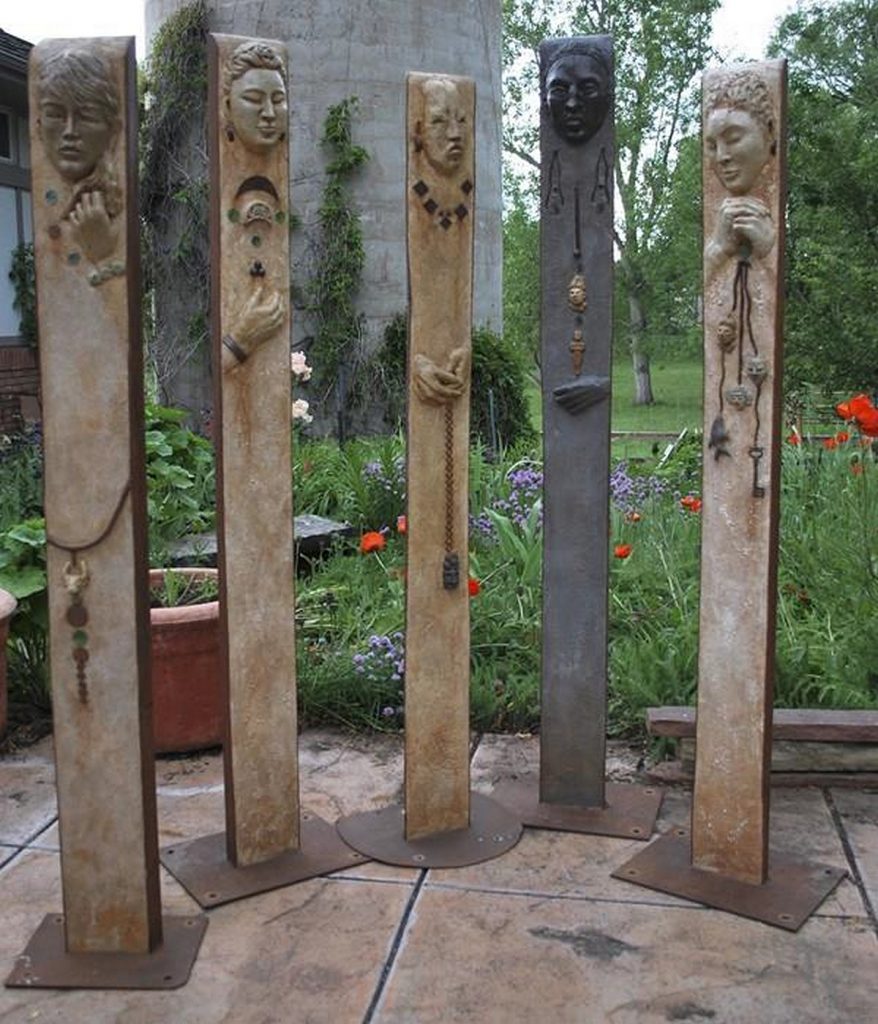 Oleg Lobykin's No Swimming sculpture from East Palo Alto was the third top choice of the selection panel on Wednesday receiving unanimous support. The shark fin shaped piece is glass fiber reinforced concrete over foam with aluminum leaf.
No Swimming reminded Baker of Cloud Gate, the famous metallic bean-shaped sculpture in Chicago. People approach it and interact with it, she noted. It brings people in and encourages them to take and share photos.
It's fitting for Newport Beach, the judging panel agreed.
Although not everyone loved it as much.
During public comment, Balboa Island resident Ralph Sims noted that while he likes whimsy, he thought No Swimming was too cliché.
"I've seen it before," he said.
Even though it ultimately made it into the group of recommended pieces, Sims was happy with the choices. He was impressed with the expertise the judges displayed and how much time the panel spent discussing and considering the sculptures.
"They really care," he commented.
His wife, Susan, was happy they selected Brunivo Buttarelli's In Affioramento as one of the top nine.
The 2011 piece is an arrangement of seven sculptures that form an oversized set of ribs and represent "birth, life, death and re-birth."
She jokingly offered to take the trip to Italy to return it after the exhibition closes, since Buttarelli expressed concern about getting it back home if selected. The artist mentioned that he may try to sell it stateside so it won't have to make the return trip across the ocean.
Another public comment came from local artist Michaell Magrutsche, who mentioned that contrast between the sculpture and the environment is an important factor to consider, specifically for the Civic Center Park location.
"If there's no contrast the art disappears," he said.
The judges agreed, saying they want pieces that stand out and get people thinking.
"We were looking for something new and different," said Arts Commission Chair Arlene Greer, something that hasn't been in the sculpture garden previously.
It's been great to have input from the public, arts commissioners, and the two outside judges, who bring a unique perspective of the art world, Stein concluded.
"It's always interesting to hear different people's perspectives on art," and there are a number of different opinions, Stein said, "which is a constant in the field of art."
For more information, visit newportbeachca.gov/trending/cultural-arts/sculpture-exhibition.