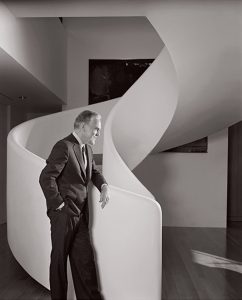 He helped develop his family's lima bean fields into South Coast Plaza, founded the Orange County Performing Arts Center (later renamed the Segerstrom Center for the Arts), donated land for South Coast Repertory, and his lead gifts helped create the Segerstrom Concert Hall and led the expansion of SCR into a multi-stage theater complex (their main Segerstrom Stage is named for him).
Now, cultural visionary and philanthropist Henry Segerstrom, a longtime resident of Newport Beach who died in February 2015 at age 91, is being profiled in a new documentary titled "Henry T. Segerstrom: Imagining the Future," which has its premiere on PBS SoCal this Thursday, Sept. 22.
"Henry Segerstrom was a local icon whose impact can be felt all over the world," said Andrew Russell, President and CEO of PBS SoCal, in a statement. "It's important we tell the stories of the people who make Southern California special, and Mr. Segerstrom is one of them. He leaves behind a proud legacy of community leadership."
According to information received from PBS SoCal, the documentary is narrated by television and Broadway star Matthew Morrison, and follows the life of the philanthropic entrepreneur who inspired those around him with his vision. He was first known for turning his family land into the world-renowned South Coast Plaza in Costa Mesa. He convinced Nordstrom to expand beyond the Pacific Northwest and brought exclusive European designers such as Chanel and Hermes to Orange County, revolutionizing the shopping experience and creating one of the highest grossing retail centers in the U.S.
A renowned patron of the arts, Segerstrom was a friend to influential artists and designers including Isamu Noguchi, Plácido Domingo, Richard Serra, Valery Gergiev and Cesar Pelli.
"Henry T. Segerstrom: Imagining the Future" tells Segerstrom's story through his own words. It features archival footage and a host of interviews with notable people including architect Frank Gehry, dancer Misty Copeland, opera singer Renée Fleming, director and producer Nigel Lythgoe, and former Nordstrom, Inc. chairman Bruce Nordstrom.
"As his wife, I know what a great man he was during his lifetime, and how incomparable and positive his imprimatur was on Orange County," said Elizabeth Segerstrom. "It makes me prouder than ever to see others recognize and confirm it."
"Henry Segerstrom: Imagining the Future" is a PBS SoCal production. Maria Hall-Brown is the Executive Producer.
Local Legacy
When Henry Segerstrom passed away last year, the arts community was quick to recognize and laud Segerstrom's arts legacy.
"Segerstrom Center for the Arts would not be what it is today were it not for the unsurpassed vision, leadership and generosity of Henry Segerstrom," said Segerstrom Center President Terrence W. Dwyer.
"For those of us in the arts, there has hardly been a more devoted and generous patron—or one whose largess has been as far-reaching," said Arts Orange County Executive Director Richard Stein.
John Forsyte, president of the Pacific Symphony (they perform their concerts in Segerstrom Concert Hall), called Segerstrom "a true pioneer, visionary and benefactor. He set seemingly impossible goals and somehow made them come to life. Henry stood for the highest quality in excellence, attention to detail, and imagination, which is one of the fundamental reasons why the finest names in retail were drawn to South Coast Plaza. Together with his family, he inspired an entire generation of philanthropy and investment in the region's arts infrastructure and programming. Henry was a one-of-a-kind spirit."
And it's that spirit that's being celebrated in the PBS SoCal documentary, "Henry T. Segerstrom: Imagining the Future."
In addition to its premiere showing on Thursday, Sept. 22, the documentary is scheduled to be repeated on Sunday, Sept. 25 at 4 p.m.
For more information, visit PBSSoCal.org/Segerstrom.