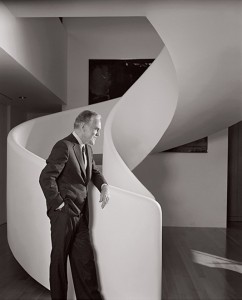 Newport Beach resident, real-estate developer and philanthropist Henry T. Segerstrom, who helped develop his family's lima bean fields into South Coast Plaza and founded the Orange County Performing Arts Center (later renamed the Segerstrom Center for the Arts), died on Friday, Feb. 20 after a brief illness. He was 91.
Segerstrom was born into a Swedish immigrant family who came to Orange County in the late 1800s and started farming, but the growth of the county in the mid-1960s led the Segerstrom family to trade lima beans for a shopping mall which has since become an international landmark.
Segerstrom was instrumental in the growth of the arts in Orange County. In addition to donating land for the Segerstrom Center and South Coast Repertory, his lead gifts helped create the Segerstrom Concert Hall and the expansion of SCR into a multi-stage theater complex (their main Segerstrom Stage is named for him).
Center President Terrence W. Dwyer released a statement, saying "Segerstrom Center for the Arts would not be what it is today were it not for the unsurpassed vision, leadership and generosity of Henry Segerstrom. We will all remember Henry with great respect, gratitude and fondness. He will be deeply missed; and we are so fortunate that his legacy will live on and continue to inspire us all."
Today the Segerstrom Center's Facebook page stated "the Center remembers Henry T. Segerstrom for his leadership, vision and generosity."
John Forsyte, president of the Pacific Symphony (they perform their concerts in Segerstrom Concert Hall) said in a statement, "The Symphony family is deeply saddened by the loss of Henry Segerstrom —  a true pioneer, visionary and benefactor. My encounters with Henry always left me impressed with his gifts of persuasion, optimism, and an extraordinary drive. He set seemingly impossible goals and somehow made them come to life. Henry stood for the highest quality in excellence, attention to detail, and imagination, which is one of the fundamental reasons why the finest names in retail were drawn to South Coast Plaza.
Together with his family, he inspired an entire generation of philanthropy and investment in the region's arts infrastructure and programming.  I personally had wonderful encounters with Mr. Segerstrom as the dream of a state-of-the-art concert hall became a reality. With the gift of this extraordinary venue and its predecessor that make up the Segerstrom Center for the Arts, Orange County became a cultural destination and the Symphony grew from a fledgling ensemble to one which could attract the finest musicians and produce ambitious projects.
It's rare that we have the privilege to be associated with a founding family which possesses the vision to build arts infrastructure which catalyzes the growth of local arts organization into nationally acclaimed ensembles and institutions. Henry was a one-of-a-kind spirit, and he will be missed terribly."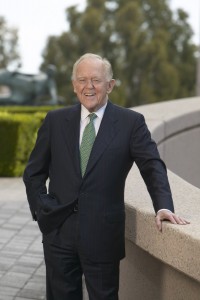 "There is no question that this is a milestone in the history of our community in many ways, but for those of us in the arts, there has hardly been a more devoted and generous patron—or one whose largess has been as far-reaching," said Arts Orange County Executive Director Richard Stein.
According to a press release issued by South Coast Plaza, Henry Segerstrom helped lead the world renowned South Coast Plaza in Costa Mesa to become the highest grossing retail center in the U.S. with annual sales in excess of $1.7 billion, and was the founding chairman and major benefactor of Segerstrom Center for the Arts.
His death was announced by C.J. Segerstrom & Sons, owner and manager of South Coast Plaza, of which Mr. Segerstrom was managing partner.
Born on April 5, 1923 in Santa Ana, California, Henry Segerstrom was born to a Swedish immigrant family that began farming in the area in 1898. Coming of age in the mid-20th century, Henry Segerstrom was instrumental in building the infrastructure and institutions vital to California's tremendous growth. His leadership, influence and innovation played a major role in Orange County's evolution from a largely agricultural region into a cosmopolitan center of culture and commerce.
A cultural leader renowned for his brilliance, elegance and humility, he was also a dauntlessly enterprising businessman, who frequently quoted as his personal motto the guiding words he had learned in his military service during World War II: Be bold.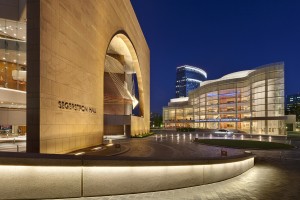 In 1948, Southern California was primed for unprecedented economic growth. Mr. Segerstrom foresaw these changes, and positioned C.J. Segerstrom & Sons to play a major role in the region's future by leading its transition from lima bean farming to real estate development. Among the manifestations of this new direction by C.J. Segerstrom & Sons was the development of the first air-conditioned office tower in Orange County, a seven-story bank building in Santa Ana.
In 1962 the Segerstrom family began to develop plans to build what would become South Coast Plaza. Against all odds, the retail center would go on to become the highest-grossing in the United States. Perhaps Mr. Segerstrom's most influential innovation was the addition of luxury fashion boutiques to the retail mix. He began the transition by personally partnering in business with top international designers of the time, opening luxury boutiques with Courrèges, Halston and Yves Saint Laurent at South Coast Plaza. In subsequent years, Hermès opened its first store ever in a retail center and Dior, Gucci and Louis Vuitton soon followed. Mr. Segerstrom envisioned South Coast Plaza as a retail destination that could rival any in the United States, and would play a significant role in developing Orange County into a modern and urbane metropolitan region. His vision has been realized, as today South Coast Plaza is recognized for having the largest and most prestigious collection of luxury retailers in any planned development in the United States.
Mr. Segerstrom's unfolding civic and cultural vision for Orange County prompted him to lead the Segerstrom family in acquiring and commissioning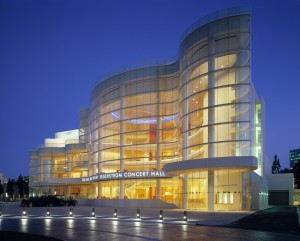 contemporary sculptures for the retail center and its adjacent properties. Starting in 1973, they acquired outdoor and indoor installations of major works by artists including Henry Moore, Tony Smith, Alexander Calder, Joan Miró, Jean Dubuffet, and George Rickey. Mr. Segerstrom's effort to create what was, and is, an informal public sculpture park reached its height when, on behalf of the Segerstrom family, he commissioned Isamu Noguchi to create the sculpture garden California Scenario (1982), recognized as one of the artist's most important works in the U.S. In 2006, Henry and Elizabeth Segerstrom commissioned Richard Serra to create the monumental Connector, Serra's largest sculpture until that time.
Mr. Segerstrom's drive to create a world-class cultural center gained impetus when the highly regarded South Coast Repertory Theatre Company approached the Segerstrom family for help in building a much-needed new home. In 1976, he helped organize a gift of land from the Segerstrom family to the theater company, the first in a series of land donations to Orange County arts organizations that would eventually total 14 acres.
In 1980, Mr. Segerstrom became the founding chairman and led the fundraising effort that would create the Orange County Performing Arts Center (OCPAC) on part of that land. The capital campaign raised $74 million in private funds to build a 3,000-seat Segerstrom Hall and endow OCPAC, with no government funding sought or accepted.
In response to the growing demand for the performing arts, plans were soon in development to construct a Lincoln Center-type complex by building an additional performance venue on the OCPAC site: a dedicated symphony hall. Mr. Segerstrom made a personal pledge of $40 million (which eventually rose to $51 million) toward the construction of the Renée and Henry Segerstrom Concert Hall, which opened in 2006. An expanded facility for South Coast Repertory Theatre was completed nearby on land also donated by the Segerstrom family.
In recognition of the Segerstrom family's contributions, the entire arts campus was renamed Segerstrom Center for the Arts in 2011. Not content to have guided the development of this complex, Mr. Segerstrom also took the lead in filling it with world-class programming. In 2006, to inaugurate the Cesar Pelli-designed Renée and Henry Segerstrom Concert Hall, Mr. Segerstrom and his wife Elizabeth orchestrated a three-week Mariinsky Festival, which included the North American premiere of the Mariinsky's critically acclaimed production of Wagner's Der Ring des Nibelungen, conducted by Valery Gergiev. The opening also included a Pacific Symphony-commissioned work by William Bolcolm based on seven poems by Federico Garcia Lorca, sung by Plácido Domingo.
In 2007, the Segerstrom's launched the Elizabeth and Henry Segerstrom Select Series, an artistic collaboration with the Philharmonic Society of Orange County, to present internationally acclaimed performers at the arts complex.
In 2009, Mr. Segerstrom established a partnership with Carnegie Hall— the first time in its history that Carnegie Hall's special festival programming was presented to audiences outside of New York City.
Mr. Segerstrom contributed his time, resources and leadership as a board member to numerous local, national and international institutions including Carnegie Hall (which honored him with its Medal of Excellence in 2010), the Museum of Contemporary Art in Los Angeles (of which he was a founder), the White Nights Foundation of America and the American Friends of Versailles. He also served as the National Chairman of the Business Committee for the Arts
from 1999 to 2002, and received the organization's Leadership Award in 1993. Mr. Segerstrom was dedicated to public leadership and service. He served on the boards of many corporations including Southern California Edison, Union Bank, Security Pacific, Bank of America and Safeco. He was publicly elected to serve on the Orange County Water District board for more than 20 years, including as chairman. During his tenure, the district was a leader in pioneering efforts to replenish the aquifer that underlies Orange County and protect it from salt-water intrusion. He led a team including Stanford University engineers to develop innovative reverse osmosis for a coastal desalination plant. This groundbreaking technology was later shared with Israel, earning Mr. Segerstrom the Tree of Life Award from the Jewish National Fund, presented to him by Margaret Thatcher.
The many honors and awards presented to Mr. Segerstrom include a Knighthood by His Majesty Carl XVI Gustav of Sweden. In 1986, he was awarded an honorary Doctorate of Law from Western University, and in 2002 he received an honorary Doctorate from Whittier Law School. In 2008, he was awarded the annual Ernest C. Arbuckle Award by the Stanford Graduate School of Business, its highest alumni honor. International leaders of business, luxury retailing, fashion, architecture, art and culture held Mr. Segerstrom in the highest esteem. He was a friend, colleague and patron of influential artists, designers and other creative minds, including Isamu Noguchi, Plácido Domingo, Richard Serra, Valery Gergiev and Cesar Pelli.
Henry T. Segerstrom leaves behind an unparalleled legacy of dedicated community leadership and a lifelong commitment to Southern California. Mr. Segerstrom's vision, work ethic and unerring aesthetic helped transform a largely agricultural region into a diverse and thriving center of art and culture, innovation, entrepreneurship and leadership in business and technology.
Mr. Segerstrom is survived by his wife Elizabeth, his children Andrea, Toren and Anton, their spouses, six grandchildren and seven great-grandchildren.
A public visitation and tribute will be held at Fairhaven Memorial Park in Santa Ana on Feb. 28. Visitation hours are from 10 a.m. to 6 p.m.