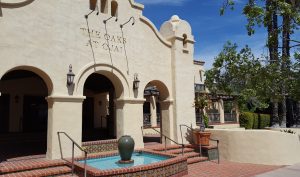 By Christopher Trela & Catherine Del Casale
 Ojai is one of those towns we'd been meaning to visit, but never took the time despite hearing rave reviews about the charms of this mountain community.
However, after The Oaks at Ojai destination spa coaxed us into spending a weekend at their facility to experience the health benefits of Ojai (long known as a spiritual retreat), we said yes.
Ojai is only a few miles off of Highway 101 on the way to Santa Barbara—an easy day trip or overnight excursion.
We opted to visit the town in early April during Pixie season. Pixies, as we learned, are small, seedless tangerines grown best in and around Ojai during the spring and early summer.
The Oaks embraced Pixies with culinary and spa treatments that incorporated Pixie tangerines, including Pixie scrubs,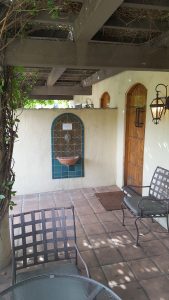 Pixie pedicures, and other creative themed offerings.
The Oaks is a charming 1920s hotel-turned-spa oasis that caters mainly to women, although men are welcome to tag along. The facility has 46 guest rooms including courtyard suites and cottage rooms, although you don't need to say overnight to enjoy a day at The Oaks.
A visit to The Oaks includes three calorie-conscious meals each day, a choice of 15 fitness classes per day, evening entertainment and seminars, plus activities such as hiking, art tours, and kayaking.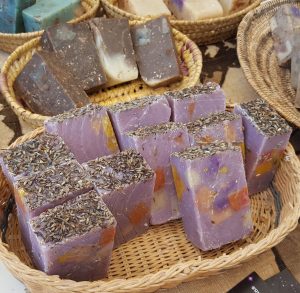 After reading about The Oaks, we agreed that it was perfect for Catherine, who has to balance a healthy lifestyle with her decadent duties as dining writer for The Indy. So while Catherine focused her time and energy on The Oaks and plunged into a weekend health and fitness regimen, Christopher explored the town to discover another side of Ojai.
"If you are looking to jump start your health goals or really commit to a relaxing healthy vacation, The Oaks at Ojai is the place to go," said Catherine enthusiastically after her weekend at The Oaks. "There are fitness classes provided all day ranging from yoga to Zumba to cardio strength. With mostly women at The Oaks, you can feel comfortable in all the classes and put in the effort you want to put in. The instructors are great and always have modifications whether you need less or more of a challenge."
"There are also hikes in the morning or walks around town depending on your fitness level. All meals are provided,
offering healthy options to keep the focus on a healthier you. I loved how The Oaks took the decision-making out of my hands so that I could really relax and know that I was going to be on the right path."
"The spa is amazing. Their signature facial was possibly the best facial I've had. The esthetician was thorough in all aspects, including the massage of the neck, hands and feet. I also highly recommend getting the gel eye mask (there's nothing quite like it)."
Catherine noted that many of the women she met over the weekend were repeat visitors to The Oaks, and stayed anywhere from a few days to a month.
"You really have everything you need at The Oaks, but if you want to explore the town The Oaks offers a walking tour in the morning, and you can venture out on your own for an excursion. One woman I spoke with says that she and her girlfriends come every year and do a different excursion each time, whether it's lavender picking or olive oil tasting."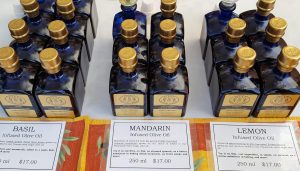 Overall, said Catherine, "I really enjoyed the entire weekend and meeting all the interesting and motivated women with whom I worked-out and shared the journey."
While Catherine was busy indulging in fitness and spa treatments, Christopher was indulging in pizza and wine.
"I always enjoy exploring a new town to learn both the popular and hidden attractions," explained Christopher. "With Ojai, that exploration is relatively easy as most of the points of interest are within a few blocks of downtown Ojai and The Oaks." 
Over the weekend, Christopher visited the Ojai Valley Museum to learn more about the history of Ojai (the town is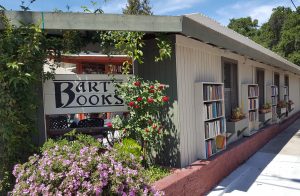 named after the Chumash Indian word for 'moon'), and the famous outdoor bookstore called Bart's Books, where customers peruse books al fresco.
He also checked out the popular Sunday farmers market and purchased olive oil, lavender soap, and – of course – a bag of Pixie tangerines.
After hiking the hills above Ojai, Christopher was ready for a caloric treat, so he enjoyed pizza and beer at Ojai Pizza before strolling across the street to sample wines at Casa Barranca Winery & Tasting Room.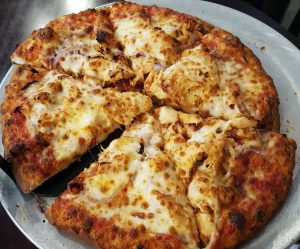 He also snuck in some time to work, and was grateful for the reliable in-room Wi-Fi, which also worked splendidly on the bungalow's patio.
Between the boutique shops, art galleries, restaurants and spas, there is plenty to see in do in Ojai, especially in June.
This weekend (June 9-12) is the 70th annual Ojai Music Festival. Artistic Director Thomas W. Morris has invited famed opera and theater director Peter Sellars to serve as Music Director. Performances take place in the Libbey Bowl, conveniently located across the street from The Oaks. Visit OjaiFestival.org or call (805) 646-2053 for information and tickets.
Also on tap for Ojai this month: Pick-your-own lavender at Frog Creek Farm (through June 30), the 30th annual Ojai Wine Festival (June 12), Eating Ojai food tour (June 18), Full Moon community meditation (June 19), and the 13th annual Lavender Festival (June 25).
For more information on Ojai activities, visit OjaiVisitors.com.
For information on The Oaks at Ojai, visit OaksSpa.com.
The Oaks' all-inclusive program rates begin at $260 per person, double occupancy, per night. The program includes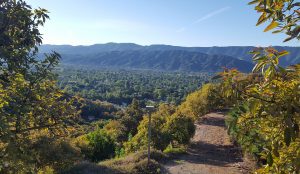 10-12 optional fitness classes daily, hikes, three meals per day, snacks and beverages, evening activities and wellness lectures, and complete use of all resort facilities.
Fitness Spa Days also are available for $130 per person per day for those who wish to "spa" for just a day. Guests can arrive as early as 6 a.m. to enjoy all fitness activities and meals, including evening entertainment and seminars. Spa treatments are a la carte.