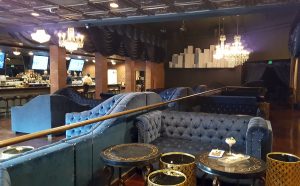 Envy Lounge is Classy Newport Speakeasy
Ten Nightclub on MacArthur Blvd. near John Wayne Airport had a long run but closed earlier this year to make way for a new concept: Envy Lounge, a roaring 20s speakeasy featuring craft cocktails, bottled craft microbrews, and American cuisine small plates.
Described as a "passion project of Newport Beach entrepreneurs Sammy Lakhany and Ali Hojat," Envy Lounge offers a "Great Gatsby" experience with bright yellow and deep blue velvet sofas, luxurious crystal lighting, and heavy velvet drapery. Private cabanas line the perimeter of the lounge, while open sofa seating is in the center.
will immediately transport guests to a Swinging Twenties social parlor.
"Envy is designed to offer guests a sophisticated environment where they feel relaxed and can socialize," said Lakhany.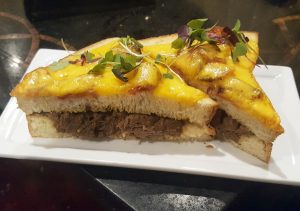 "We will feature different local DJs every evening, but for the most part, music will be kept at a reasonable volume to encourage conversation and mingling, until later in the evening when our guests might feel like dancing a bit."
And guests will certainly feel like dining when they see the small plates menu created by Chef Tyler Nix, formerly of Pueblo and Napa Rose. He's crafted a menu of about a dozen dishes that are simple yet exotic, such as green eggs and ham, smoked salmon and avocado tea sandwich, oysters Rockefeller, and deviled eggs with bacon and asparagus.
Christopher had an opportunity to sample a few dishes this week, and came away impressed.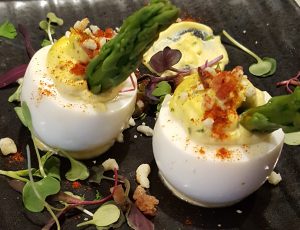 "These are terrific lounge dishes that go well with both beer and wine, or cocktails," he said. "I loved the beef tongue sandwich done sloppy Joe style with melted grilled cheese on the top ($12), the salt crusted potatoes with crème fraiche, chives and caviar ($9), and the deviled eggs with bacon, asparagus and blue cheese ($9). And the pomegranate and chipotle guacamole wiith feta, onion, tomato served with house made garam masala spiced ships ($10) was a terrific twist on traditional guac."
Envy is open Tuesday through Saturday from 5 p.m. to 2 a.m. the kitchen is open until 1 a.m., although those who want to focus on the dining experience might want to arrive between 5 and 8 p.m. before the music is kicked up a notch.
For more information, visit EnvyLoungeOC.com.
Bluewater Offers Trio of Tasting Events
Bluewater Grill in Newport Beach has three monthly dining events coming up that sound tempting.
On Tuesday, June 14 is the "Get Crabby" soft-shell crab tasting and wine pairing featuring soft-shell crab prepared two ways: sautéed with crab lemon caper beurre blanc with fingerling potato salad and vinegar aioli; and tempura-style and served with Asian vegetable salad and cilantro vinaigrette. The dish is paired with a Kungfu Girl Riesling from Washington and an Acrobat Pinot Gris from Oregon. The cost of the tasting is $34.95 per person.
On Tuesday, July 12 is the return of the popular New England Lobster & Clambake which combines steamed Maine lobster, Manila clams, fresh corn on the cob, baby red potatoes, crispy coleslaw, drawn butter, and a signature Bluewater lobster bib. The cost of the tasting is $34.95 per person.
And then on Tuesday, August 9, prepare for a Tuna Takeover Tasting and Sake/Wine Pairing featuring tuna prepared five ways: seared ahi; seared and smoked albacore; calico poke; and spicy tuna roll sushi. The $24.95 price includes a choice of tastings of Hakutsuru Draft Sake and Sapporo Draft Beer, or Oyster Bay Sauvignon Blanc from New Zealand.
Want to try the monthly specials but cannot make it to those Tuesday tastings? You can still order the meal off the menu for the same prices, but wine or sake is additional.
For more information, visit BluewaterGrill.com.