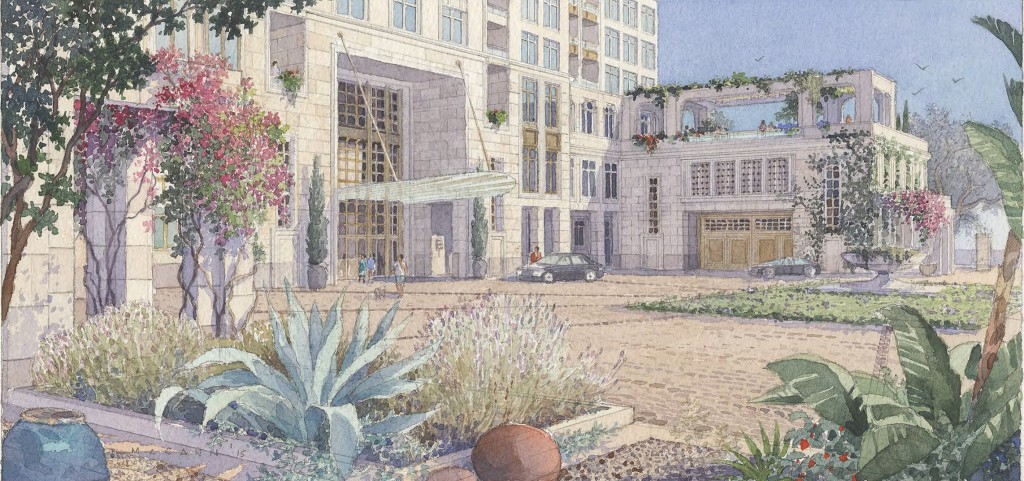 Audience members both applauded and booed last week after the Newport Beach Planning Commission unanimously approved a controversial high-rise residential project in Newport Center.
Council chambers were packed at the Oct. 20 meeting, with many speaking during the public comment period, and discussion lasting several hours, ending in a 7-0 vote.
"We should be so lucky to have a what could be an iconic, world-class, five-star, multi-family residential project here, in the heart of our city, in Newport Center," said Chairman Kory Kramer. "It really could be one of the most beautiful buildings and projects, not only in Newport Beach, but in Orange County."
The 25-story, 295-foot tall, 100-residential-unit project Museum House has been proposed to replace the Orange County Museum of Art at 850 San Clemente Dr. in Newport Center. OCMA is moving to Costa Mesa.
The museum has entered into an agreement to sell its Newport Center site to Related California Urban Housing, LLC, which has proposed the Museum House project.
The Museum House will include two levels of subterranean parking and open space on the approximately two-acre site.
The ground level exterior amenities include plazas, gardens and a dog run, staff describes in their report. A pool and garden terrace are proposed on second level, and another pool and garden area are proposed for the roof top. Interior features include meeting areas, home offices, a media room, lounge, fitness center, and other shared spaces. The basement levels include resident storage areas, mechanical rooms, refuse collection, and service areas. The developer also intends on securing Leadership in Energy and Environmental Design silver rating.  
"Please bring us a good project that follows this to a 't,'" Vice Chairman Peter Koetting said to the developers representative after the vote.
"We heard you loud and clear,' replied Bill Witte, chairman and CEO of Related California. "We will."
Commissioners tended to agree that the building was beautiful, that the EIR is clean and clear, and that the open space was a positive aspect.
A few issues commissioners said they were struggling with included the height, bulk and overall size, and noise.
Overall, they liked the project. There are no significant impacts, Kramer concluded. The impact of the traffic and water usage is so minimal it's no consequential, added Commissioner Bill Dunlap.
It's also consistent with the original mixed-use vision for Newport Center, Kramer noted. Newport Center is a regional hub that already includes retail, commercial and recreational, he continued, and it makes sense to add high quality residential.
Public speakers were on both side of the project, with the majority opposing it. They questioned traffic, water usage, the need for more development, view obstruction,  whether it should require a Greenlight vote, inconsistent with the general plan, and more.
Several people pointed out that this was an example of spot zoning and piecemeal planning. Staff disagreed, citing that in its original context there was a much broader range of uses in the planned community.
"It's not a museum and it's not a house," summed up 40-year Newport Beach resident Tom Fredericks, "it's a 25-story, 100-unit condominium tower."
Fredericks and others pointed out that the rejection of the nearby 150 Newport Center residential project, which was shorter and overall smaller, is a clear sign from residents that they don't want this type of project in Newport Center.
"The precedent that this is going to establish is frightening," and dangerous, said longtime Big Canyon resident Gordon Glass.
This will set a pattern for things to come, agreed Robert Mortensen, a 20-year Newport Beach resident. Museum House won't be the last high-density residential high-rise in the city, he warned.
Commissioners, residents, and now council members, will need to ask themselves, is high-density residential going to be a part of the city's future.
It will fundamentally change the unique character of Newport Beach, Mortensen added.
"I don't think it's precedent setting," Secretary Peter Zak later disagreed.
In the past, city leaders have aimed to keep Newport Beach a unique community with a small, recreational harbor, and retain the residential character and quality of life, said longtime resident Elaine Linhoff, who served on the original Newport Tomorrow Committee, which worked on the general plan.
"Never has the goal been to be a thriving metropolis of skyscrapers," Linhoff said.
Newport Beach is not a static city, change is needed to move forward, Kramer said during commissioner comments.
"Newport Beach is a highly dynamic, cosmopolitan community," Kramer said. "That's the reality."
Residents said they don't want Newport Beach to become Palm Beach or Miami Beach, Fla., Marina del Rey, San Francisco, or Los Angeles.
"We have a world-class city… with world-class beaches, neighborhoods, retail, recreational uses," said Koetting, "why not have a world-class condominium project?
Supporters called the project beautiful and a landmark for the city, noting that it fits within community and offers a lot of benefits for Newport Beach.
Terri Kennedy, another project supporter from Big Canyon, called it fresh and a "wow" factor for the community.
"It's going to be a major landmark for Newport Beach and in Newport Beach history," Kennedy said.
Supporters said it would be a visually appealing and positive addition to Newport Beach. It will uplift the neighborhood, noted one speaker.
"It's a striking, beautiful example of what should be in our community," said a museum volunteer.
It's beautiful, several opponents agreed, but it's in the wrong location.
Others in favor of the project emphasized the demand for this type of residential in the area.
There may be a demand for luxury condos, but commissioners are not tasked with fulfilling that, said opponent and Corona del Mar resident Dennis Baker.
"It is not the job of the Planning Commission or the City Council to make markets or fill market demand," Baker said. "Don't let that influence you."
Larry Tucker, a Big Canyon resident and former Planning Commissioner, said the fact that there won't be a significant traffic impact doesn't surprise him because multi-family residential doesn't generate a lot of vehicle trips.
Most opponents just don't like the idea of high-rise residential in Newport Center, Tucker added.
The next step will be for the City Council to hear and vote on the project.