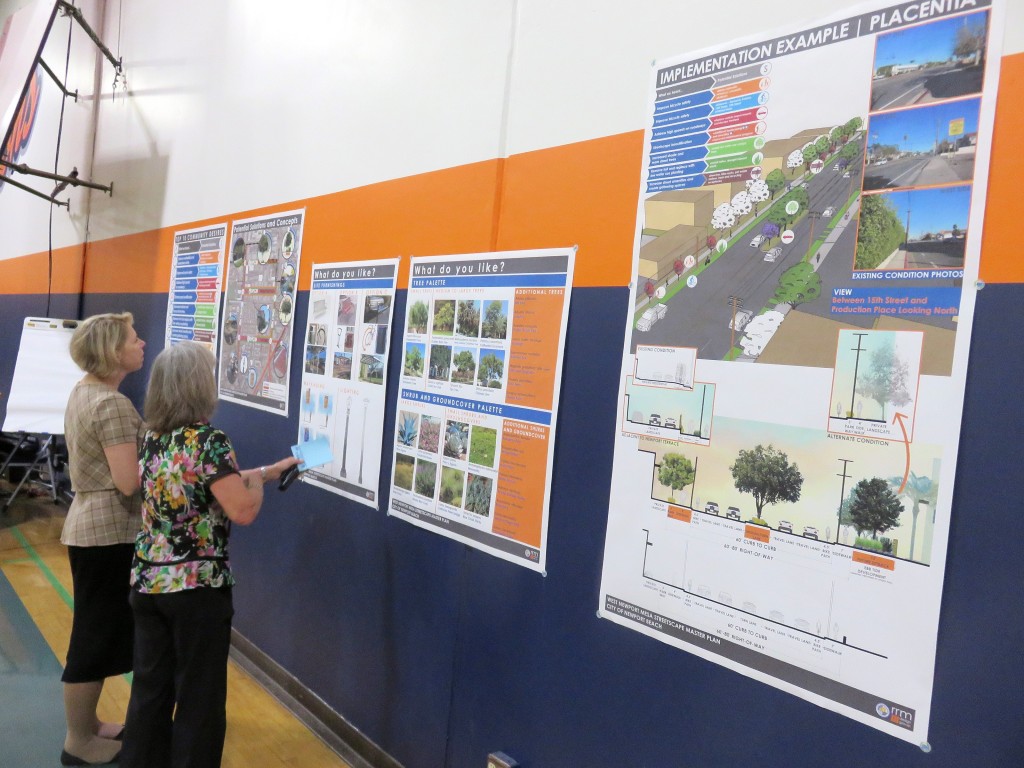 A plan to unify West Newport with cohesive street and sidewalk elements is in the works and about a dozen locals got an update on the design this week.
A public workshop for the West Newport Mesa Streetscape Master Plan was held Wednesday at the Pacifica High School gym.
"It's a recognized need within the community," said Newport Beach Community Development Director Kim Brandt.
West Newport is defined as the area between Monrovia and Superior avenues and 15th and 16th streets.
The plan is "intended to unify the many diverse elements of this community through sidewalks, parkways and landscape improvements that encourage pedestrian and bicycle use and enhance the aesthetics of the public realm," according to a city staff memo.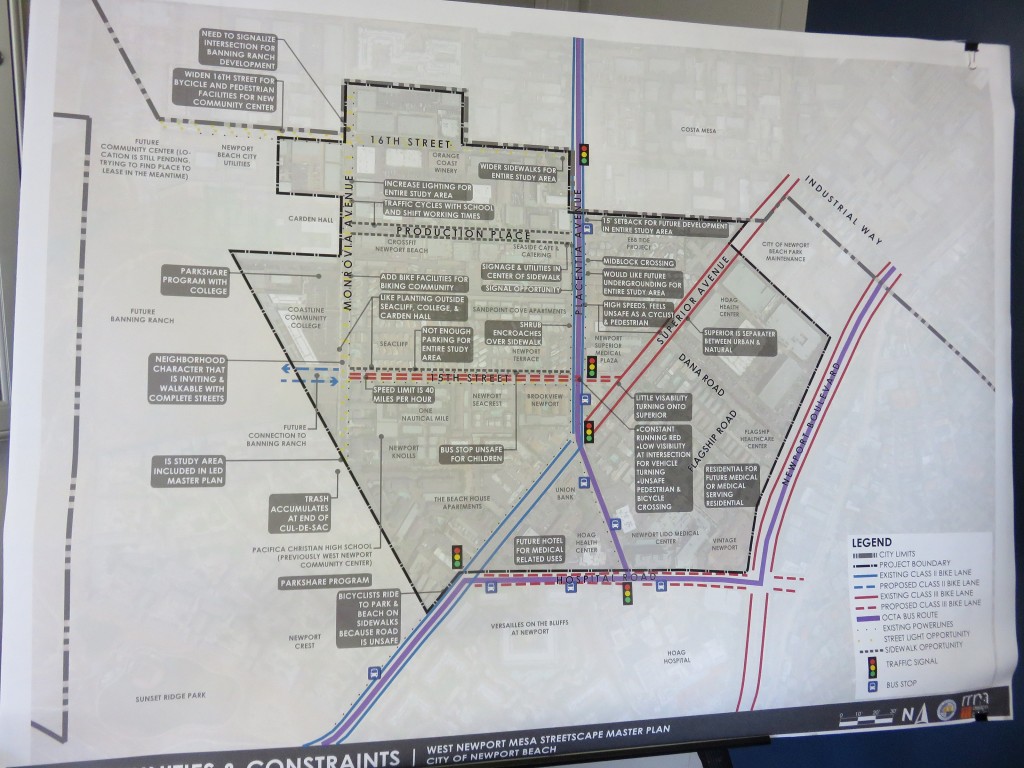 Work began after "some development was happening in the area and it was recognized that we don't really have a cohesive character in this area," said Deputy Community Development Director Brenda Wisneski.
"We're still in the process," Wisneski said, and there are still opportunities for public input.
After considering the comments made on Wednesday and refining the plan, it will go to the Planning Commission in April. After that, another community meeting will be held in early May. Council should see it before the end of summer.
There are two ways the plan can be implemented, Brandt explained: As private property projects are brought forth they would be looking toward the master plan for possible improvements along the frontage; or in public areas, the council can decide how they want to implement the master plan (by small segments, street by street or all at once, for example), depending on staff resources and funding.
It will be a guiding principle to the design when those opportunities arise, added Brian Hannegan, an associate with RRM Design Group, the firm working on the plan.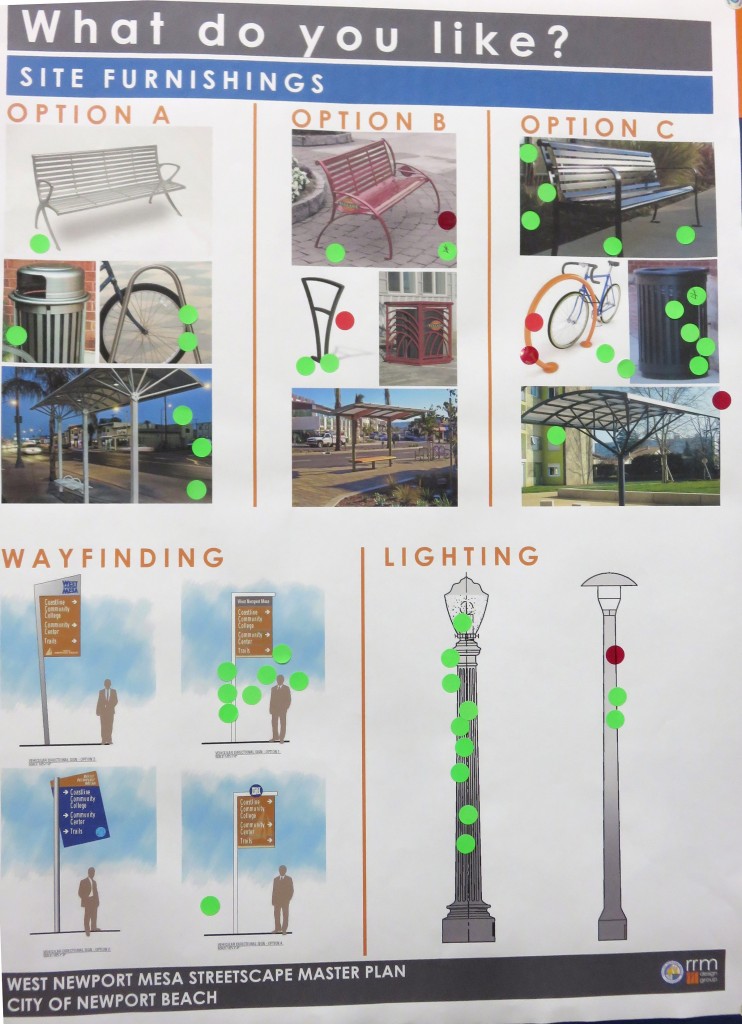 Resident Dorothy Kraus, who has been involved with the planning since the beginning, said it's a little confusing and frustrating about what can and can't happen since this is just a plan not an actual project.
"I would like to see it rolled out," and implemented in the community quickly, she said. "What we don't want to see is these developers coming in willy nilly without some cohesive planning from this community."
Although Kraus and other residents said they understand that city priorities, resources and funding all have to be considered.
"My experience here in Newport is that nothing really sits on the shelf," Brandt noted. "Things gets done."
Kraus has been very active in getting the word out and encouraging locals involved in the process.
"I think this part of town has been neglected, in terms of this kind of a project," Kraus said. "I'm happy to see this happening… It's time to roll something out to have a cohesive, complete neighborhood feel here. "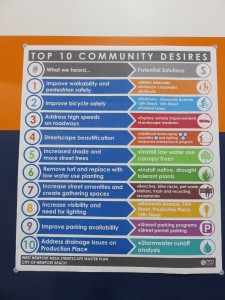 Hannegan went over the top 10 community comments that they heard at the last public workshop in February.
The number one public concern is to improve walkability and pedestrian safety, which includes widening or adding sidewalks, adding or enhancing crosswalks, and adding bulbouts (extending the curb out at an intersection to shorten the crossing).
"Those are really the key issues for public safety for pedestrians," Hannegan said.
Other top comments included improve bicycle safety, address the high speeds of traffic, consider street medians, add more trees and shade, increase lighting and visibility, better parking, and more.
He mentioned a few possible ideas to address the various concerns, including adding sharrows (bike lanes) in a few areas, streetlights along Monrovia Avenue, Production Place, and 15th and 16th streets, and a median in the center turn lane on Placentia Avenue to calm and slow the traffic.
There was also a bit of discussion about the type of seating that would be included in the plan, specifically that they be shorter benches or benches with a divider in the middle to discourage people sleeping on them. Several residents also mentioned that lighting was needed in a few areas right away.
Several people noted the difficulty and danger in crossing Placentia Avenue since there is no crosswalk between 15th and 16th streets. Some suggested adding a lit up crossing of some sort in that area.
"That will take a little more effort to study," because it would require a traffic study, Hannegan said, but they could add something into the plan that addresses the possibility of examining that section of street for a mid-block crossing.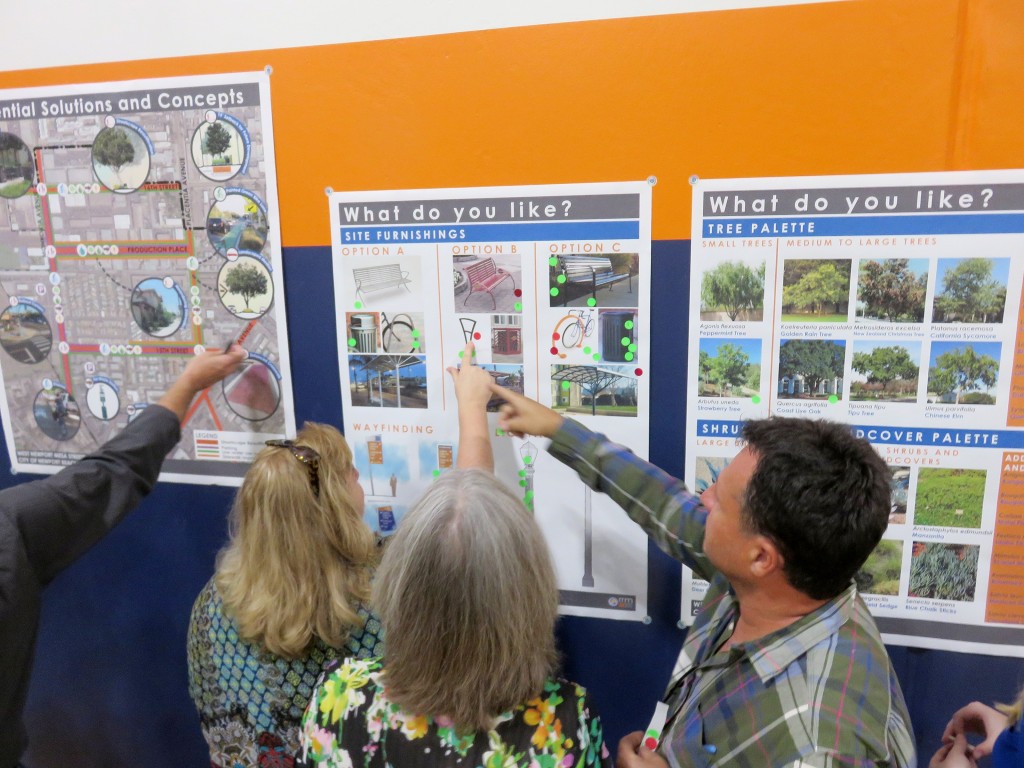 "The city really needs to take a long look at that, they're very particular about where those (mid-block crossings) happen," Hannegan noted. The volume and speed of traffic needs to be considered, he added.
The idea for a mid-block crossing on Placentia Avenue has come up often, Hannegan noted. The opportunity it there, so they can definitely explore it, he added.
"It's a big safety issue," he said, "but it has to be vetted through the city."
A couple of people also mentioned a light signal at Monrovia Avenue and 16th Street, but had opposing viewpoints on whether or not it was a good idea. It also would need a traffic study.
There were definitely some concerns and ideas raised at Wednesday's meeting that they will try and incorporate into the plan, Hannegan said.
All the input is helpful, he emphasized. Residents who didn't attend the meeting are encouraged to submit their comments through the city, he added.
"We really care about making sure the design is vetted through the community that lives there," Hannegan said.
For more information, visit newportbeachca.gov/trending/projects-issues/other-important-issues/west-newport-mesa-streetscape-master-plan or contact Benjamin Zdeba at (949) 644-3253 or [email protected].