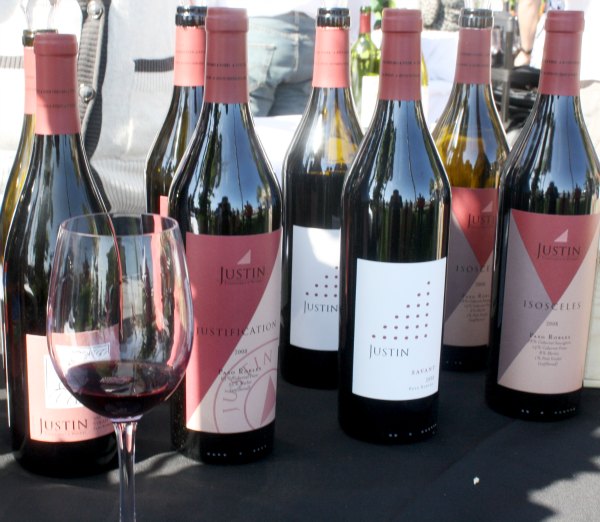 I love Paso Robles.
Let me amend that: I love the wines that are produced in this Central Coast enclave.
Since discovering Paso Robles some dozen years ago, my trips to Napa ceased. Not only is Paso closer to OC, but the wines are as good – and often better – than those that come from northern California. Napa may have the name (and an attitude), but Paso puts the fun back into winemaking, and wine drinking.
I've been wine tasting in Paso Robles many times; Stasha discovered the charms – and wines – of Paso last year. So, I think it's safe to say that while Napa is nice, our palates prefer Paso.
Having sampled the juice at more of Paso's 200 wineries than I can count, I've discovered dozens of wineries that I now consider my favorites. But since many of these wines can only be sampled at the source, and my vacation days are sorely limited, I don't get to taste those wines as often as I'd like.
That's why we're excited about the Paso Robles Grand Tasting Tour that will make a stop in Newport Beach Feb. 27- March 2. A series of consumer and trade events are scheduled over those five days, including winemaker dinners, wine tastings at local retailers, and a Grand Tasting that boasts more than 150 wines.
Some 40 winemakers will converge in Newport to showcase their varietals, including Adelaida, Cass, Eberle, Justin, L'Aventure, Midnight Cellars, Niner, Opolo (their Mountain Zin is one of my faves), Peachy Canyon, Stacked Stone, Wild Coyote, and Tablas Creek.
Tablas Creek in particular holds a special place in my heart—I have a Mourvedre grape vine growing on my patio that I purchased at Tablas Creek.
Founded more than 25 years ago as a partnership between the Perrin family of Chateau de Beaucastel and Robert Haas of Vineyard Brands, Tablas Creek is renowned for making superb Rhone blends, and purposely purchased a 120-acre property in the hilly Las Tablas district of west Paso Robles specifically for its similarity to Chateauneuf du Pape: limestone soil, a favorable climate, and rugged terrain.
Tablas Creek imported a variety of vines from the Perrin property in France, including Mourvedre, Grenache, Syrah and Counoise (red varietals), and Roussanne, Voignier, Marsanne, and Grenache Blanc (white varietals). Those varietals form the backbone of Tablas Creek wines.
"Paso Robles has gone from a place just for Zinfandel and affordable Bordeaux blends to become the center of the Rhone movement," explained Tablas Creek GM Jason Haas during a recent phone interview. "It's not that vineyards are pulling out Cabernet or Zinfandel. They're planting more Syrah, Granache and Mourvedre than any other AVA in California. That's what has placed Paso Robles on the map. It's the best place in California for Rhone wines."
Jason told me that he has a simple goal when he pours his wines at events such as the Grand Tasting Tour.
"I want to bring Tables Creek to the tasting and show off the range of things that we do," he said. "We'll be pouring six different wines—three reds and three whites. I hope people will taste all six to see what we're all about."
The public can taste not only Tablas Creek wines but many others during the main tasting event to be held on Wednesday, Feb. 28, from 6 to 8 p.m. on a large yacht moored dockside in Newport Harbor. Tickets are $60, which includes unlimited wine tasting, a commemorative wine glass, and opportunities to meet more than 40 of Paso's top winemakers.
Paso wine dinners are being held on Tuesday, Feb. 28, at 3-Thirty-3 Restaurant (with Cass Winery, Midnight Cellars, Silver Horse, and Thatcher), and The Cannery Seafood of the Pacific (with Eberle, J. Lohr, Justin, kukkula, and Tablas Creek). Cost is $60 to $65 per person and includes wines paired with each course.
That same night, Wine Lab Newport is hosting a wine and cheese tasting with Treana, Vines on the Marycrest, and more. Cost is $20.
My plan? Swing by Wine Lab Newport on the way to the wine dinner at The Cannery. That should prepare my palate for the Grand Tasting on Wednesday.
Now do you see why I love Paso? When's the last time Napa did a Grand Tour as grand – and fun – as this?
For more information, and to learn more about Paso Robles wines, visit www.pasowine.com.