Want a quick culinary getaway to the Mediterranean without leaving OC? Head to Pelican Hill, where creative cuisine meets classic architecture, and you'll feel like you're on vacation as you dine al fresco with sweeping vistas of Pelican Hill's golf course and the sea beyond.
I've dined at Pelican Hill several times, and have always been impressed with the fresh flavors and the inventiveness of the dishes. When I learned that the Pelican Hill restaurants were planning a cornucopia of culinary events this fall, it offered the perfect excuse to revisit the award-winning resort and sample some of the new menu items.
My assistant, Catherine, has never been to Pelican Hill, so we spent a few hours one afternoon indulging in a gastronomic feast at Coliseum Pool & Grill (created by Coliseum Chef Marc Osier), and exploring the resort.
We'll report on our dining adventure in a few weeks, but that trip prompted me to return two days later with Sydney Casillas, a 12-year-old budding food writer. My idea was to have her write about the young adults' menu, which has a variety of items geared toward kids ages 12 and younger, while I sample a few more items from the adult menu.
That concept disappeared as soon as Sydney and I sat down at a table overlooking the huge circular pool (the largest of its kind in the world) and Sydney perused the adult menu. She immediately was drawn to items that I would not normally expect someone her age to enjoy. This indicated an adventurous palate, but also reminded me that while the young adult menu is probably perfect for kids who are not quite ready to explore unknown fare, the adult menu contains plenty of options for children who are ready to tackle less mainstream dishes.
Here is Sydney's take on her dining adventure at Pelican Hill: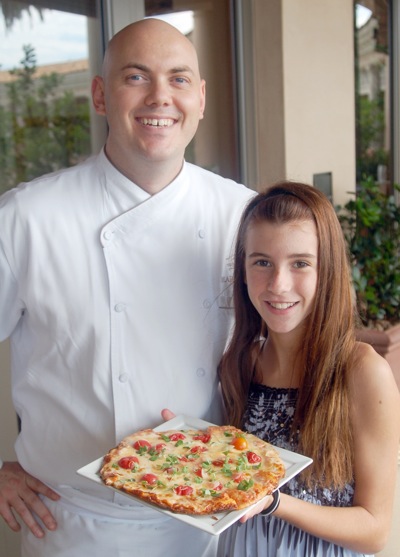 As we drove up to the restaurant we were greeted by two very nice men. We walk down a long hallway with beautiful light fixtures lining the ceiling. As we got closer to the end of the hallway there were two people waiting for us: the manager and the chef of the restaurant. I felt like a princess!!
            As soon as we were seated our waitress came over. Her name was Tiffney. She was so nice, from helping us order food to making us feel welcome and at home, which we did.
            We started off by ordering a watermelon salad and the salad of the day. The watermelon salad was beautiful; it was a large round piece of watermelon with arugula, goat cheese, and balsamic vinegar. It tasted wonderful — I could eat it every day for a year! The way the watermelon and balsamic blended together, and the addition of the goat cheeses creamy texture, was outstanding. It was to die for, although I'd never die for food.
            The other salad wasn't really a traditional salad, it was tomatoes with avocado and ground pepper, and on the side was a delicious peach sauce and some shrimp. I can't even describe how good it was, it was that good! 
            After we finished our salads we ordered a Margarita pizza and scallops. We were blown away with the pizza. It was a flat bread pizza with mozzarella, tomatoes, and basil.  It was really delicious. The scallops were delicious as well. The scallops were sitting on a pile of mashed potatoes, asparagus, green beans and corn. It was wonderful how my mouth was coated with the wonderful flavors of all the ingredients.
            Last but not least we had homemade gelato. We tried the pecan, pistachio, vanilla bean, and chocolate. My favorites were the pecan and pistachio. All we could say for a few minutes was 'wow.' We were so full when they brought out the dessert that we had to have someone take it away so we wouldn't finish it.
            I think it's amazing how kids with larger palates can really enjoy the adult menu.  Overall we had a marvelous time — I can't wait to go back! 
Sydney forgot to add that we also ordered sweet potato fries, which she dubbed "the best I've ever had." In fact, Sydney had a hard time sharing them with me. She also asked if she could order the "fancy water," which I found out was San Pellegrino.
I was delighted that Sydney had such a positive experience, and that she – like many kids these days – has been exposed to more adventurous foods and does not need to confine her tastes to a children's menu. However, the Coliseum young adult menu is still an ideal route for parents with younger children in tow.
In addition to dining, Pelican Hill has a variety of family friendly activities planned for this fall. For details, visit PelicanHill.com.