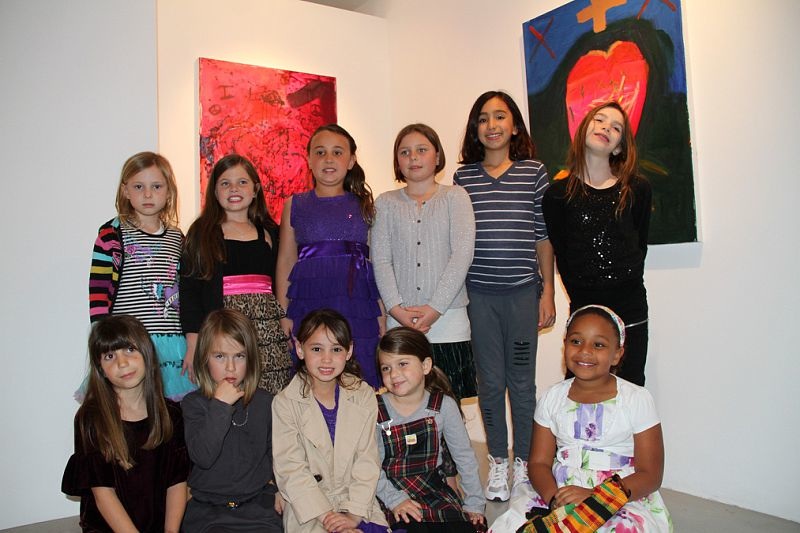 Today is the last day for a unique and inspirational event, but the benefits and stories that began because of it will not only keep on going, they will change many people's lives across the world.
Brett Rubbico, abstract artist and principal gallerist of Brett Rubbico Gallery on Old Newport Boulevard in Newport Beach, was thrilled with what he hopes to be the first annual art show of the girls of the Macatawa tribe of Indian Princesses. The show gave the young girls the opportunity to participate in a creative project that included professional art instruction and the experience of having their paintings exhibited in a professional commercial gallery, while at the same time raising funds for Free Wheelchair Mission.
The Indian Princess Program is a nationwide organization that fosters understanding and companionship between fathers and daughters, ages 5-12. Indian Princess groups are called "tribes" and are similar to the YMCA Indian Guides. The tribes are named in honor of Indian tribes that originated in and around Ohio.
"We are a Christian tribe of fathers and daughters from Mariners Christian School and Free Wheelchair Mission is our chosen nonprofit," Brett explained.
Free Wheelchair Mission (FWM) is an international nonprofit organization dedicated to providing wheelchairs for the impoverished disabled in developing nations. Since its founding in 2001, FWM has produced and delivered more than 627,000 wheelchairs to needy recipients in 84 countries.
Inspiration for the girls' paintings came from their tribe's Bible verse: "Don't let anyone look down on you because you are young, but set an example for the believers in speech, in conduct, in love, in faith and in purity." (1 Timothy 4:12)
"It was really special to do with my daughters," said Newport resident Dave Kidder. "The dads and daughters loved doing it together and it was great to see the girls' vision unfold on a big blank piece of canvas."
"It was exciting and really interesting," said 8-year-old Paige Kidder.
"It was really fun too," added her 6-year-old sister, Ella.
"This is an art gallery and not a painting studio, so we met offsite twice for instruction," Brett explained. "I gave each girl a canvas and a painting kit to take home to work on, as if they were professional artists. The girls were exposed to the full spectrum of a professional artist's career, including the process of making a painting as well as the exhibition and acquisition process."
"It was a great experience for everyone; it was good on every single level," Brett said. "I've always had this idea of incorporating the gallery into my children's lives, and this was a great way to do it."
The 17 young artists in the Macatawa tribe loved the creative fundraising opportunity, including Brett's and his wife, Linnea's, two daughters.
"I felt very excited and joyful when people were looking at my painting and about raising money for Free Wheelchair Mission," explained 7-year-old Bianca Rubbico. "It was pretty cool when I had a crowd of people around my painting."
Five-year-old Ava Rubbico also loved the opportunity.
"I was feeling happy about people seeing my painting," she said.
The paintings were each priced at $63.94, the exact cost of building and distributing one wheelchair. All the paintings sold.
"We suggested people bid on the paintings in increments of wheelchair amounts," Brett said. "Most paintings went for the equivalent of several wheelchairs. It's safe to say that we'll probably raise close to $4,000 from this show, and it all goes to Free Wheelchair Mission."
"We got the attention of the entire Indian Princess organization; they'd never heard of such a unique and creative fundraiser of this magnitude," Brett said. "Usually fundraisers are one-day events like car washes or bake sales, which are great, but we loved trying something different this year. I treated it like it was a normal show, not a kid's deal."
"God was a part of this experience, as He has been a part of this gallery from the very beginning," Brett explained. "I felt led by God to open the gallery two and a half years ago, right in the middle of a bad economy when other art galleries were closing. It is sustained by Him and it all comes from Him. God has really blessed this project; it's one of the best things I've done and it's still going on. Many of the stories are just beginning."
For more information about the gallery, go to brettrubbicogallery.com or call 949-515-5102. Cindy can be reached at [email protected].