For young Merik Migliore even the simplest of tasks can be a challenge due to a debilitating birth defect which left his right leg 11.5 centimeters (4.5 inches) shorter than his left.
On my regular walks around Balboa Island, I've seen Merik with his friends, running and playing on the boardwalk. Merik does his best to keep up, but every time I see him, my heart hurts watching the incredible effort he exerts with each step.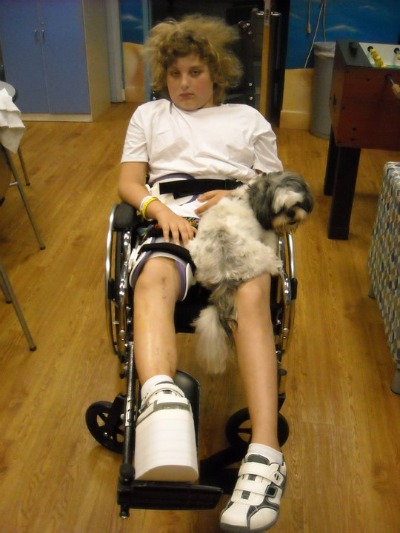 Thanks to efforts by medical specialists, Merik has begun a journey to lengthen his leg, but faced with an estimated cost of nearly $115,000 for his next surgery, his mother, Rebecca, is turning to the community for help.
Rebecca immigrated to the United States from England and was married to Merik's father, Edward, when she became pregnant. But the pressure of a new home, new baby and having to go back to work proved to be too much for Edward, and after two years of sobriety, he returned to a life of crack addiction and left Rebecca, alone and pregnant with Merik.
Rebecca struggled to stay on her feet, working part-time in a law office and as a masseuse out of her home. She visited a women's clinic regularly throughout her pregnancy and all seemed fine until the early morning of June 2, 2001, when Rebecca says she could sense something was wrong. In emergency, tests were taken and it was determined that Rebecca needed an immediate C-section because Merik was in severe distress. His lungs were filling with fluid and he had suffered an in utero heart attack.
To feed him, the doctor's inserted an umbilical catheter which unfortunately traveled down to his femoral artery, exited and coiled. This caused Merik's right leg to turn black from lack of blood flow and his growth plates were destroyed, leaving him crippled.
Since that time, Rebecca and Merik have been on a surgical quest, visiting doctor after doctor, with Merik suffering a botched leg lengthening that went so wrong it pulled his hip out of the socket, going undetected for two years. Only after a fall down a flight of stairs, where he broke his left arm did another doctor ask to do a scan of Merik's leg and hip which revealed the botched surgery.
To correct his hip, doctors at Shriner's Hospital recommended that Merik be seen by one of the best surgeons in the field, Dr. Dror Paley, and last April they flew Merik from California to Tampa, Florida, where he was met by Paley, who flew in from West Palm Beach. Paley inserted five pins in Merik's hip and a rod in his femur but his leg still remains significantly shorter than the other.
Paley has set Merik's next surgery date for April 4 at the Paley Advanced Limb Lengthening Institute at St. Mary's Hospital in West Palm Beach, Florida. The estimated cost for the surgery: $113,385.00.
So far, Rebecca has $60,000 set aside from a settlement that Merik received due to the previously botched surgery which will go directly to Paley. She has purchased two one-way tickets for April 2, and has arranged to drive home to Newport Beach from Florida in a special vehicle made for people in wheelchairs.
She is hoping to find an inexpensive hotel in Palm Beach where they can stay while Merik recovers and receives post-surgery physical therapy. By July 15, they will be back home on Balboa Island and Merik's legs will be the same length.
Rebecca and Merik live in a modest two-bedroom apartment on Balboa Island with their two Shih Tzus. She tells me that Merik dreams of the day he will be able to participate in the Balboa Island Yacht Club boating classes, stand on a paddle board, ride a bike, play soccer and keep up with his friends. Most of all, she knows that the teasing will stop, the stares will stop and people will not see Merik as different. Kids his own age will want to play with him, and his life will be that of a normal teenager. She's hoping for a festive homecoming when they arrive back on Balboa Island.
If you would like to help Rebecca and Merik, checks and money orders can be sent directly to Paley's office by contacting Ana Quiroga at 561-882-6218. Rebecca can be contacted via email at [email protected].
Lynn Selich resides in Newport Beach. She can be reached via www.LynnSelich.blogspot.com.