With more than twice as many participants as last year, the 2014 Ring of Lights home decorating contest has become nearly as noteworthy as its nationally recognized cousin, the Newport Beach Christmas Boat Parade,
The homes are "marvelously decorated," said President and CEO of Visit Newport Beach Inc., Gary Sherwin.
The Boat Parade and the Ring of Lights work well together, agreed resident Barry Maeguiar, a Ring of Lights participant and Boat Parade sponsor,.
"It is an experience that defies description unless you see it," Meguiar said
Barry and Karen Meguiar earned the Chairman's Choice award this year for their North Bay Front home on Balboa Island.
Other winners include Robert and Christyne Olson, first place for lights and animation for their East Bay Front home on Little Balboa Island.
"Everybody can do something to participate to help make our community a little bit brighter and a little bit more special," Christyne Olson said, whether it's lights and animation on a grand scale or just a few strands of garland. "It spreads cheer, and it means so much to so many people who walk by."
Donna Di Bari agrees with that sentiment. She secured the first place Judge's Award for her colorful home on South Bay Front.
"People (on Balboa Island), especially on the Bay Front, like to decorate their homes to share happiness and celebrate with the people walking by," Di Bari said. "It's part of living here… the Christmas spirit is alive and well on Balboa Island."
But it's not just Balboa Island. Many homes along the waterfront get into the holiday spirit.
Scott and Shawn Cunningham received the "Green" Entry award for their home in Beacon Bay.
There are a lot of beautiful homes on the Ring of Lights tour, Scott Cunningham said. Taking a boat on a harbor tour of the homes is a great way to spend an evening, he added.
"It is just one gigantic Christmas fantasy land," Maeguiar said. "It's magical."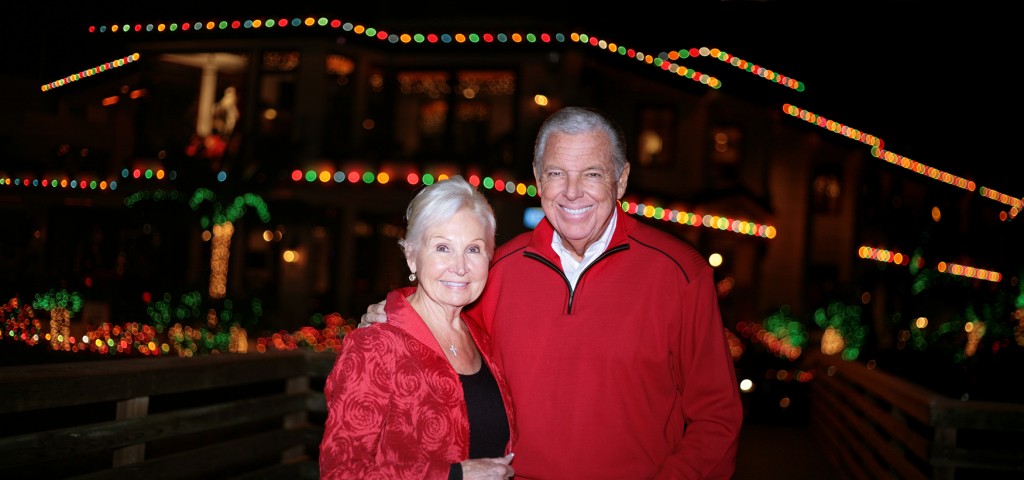 History and Tradition at a North Bay Front Home
Barry Meguiar's grandfather bought the North Bay Front property in 1942.
He remembers sitting with his grandfather on the porch swing talking about car wax, said Meguiar, president of Meguiar's, Inc., a car care products company.
His grandfather died in 1950, and the property was sold at a closed auction bid. Meguiar's father bid $15,000, but it sold to another bidder for $17,000.
Following that, his parents rented a Bay Front home.
"So my whole life, every summer, I spent here," Meguiar said.
About 12 years ago, the then-owners of his grandfather's property built the current house. Soon after that they put it up for sale.
"We were able to buy back my granddad's lot," Meguiar said. "It's really special."
They bought and tore down the property next door and added on, creating the home they have today.
"The heritage lives on," his wife, Karen, added.
When they built the addition, they decided to do everything they can to light the house and maximize the opportunity.
"We built it for Christmas lights," he said.
Their home is more of a traditionally decorated house, without all the "bells and whistles," he said.
He also loves sitting out on the patio by the fire and talking to people as they walk by, he said. Everybody is happy and having a good time.
"It's a wonderful time of sharing," Meguiar said.
They probably see several hundred people a night during the holiday season, even more on weekends and even more during the parade and closer to Christmas.
Meguiar's hardly missed a night of the Boat Parade over the past 30 years. He makes an effort to watch every night, every year.
"I'm mesmerized by it," he said. "It's so magical to me. I love the parade."
He's also sponsored the parade the last few years.
His home is filled with people each night watching the parade.
"There are so many wonderful expressions of Christmas in the harbor," Meguiar said. "It's absolutely, positively the most wonderful time of the year,"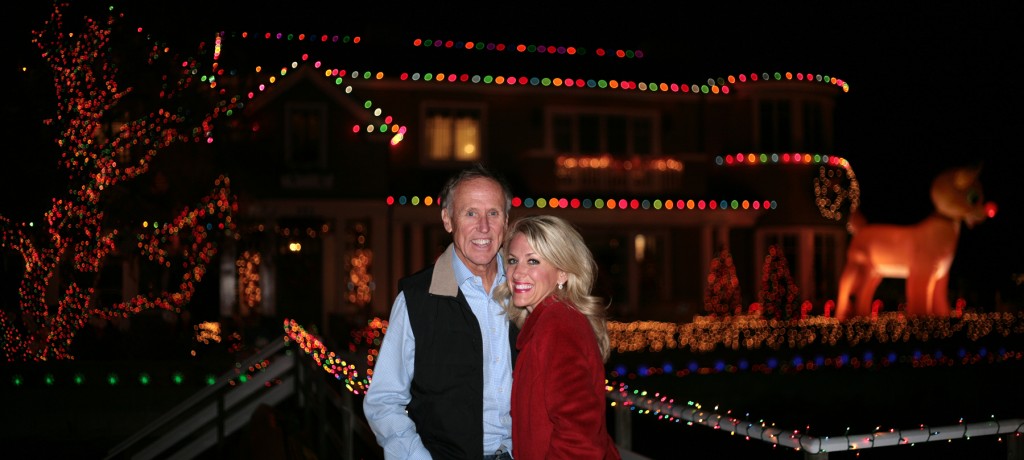 Color and Creativity on East Bay Front
Bob and Christyne Olson currently have a fan favorite decorated home on East Bay Front.
Their home can be easily seen while driving over the bridge to Balboa Island, Christyne Olson pointed out.
"So we feel that we have a responsibility to light it up and make it special for everybody," she said.
They started decorating when they lived on North Bay Front.
"We just started decorating it ourselves," Bob Olson said. "We did some really crazy things on that house."
They were surprised when they won an award the first year they decorated, he said.
"From that, it was fuel to the fire," he added.
"Every year we do something different," Bob Olson said.
Although the smaller items may remain, the focal point of the design changes, Christyne Olson added. This year it's a huge inflatable Rudolph the Red Nosed Reindeer. Sometimes she has put a decorative word, like "Joy" or "Magical."
"Whenever it's over 15 feet, I get really excited," Christyne said.
It's an added bonus if it packs up small, she added.
"I'm really good friends with Santa Claus, so I store it all at the North Pole," Christyne Olson joked.
It actually all gets packed into two large storage units, she explained, "but it really does look like Santa's workshop in there."
Decorating for Christmas is a family tradition for Christyne Olson. Her mother went all out every year, putting a tree in every room of the house. Each room would be dedicated to a certain color scheme, like peach or light blue, she recalled.
"It was fun," she said. "I loved all the trees we had growing up. It was special."
Although she doesn't put a tree in every room, she does put a touch of Christmas in different areas around the house.
It's a balance between overdoing it and creating something really lovely, she said.
The décor has evolved over the years, Christyne said.
They always pick something up when they travel, like Swiss bells from a trip last year and a gondola car from Aspen.
And every year has to be better than the last, she said.
She starts planning, then meets with the light installer, and decides on a final design.
"He has his ideas, I have my ideas and we meet somewhere in the middle," Christyne Olson said.
"It all comes out quite beautifully in the end," she added.
It takes four or five days to install of the decorations, they explained. It goes up the week of Thanksgiving. It comes down and gets wrapped up in the first week of January.
It's exciting to hear all the comments and see the kids' reactions, she added. They even get notes and cards in the mail thanking them.
"There are times when you wonder, 'Is it worth it?' But then people start walking by and saying nice things and it just inspires you more," he noted.
"And hopefully we encourage other people to light up their homes," she said.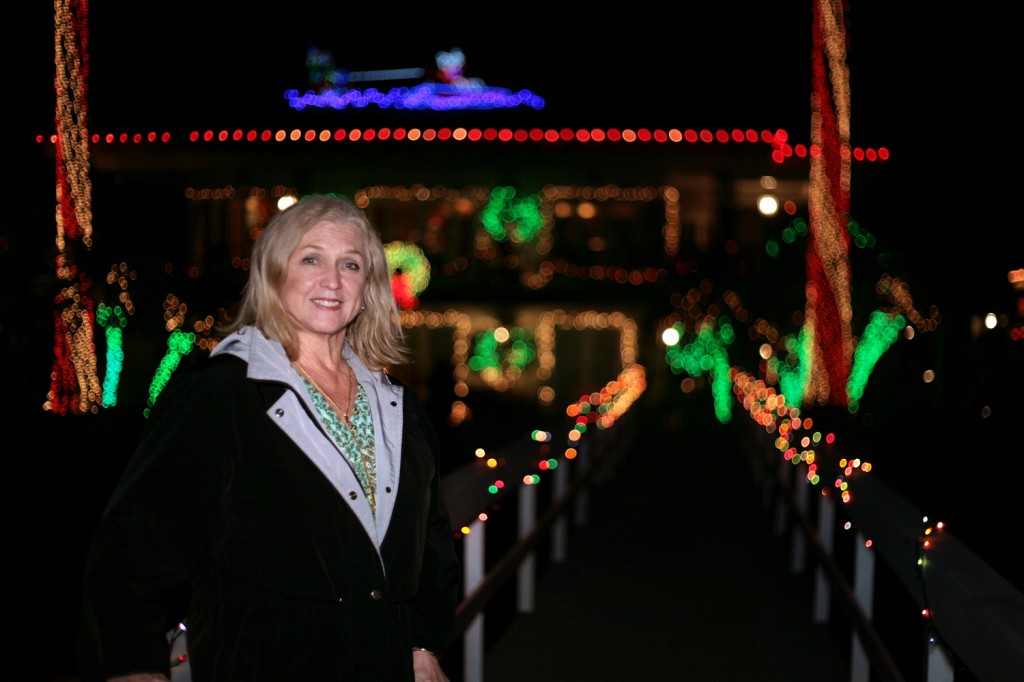 Stout Santa Started it All at South Bay Front
Donna Di Bari moved into her South Bay Front home in 1985. The next year during the holiday season, she spotted a short and stout St. Nick on the floor at Roger's Gardens.
The iconic white-bearded and red-suited man was mechanical and was checking his naughty and nice list with a long white feather quill pen.
"I said, 'I gotta have him, he so adorable! I love that Santa!'" she recalled.
Employees told her he wasn't for sale because he was a part of their holiday display. She kept going back though, inquiring about the Santa.
"I fell in love with the guy," said Di Bari, who described him as having cute elf-like features.
Finally, they told her she could buy him, but only after Christmas.
"So it was 1987 that he made his first appearance on the balcony," Di Bari said.
Without even knowing there was a contest, she ended up winning a cash prize. She decided to donate the money to a charity and asked around about a worthy cause. Someone recommended Children's Hospital of Orange County
Santa also helped Di Bari, who had just moved to the area in 1985, get to know her neighbors and meet new people. He helped get her involved, although inadvertently, with the Ring of Lights, which helped her become a part of the community.
"Santa is the one that started it all," she said.
Now, nearly 30 years old, Santa is a bit weathered.
"He has arthritis," Di Bari joked, as his mechanical parts squeak and creak. She often has to clean his white beard and suit. He could also use a good re-stuffing.
"He's been through a lot," she said, including rain, wind and friendly relatives.
But he still has a special spot by the window, under a spotlight.
Everyone walks by and looks to see if he's still up in the window, she said. And sure enough, for nearly 30 years now, he can be seen in the Di Bari house, making a list and checking it twice.
"It's the same Santa all these years," she said.
The special Santa may be the focal point, but there is a lot more to her decorations than just the jolly old fellow.
This year she made several bows, to go along with the "Deck the Hulls with Bows of Jolly" theme. She also has a lit up Santa waterskiing on the roof.
The design changes every year, she said.
"People walking by actually want to know what you're doing next year," said Di Bari, a retired interior designer. "This is my big thing I do once a year."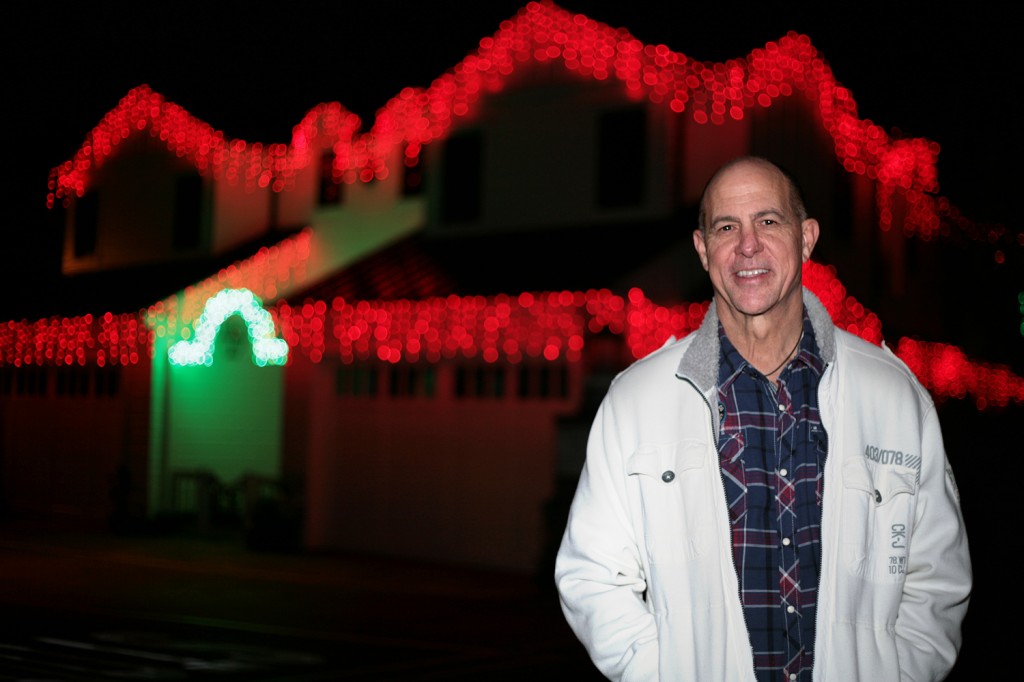 High Tech Christmas at Beacon Bay
Scott Cunningham has several 100-foot Ethernet cables running from the roof to a computer set up in the garage.
"The computer is the basis of what controls the lights," Cunningham explained.
He has the Light-O-Rama Sequence Editor program divide his home up to control the lights on the upper house, middle house, front arch, each column in back, and more.
Each colored strand of lights requires its own channel.
He can pick and choose what strand of lights turn green at any given moment, then tells it to turn red, then to flash green sparkles.
"You customize it to your house," he said.
He writes all the sequences so he has complete control of the look.
"There's a million combinations of what you can do," Cunningham said. "The sky is the limit with how many different things you can do. I just wanted to do a high-tech version of Christmas lights."
"This is small compared to what we used to do," he added.
In the past, when he lived at One Ford Road, he timed the lights to music for an elaborate show. His displays can be found on YouTube. There, he had 64 channels of lights with 23 songs.
They moved to Beacon Bay in the summer 2012.
They had traditional lights on their house, but Cunningham wanted to do something different.
While his wife was away volunteering, he got bored. So he put up more and more lights.
"That kind of got me going," he said.
But he wanted to up the ante.
In Home Depot one day he saw a small kit that came with three songs and three strands of lights.
"I said, 'There's gotta be something better,'" he recalled.
And there was.
There is a whole group of hobbyists who set up the light displays with music every year, he explained.
"And that's what started it," he explained.
A person doesn't have to have a background in technology, but it helps, said Cunningham, who works for Broadcom.
"I'm a gadget guy," he said. And this makes it "a little bit more fun."
He's constantly thinking of designs and randomly jots down ideas. In November, he really starts brainstorming about how to implement those ideas.
They start putting everything in mid-November.
"My goal is to have them going on Thanksgiving," Cunningham said. "Get everybody in the mood early."