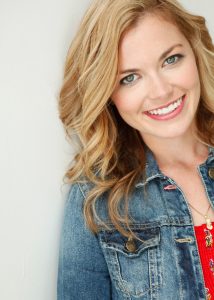 Calling Aubree Sweeney an RV comedienne might be confusing, but then again Sweeney does tour in her own RV, and she's staying at the Newport Dunes RV park while she's in town to headline a comedy night Oct. 18 at the Back Bay Bistro.
Sweeney was born in Nebraska, studied creative writing and English at The University of Arizona in Tucson, and earned a master's degree in screenwriting from the New York Film Academy's Burbank campus on Universal Studios Back Lot.
After graduation, Sweeney realized that "Disney wasn't knocking down my door, begging me for my 'amazing' thesis project," so she ended up at Upright Citizens Brigade, an improvisational theater and training center in Los Angeles.
It wasn't long before Sweeney went from improv to standup.
"I went to an open mic night at the HaHa Comedy Club in North Hollywood. It was messy. I took crash and burn to the next level, but I loved it."
Now, Sweeney is a nationally touring comedian who splits her time between Nebraska, where her family still lives, and Southern California (she's a frequent visitor to Newport Dunes).
Aubree is equally adept as host, headliner and ensemble performer. She has become known for her engaging, high-energy, storytelling style that relates her observations and life experiences. 
"I've been doing the RV thing for about a year and a half," said Sweeney during a phone interview from Tucson, Arizona, where she was performing before heading out to Newport Beach. "A majority of my shows are in the Hollywood area, but Newport Beach is home base for me. The bike trail is so dog friendly (Sweeney travels with Paco, her German shepherd). I love Newport."
Sweeney talked with Back Bay Bistro last summer about creating a comedy night, and they loved the idea. Sweeney invited her comic friends Jonathan Kite ("2 Broke Girls,"), Billy Galewood ("Formally Bushwalla") and Erik Myers ("Dopeless Romantic") to join her.
"I'm hoping we have positive feedback and a good turnout so we can do it more often," said Sweeney. "It should be fun, and the food at the Back Bay Bistro is amazing. I reached out to my comedy buddies—everyone on the show is hilarious, but different. We will all do longer sets. It will be an intimate show, you'll get to know us."
Sweeney says her brand of comedy has to do with her approach to life and connecting with audience members.
"I want to be your friend—I want to have a conversation," she explained. "I want it to be like sitting outside my RV around a campfire. Someone told me that comedy is basically nothing more than a conversation, except I am doing the talking and the audience is talking back by laughing. That's something I always think about."
Sweeney is also thinking about her future. In addition to being a cast member on Omaha Live (a regional version of SNL), she has a concept for a TV show called "RV There Yet?" The concept is simple: Sweeney tours the country, talking to interesting people and doing comedy.
"I stole the idea from an old blog about two women who drove an RV and blogged about it. In the back of my mind, I thought I could do that. Let me do it and see if it works. If it does not work, no harm, no foul."
Of course, Sweeney is half way there since she does live in an RV (she tows a car so she can leave the RV at the campground).
"I've been doing this for almost two years, and in the beginning it was hard—it was a space issue about letting go of things," Sweeney admitted. "My parents have most of my prized possessions in their garage. It's nice to travel light and just be able to pull up your awning and leave."
For those still curious about how someone can live in an RV, you can ask her yourself—Sweeney will be doing a meet and greet after her show on Oct. 18 at the Back Bay Bistro.
Doors open at 7 p.m., show is 8 to 10 p.m. Tickets are $10 in advance, $15 at the door (ages 18+ only). Dinner service is separate.
For tickets, visit Sweeney's website at luvthatdog.com.