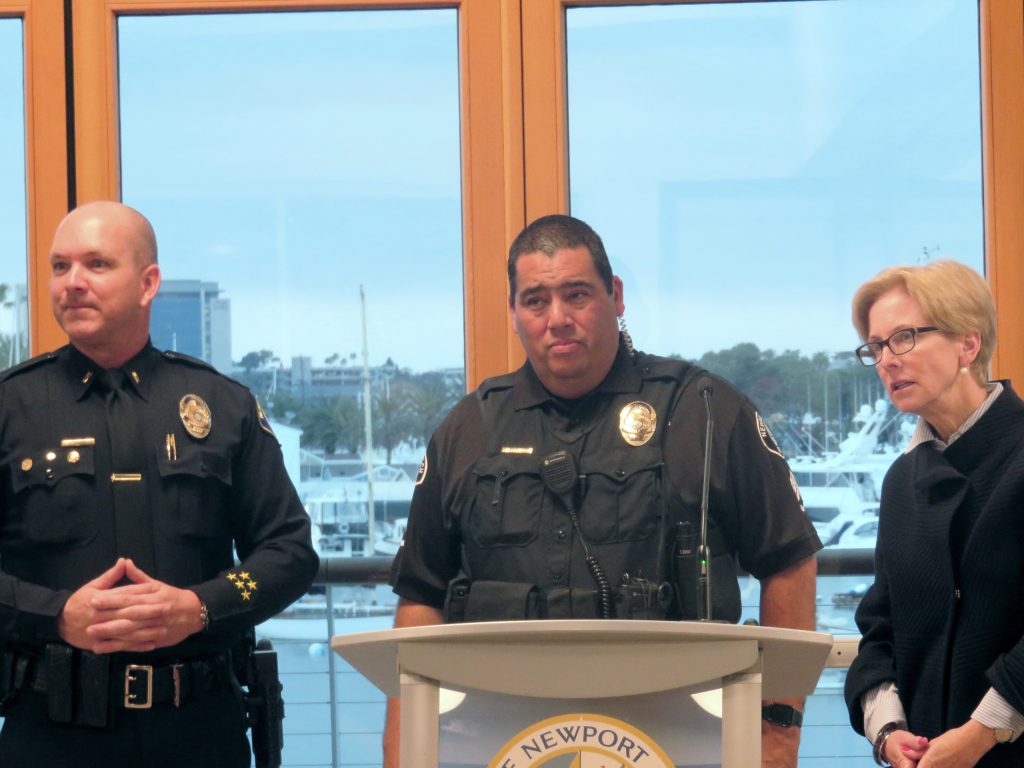 Safety and parking were the two main issues discussed during a town hall meeting on Monday that, at times, got heated.
Nearly 100 people gathered at Marina Park to discuss issues regarding Newport Beach District 1, which covers Balboa Peninsula, Lido Isle and some of West Newport.
Councilwoman Diane Dixon hosted the monthly meeting, which featured city staff speaking on several important issues related to the area.
A lot of interest was peaked during the open forum with the audience, primarily from about a dozen frustrated residents from Finley Avenue who brought up their concerns about parking in their neighborhood, which is severely limited because of visitor and nearby employees parking on the street in front of their homes. Several suggested a plan using parking permits as a potential answer to the problem.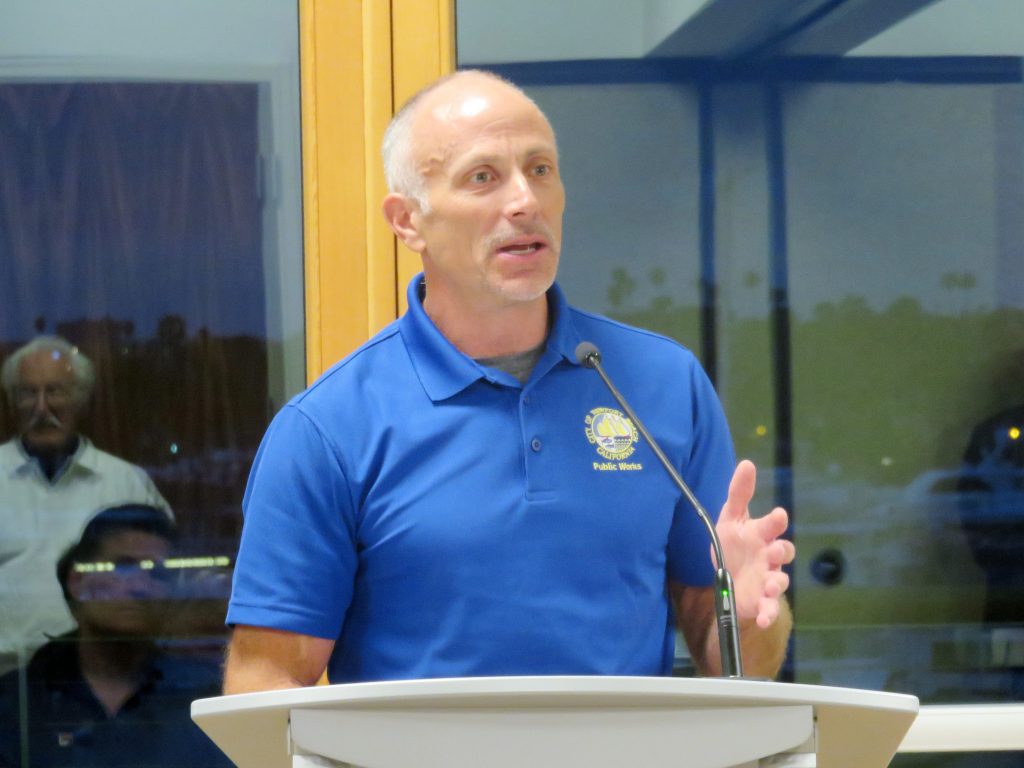 The best solution is a residential parking permit program, agreed City Manager Dave Kiff. But it takes time and several steps to get to that, he added. It takes an action by the City Council to apply to the California Coastal Commission for a program.
The Coastal Act values visitor serving parking, which could mean access to the beach or an area near the harbor, Kiff said. He doesn't believe it's intended for employees, Kiff added.
"I think the parking management plan is probably not specific enough, and we've lived and learned to this and we need to revisit it," Kiff said. "I can't solve the problem though without revisiting it, and that takes a lot."
The city can't just put up a sign saying local employees can't park there because they are public streets, Kiff explained. Anyone, including employees from nearby businesses, are allowed to park on public streets, he clarified.
"There are no easy solutions for this," Kiff said.
Another hot topic of the night was boardwalk safety and regulations. Newport Beach Police Department Sgt. Brandon Rodriguez updated the crowd on the rules and what patrol on the peninsula has been working on recently.
"At the last meeting we obviously heard your concerns regarding the boardwalk," regarding bicycles and electric vehicles, Rodriguez said. "So we took some action to do some things to try and alleviate some of those issues."
The weekend after last month's town hall meeting Rodriguez and his team issued approximately 80 tickets, with the majority of them written on the boardwalk.
They rode up and down the boardwalk and focused on bicycle violations, Rodriguez explained.
"I'm hoping that you're seeing some of the work that we're doing and some of the effects that we're having to help on the boardwalk," Rodriguez said.
On Monday, police officers handed out their recently created pamphlets about safety and what is and isn't allowed on the boardwalk. They have handed the same pamphlet out to boardwalk users and rental companies, noted NBPD Lt. Randy Querry.
It's also about public outreach and education, Rodriguez said. Officers have been working to inform boardwalk users about what is allowed and what is prohibited.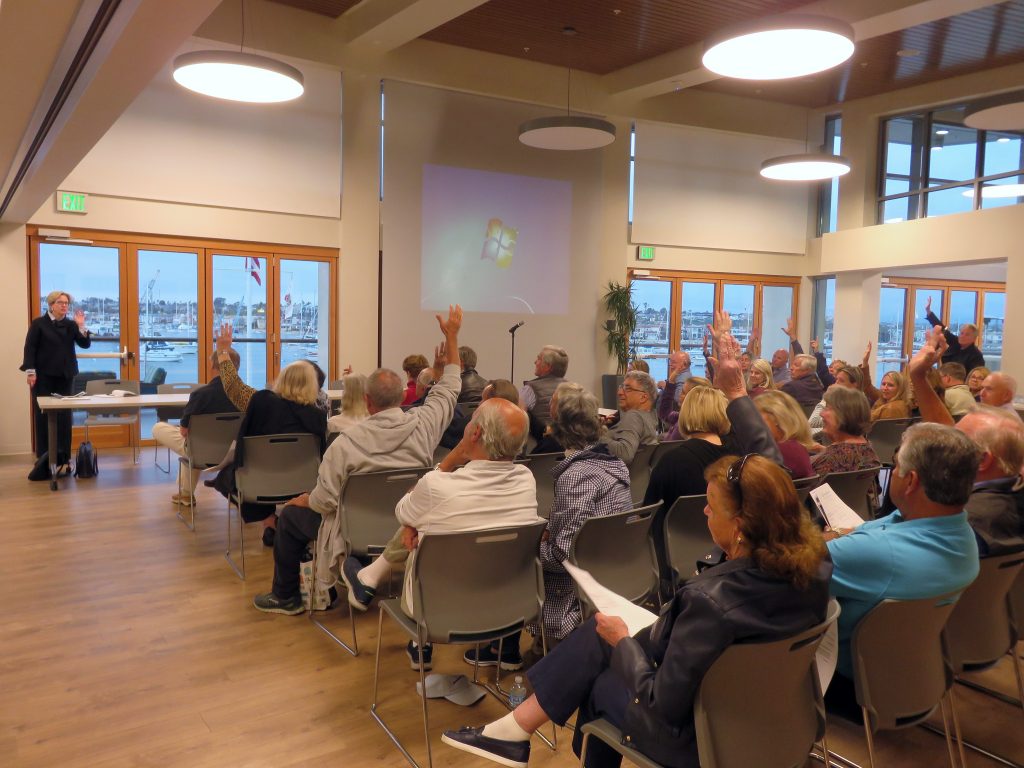 Officers also recently participated in special training to learn how to identify and verify which types of bikes are allowed and which are not, Rodriguez said.
"The guys were real receptive," he noted.
A local bike shop instructed NBPD officers who work West Newport and the peninsula on an array of electric bikes, Rodriguez said. The training was great and very informative, Querry noted.
"It was great training for the officers because we can actually now identify [which electric bikes are allowed]," Querry said. "We're doing everything we can on our side not only to help you guys, but to help ourselves and educate our officers that are going out in the field."
Electric bikes are broken down into three classes, Rodriguez explained, and bikes in the lower two classes are allowed on the boardwalk. Electric bikes that are able to go up to 20 mph are allowed, but the is 8 mph speed limit on the boardwalk still applies to them, Rodriguez clarified.
Just because they are able to reach speeds up to 20 mph "doesn't mean they can go that fast on the boardwalk," Rodriguez emphasized.
"They still have to be under 8 mph and still have to be operated in a safe manner," Rodriguez said. "So, one way or another, if they're not doing that we're still going to stop them and talk to them and if we have to write them a ticket, we will. We'll get the message across and we have tried to."
The boardwalk will continue to be an area of focus during the busy summer months, he added.
About one-third of the audience raised their hands in support of stronger regulations when asked by NBPD.
Electric bikes are "inherently more dangerous," said one member of the public.
City Council will review the regulations in May. The city may also do an online survey on the issue.
Other issues discussed Monday included a project update from Deputy Public Works Director Mark Vukojevic, information about the Balboa Peninsula Trolley project from Deputy Community Development Director Brenda Wisneski, and a brief update on the city budget by City Manager Dave Kiff.
For more information, visit newportbeachca.gov.