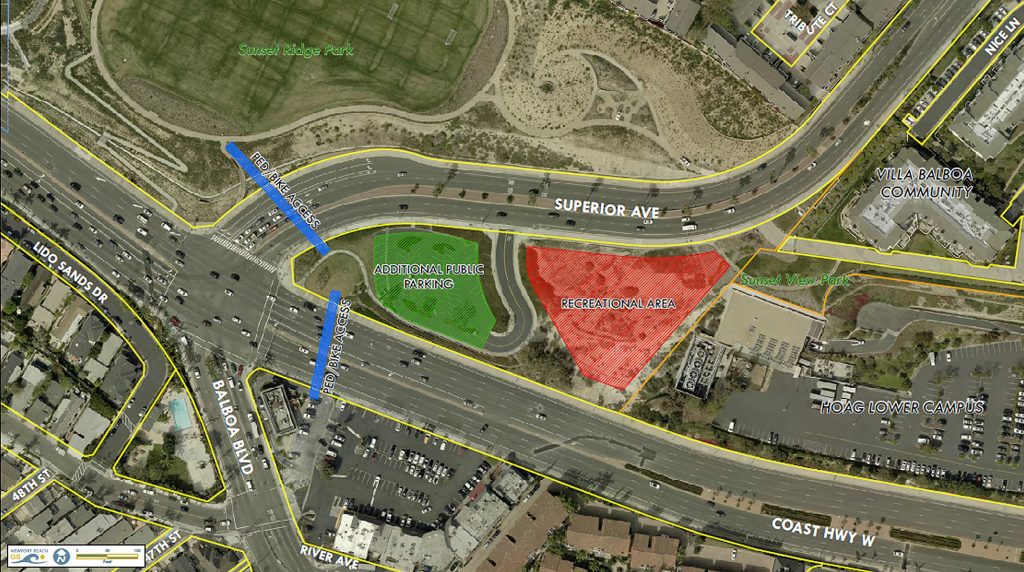 Newport Beach city staff got direction from the Parks, Beaches and Recreation Commission Tuesday on how to proceed with the conceptual design phase for lower Sunset View Park.
Located at the northeast corner of Superior Avenue and West Coast Highway in West Newport, staff is exploring the feasibility of constructing pedestrian overcrossings, additional parking, and a recreational area. The conceptual design of the project is part of the fiscal year 2016-17 Capital Improvement Program.
Commissioners generally supported exploring the ideas for a bridge, dog park, and additional parking, said Senior Civil Engineer Andy Tran.
Public comment on Tuesday was a bit of a "mixed bag" of support and concern, he added.
The project is in the conceptual design phase. Staff is just now hearing ideas, Tran said, nothing is decided yet. This was the very first meeting on the idea, he added.
"It's in the very early stages," Tran emphasized.
Staff is currently developing the conceptual design and will likely share that with City Council within the next two to three months, Tran explained.
Only the conceptual design phase is part of the CIP budget, Tran noted. Nothing is budgeted yet for the environmental, clearance, permitting, final design or construction phases.
Buildout of the concepts could span over several years and multiple phases with the intent to fund this project through grants and other future funds.
The park currently has an existing public parking lot that primarily serves visitors to the beach and Sunset Ridge Park across the street. The area between the parking lot and Sunset View Park is currently undeveloped.
"The intent of this conceptual project is to improve pedestrian access and vehicular circulation, increase parking, and develop a new recreational area," staff explain in the report.
Other ideas for the site include play equipment, restrooms, exercising circuits, bike nodes, and open space.
For more information, visit newportbeachca.gov.