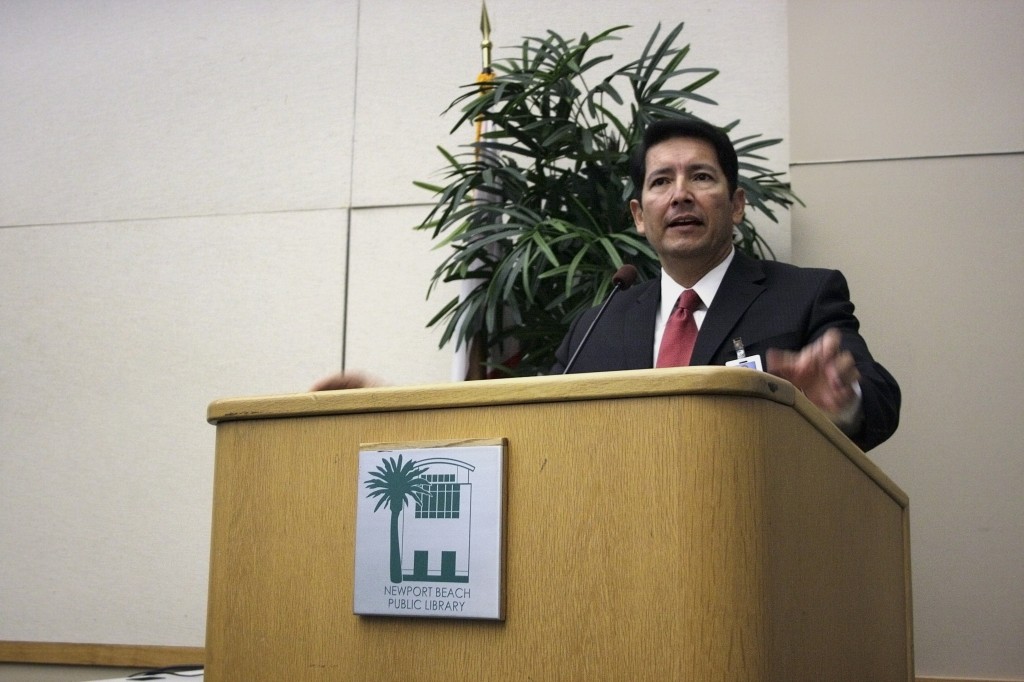 The ABCs of Newport-Mesa Unified School District's priorities were discussed at a community event this week.
About 50 people gathered in the Friends Room at the Newport Beach Public Library Thursday morning for the Chamber of Commerce's monthly Wake Up! Newport meeting.
Thursday's guest speaker was NMUSD superintendent Dr. Fred Navarro, who spoke about the district's priorities for the 2013-14 school year. The board of education just approved the priorities last week.
The ABCs of the district's priorities include academics, behavior and creativity & innovation.
The academics portion had several areas of focus.
Navarro said they want more programs that support higher levels of academic rigor, designed for the students that are "really ambitious," he said. And every school has students who would benefit from such programs, he added.
"students will receive a rigorous and challenging curriculum, educated in state of the art facilities, prepared for college and career," according to the NMUSD priorities report approved by the board.
This includes implementing the Common Core State Standards curriculum.
"Our teachers are doing an amazing job of developing new lessons and new units of study based on the Common Core," Navarro said.
He also mentioned that they want to increase the district-wide National Merit Scholars to meet or exceed the national average in two years.
The last piece of the academics priority on the list is to ensure that "NMUSD classrooms will offer the highest quality instruction through rigorous lesson plans based on effective lesson designs that integrate critical thinking, communication, collaboration, and creativity."
Behavior of students is important as well, Navarro said.
"NMUSD Schools will maintain high expectations for student behavior by holding all pupils accountable," the report reads.
They need to be taught to be responsible members of the school community "by providing them opportunities to lean from their errors in judgment."
"We have some children who have to be taught how to behave properly and be good community members," he said. "We're really having a lot of great discussions about how we teach kids to be good citizens."
Creativity in students is also encouraged, he added. It's important to maintain arts programs in the schools, Navarro said, and the board has insisted that it remain a focus for the district.
"We're right now working to figure out how we can make that a more powerful arts program in our district," Navarro said.
The arts program helps to tap into students talents and interests in more ways, Navarro said.
The priorities list that "school zones will identify and refine at least two distinguished programs, one academic and one in the arts," under creativity and innovation.
Navarro also spoke about the district's creation of flagship programs in each of the four zones, which are divided up by the high schools.
Each school would have a specific focus. According to data collected last year from parents, the Corona del Mar zone was interested in life skills and communications and the Newport Harbor zone highlighted dual language and also communication.
Questions from the audience included STEM education, Career Technical Certification Program, district zones, and Common Core State Standards.
"I am very grateful for the open door that the school district has afforded the city of Newport Beach," councilman Tony Petros commented.
The two entities have common interests, he added.
"We know that your mission is to train the citizens and leaders in our communities," Petros said. "We get that and we want to work together on that."