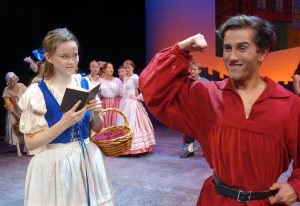 Kids take center stage at South Coast Repertory this summer when the group's Summer Players tackle Disney's "Beauty and the Beast" on the Julianne Argyros Stage through August 14, directed by Hisa Takakuwa, with music direction by Erin McNally.   
 "Beauty and the Beast" is a traditional French fairy tale about an arrogant prince, who has been transformed into a beast, and his beautiful captive, who discovers that real beauty comes from within. 
American audiences are most familiar with Disney's Academy Award-winning animated film and its subsequent Broadway musical version, which Takakuwa has chosen for the Summer Players.  The stage version features lively hits like "Be Our Guest," as well as the beloved title song.
"Disney's 'Beauty and the Beast' is a song-filled show with a story that can be told from the point of view of the young actors," Takakuwa says. "In the play—as in their lives—everyone has the power to change, grow and learn from every situation, good or bad.  That message will resonate, not only with the cast, but with young people in the audience." 
The Summer Players is made up of 34 students from SCR's Kids and Teen Acting Program—including two recent graduates—who are chosen by audition after at least a year in the Theatre Conservatory. Many are experienced actors who have been in the program since the third grade. For a few students, this will be the first time they have performed onstage. 
"Our older actors are there for the youngsters, always encouraging them," Takakuwa said.  "Instilling confidence and self-esteem is what our program for kids is all about."
Takakuwa has been director of SCR's Theatre Conservatory for eleven years and has performed with SCR's Educational Touring Production and as Sally in A Christmas Carol.  he is a former member of the classic theatre company A Noise Within. 
McNally is an actor, vocalist and educator. A longtime Theatre Conservatory instructor, she created SCR's Musical Theatre classes for advanced Teen students. 
Among the 34 student actors are four from Newport Beach: Jaden Fogel (D'Arque/Ensemble), Christopher Huntley (Lumiere), Mitchell Huntley (Ensemble), Lauren Lyons (Silly Girl/Ensemble), and         Aoife McEvoy (Ensemble).
Tickets are $15 children and $19 adults, and may be purchased through the SCR Box Office at (714) 708-5555 or online at scr.org.