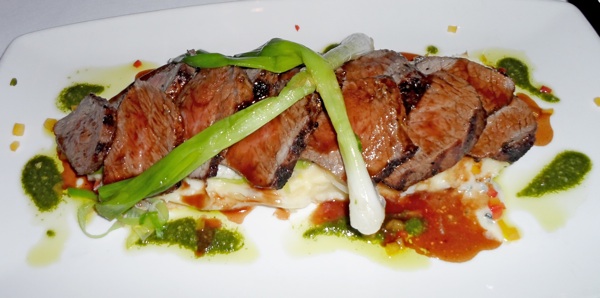 As season's change, so do restaurant menus. That's a fabulous thing for foodies, particularly during summer, because we can enjoy fresh ingredients and fun recipes perfectly suited for the season.
Two local bistros boasting new summer menus are Bayside and Seasons 52. Naturally, Catherine (my editorial assistant) and I had to visit each restaurant and sample the new dishes.
BAYSIDE
I've been to Bayside for their live music in the lounge, but never really had a proper dinner there, so the new prix fixe summer menu (offered during lunch and dinner) provided the perfect excuse to sit in the dining room next to the lounge. We could still enjoy the sounds of the Ron Kobayashi Trio (they play every Thursday) while exploring Bayside's cuisine.
Before ordering the summer menu, our server recited some specials, including an appetizer that sounded intriguing: Texas style quail, deboned, sautéed, served on a bed of truffle cheese polenta, wild mushrooms and bacon, with balsamic vinegar reduction and pumpkin seed oil.
"This is so delicate, and so flavorful," said Catherine after sampling the quail. "The polenta has the perfect amount of cheese, and is well complemented by the truffle sauce, mushrooms and bacon. The pumpkin seed oil adds an interesting element to the dish."
"I agree, I don't have quail too often, but this is a beautiful presentation, and the polenta is indeed perfect."
The prix fixe menu for dinner includes a first course of salad or soup, main course of Sauteed Tiger Prawns with Risotto, Grilled Culotte Steak, Oven Roasted Chicken Breast, or Soy Glazed Scottish Salmon. Diners can select their choice of sweets from the dessert list to complete the meal.
"Wow, look at the size of your salad. It looks like an entree," I said as our first courses arrived.
"This could feed four people," agreed Catherine as she dug into the overflowing salad dish. "Your soup looks good–want to share some salad?"
We completed our first course, then carried on to the main entrees: Grilled Culotte Steak with blue cheese potato leek fondue, arugula pesto and a wine merchant sauce for Catherine, and the Scottish Salmon for me.
"How's your steak?" I asked Catherine as I placed a forkful of flaky fish in my mouth.
"It's tender and juicy. I really enjoy the mashed potatoes, they're soft and the blue cheese flavor isn't excessive."
"I love the salmon, the soy glaze gives it a nice exotic flavor without overpowering the salmon."
For dessert, we chose Crème Brûlée, which came in a very large ramekin.
"This is now on the top of my list for the best Crème Brûlée I've had," exclaimed Catherine. "The sugar on top is thicker than any I've had before, which adds more flavors. I can really taste the burnt sugar, along with the vanilla custard, in each bite."
"What I really like is that we can enjoy dinner, have a conversation, and still listen to the live jazz," I said as we got up to leave. "Only one problem."
"What's that?" queried Catherine.
"Sampling the summer menu makes me want to return to try dishes off the regular menu too."
"Sounds like we'll be back sooner rather than later."
SEASONS 52
Season's 52 at South Coast Plaza has a palate – and diet – pleasing concept:
menus change four times a year with weekly specials that capture the flavors of each season. Nothing on the menu is more than 475 calories, from the signature flatbreads and appetizers to all entrees and the popular Mini Indulgence desserts.
Catherine accompanied me to a Seasons 52 spring menu tasting earlier this year, so she was eager to see what they've added for summer. She enjoyed the summer tasting so much I let her offer comments.
"The new seasonal cocktails include the Watermelon Refresher and the Strawberry Lemon Euphoria. The Watermelon Refresher uses light rum and has a sweet light taste, perfect for an early afternoon drink. The Strawberry Lemon Euphoria had a darker rum and bold strawberry flavor. I saw myself sitting on a back porch watching the sun set while drinking this cool summer drink.
Our first course was Chilled Lobster and Shrimp Spring Roll with three sauces formed to look like a stoplight, paired with Hirsch #1 Gruner Veltliner, Kamptal, which was peppery and light, a nice complement to the dish.
The summer Vegetarian Tasting plate gave us a variety of options. I really enjoyed the 'grains of life,' which reminded me of oatmeal but with more protein.
I loved the Wild Alaskan Copper River Salmon. It was fresh and light, and paired perfectly with the Chehalem INOX, Williamette which brought out the smokiness in the dish. The corn risotto was a great side–you can't go wrong when mixing Parmesan and mozzarella cheese.
The Piedmontese All-Natural Bone-in Strip Steak had a delicious sweet red wine sauce. It also included dried molasses, lavender and a pinch of salt and pepper. The unusual ingredients really added a different level of taste to the streak. The Markham Cellar 1879 red wine blend from Napa brought out the pepper in the sauce."
Our conclusion: Seasons 52, and Chef Tim Cast, have hit another culinary home run.