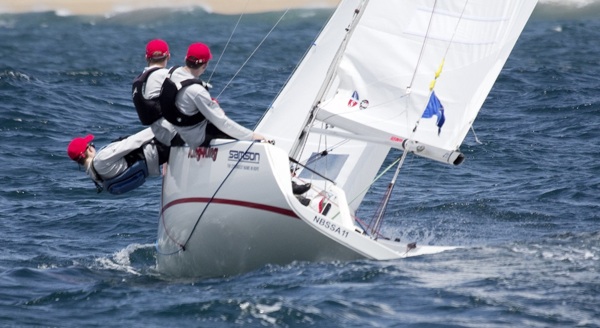 Tim Coltman, Adam Middleton and James de Lisle of the Royal Port Nicholson Yacht Club defeated their fellow New Zealanders from the Royal New Zealand Yacht Squadron 3-0 in the finals to win the 46th Governor's Cup Youth Match Racing Championship on Sunday in the waters off Newport Beach.
The 46th Gov Cup featured many of the very best under-21 match racers from around the world. The quarter-finalist skippers included four racers rated under 100 in the International Sailing Federation match-racing rankings: Ashlen Rooklyn of Cruising Yacht Club of Australia at 88, San Diego Yacht Club's Nevin Snow with 31, Coltman with a 48, and David Hazard of RNZYS with a 75 rating.
Snow was the defending champion, and the leader after the first round robin, but fell to Coltman and the RPNYC in the semi-finals. The San Diego sailors then were bested by Rooklyn's CYCA and ended the regatta in fourth.
The final results were:
1. Royal Port Nicholson Yacht Club (New Zealand)
2. Royal New Zealand Yacht Squadron
3. Cruising Yacht Club if Australia
4. San Diego Yacht Club
5. Royal Freshwater Bay Yacht Club (Australia)
6. Balboa Yacht Club
7. Royal Sydney Yacht Squadron (Australia)
8. Mission Bay Yacht Club
9. San Francisco Yacht Club
10. Gotesborgs Kungliga Segel Sallskap (Sweden)
11. Chicago Yacht Club
12. Newport Harbor Yacht Club
Trophies were presented on the flag deck at Balboa Yacht Club on Sunday after the racing. Club members and guests gathered to celebrate the most memorable and competitive of the many Governor's Cup regattas. BYC's first female Commodore, Judi Gorski, presented the trophies.
The Chet and Glee Purcell Sportsmanship Trophy went to Jakob Klitte, Felix Mossberg and Fredrick Hoije from Sweden. It was presented by Tom Purcell, the son of the founders of the Gov Cup.
Highlights of the week for the young racers include the visit from James Spithill, current skipper of the America's Cup Oracle Racing Team. In 2010, Spithill became the youngest skipper to win the America's Cup.
He raced in the 1994 and 1996 Gov Cups, representing Royal Prince Alfred Yacht Club (Australia). Spithill spoke at the morning skipper's meeting on Saturday and visited on the dock with members of each team. He is currently racing the AC45 in preparation for next year's America's Cup.
Another highlight was the visit from the America's Cup trophy. Tom Ehman, the Vice Commodore of the Golden Gate Yacht Club, home club of Oracle Team USA and holder of the America's Cup, spoke and showed video of the exciting AC45s in action.
– By Nancy Mellon
For more pictures and coverage, see the Newport Beach Indy on Friday.