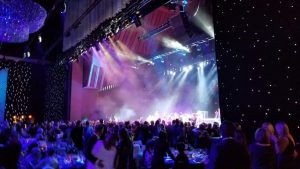 Segerstrom Center for the Arts' 45th Annual Candlelight Concert will be an evening-long feast for the senses while raising funds that will support the Center's artistic, community engagement and education programs.
Sandy Segerstrom Daniels and Jane Fujishige Yada are co-chairing the November 30 gala that starts at 5:30 p.m. with red-carpet arrivals followed by a reception on the Orchestra Level Lobby, dinner on the Segerstrom Hall stage, and concerts.
The music begins with Tony Award winners Susan Egan ("Beauty and the Beast") and John Lloyd Young, and Broadway star Tony Yazbeck. The Cal State Fullerton University Chorus will also perform during the first half of the evening.
The heat will be turned up for dancing with the legendary Earth, Wind and Fire.
Proceeds from Candlelight Concert helped to build Segerstrom Center for the Arts, which opened in 1986. Since then, more than 18 million people have attended performances and more than 7.1 million students and teachers have been served through its acclaimed, nationally recognized community engagement and education programs.
Segerstrom Center is also home to the American Ballet Theatre William J. Gillespie School and School of Dance and Music for Children with Disabilities.
During a special kick-off event hosted by Saks Fifth Avenue South Coast Plaza, co-chairs Sandy Segerstrom Daniels and Jane Fujishige Yada said, ""We are thrilled to co-chair this 45th annual Candlelight Concert. We both were raised in Orange County and have watched how Segerstrom Center for the Arts has contributed so expansively to the life we enjoy here. In addition to the incomparable performances in the Center's theaters, the education and community engagement programs impact on the lives of hundreds of thousands of children, students, teachers and families every year…It is a pleasure for us to invite to this Candlelight Concert all those who believe in the Center and its many programs that are making substantive and lasting contributions to our community."
The Candlelight Concert committee thanks Gown Spotlight Sponsor Saks Fifth Avenue and Valet Sponsor KIA, official automotive Partner.
The inaugural Candlelight Concert in 1974 raised money to build a major performing arts center in Orange County. It was held in a vacant Kresge five-and-dime. The room was re-envisioned into an elegant ballroom with the use of candles and elegant decor. Since then, the annual gala has been called Candlelight Concert featuring entertainment by celebrated artists.
To learn more about the Center's Candlelight Concert, please contact Center Director of Special Events Irma Ramirez at (714) 942-6247.