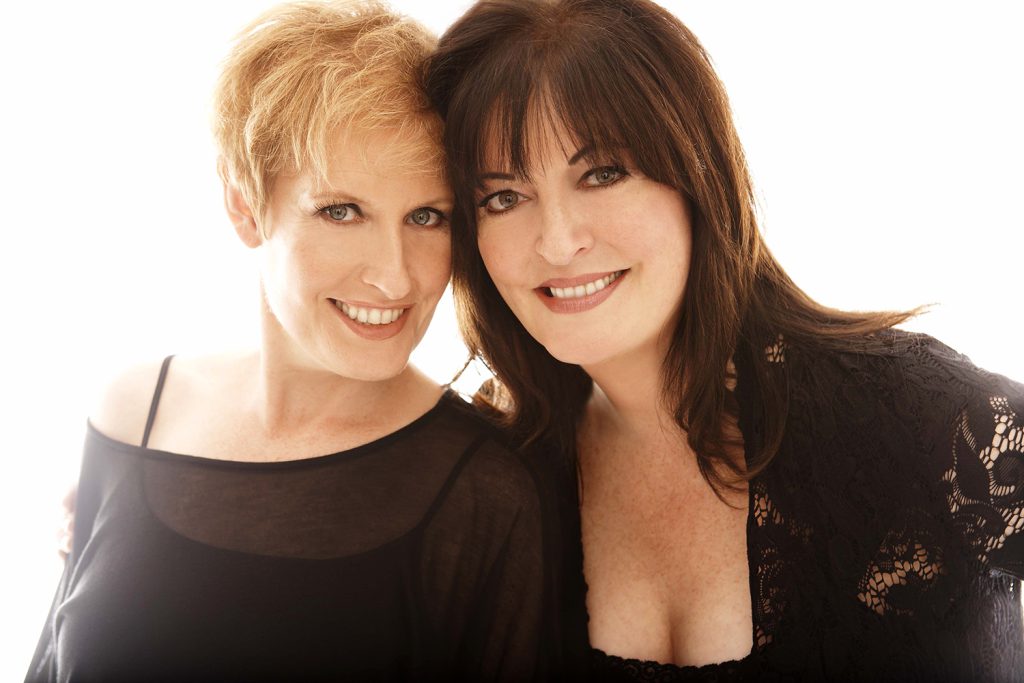 "Liz Callaway and Ann Hampton Callaway are the best sister act of all time…their show is indisputable, irrefutable, magical, musical, melodious, harmonious perfection."
That high praise from BroadwayWorld.com sums up "Broadway the Calla-Way!" that comes to the Samueli Theater at Segerstrom Center for the Arts March 30 through April 1.
Sisters Liz Callaway and Ann Hampton Callaway created their cabaret show that combines humor, harmonies, and showtunes to highlight songs from their favorite composers, and from their roles that netted them Tony Award nominations.
Liz Callaway received a Tony Award nomination for her performance in "Baby," and was also seen on Broadway in "Merrily We Roll Along," "Cats," "Miss Saigon," "The Three Musketeers," and "The Look of Love."
She sang the Academy Award-nominated "Journey to the Past" in the animated feature "Anastasia." Other film work includes Jasmine in the two "Aladdin" sequels, "The Swan Princess," and many others. She released a Stephen Sondheim tribute album, "To Steve With Love: Liz Callaway Celebrates Sondheim," last November.
As a champion of The Great American Songbook, Ann Hampton Callaway made her mark as a multi-hyphenate performing artist. As a singer, pianist, composer, lyricist, arranger, actress, educator, TV host and producer, Ann blends jazz and traditional pop to create a unique musical style unlike any other. She is a Platinum Award-winning writer whose songs are featured on seven of Barbra Streisand's albums, and she's known for her Tony-nominated performance in "Swing!" on Broadway. She also wrote and sang the theme song for "The Nanny."
According to Liz Callaway, their "Broadway the Calla-Way!" show was not easy to put together because they had so many favorite songs from which to choose.
"We could have had a show that is six hours long," joked Liz during a recent interview. "This show is personal. It's our favorite Broadway songs that have meaning to us."
This include a song from "Mame," which Ann Hampton Callaway was in as a teen, a 15-minute medley of every Broadway duet they could think of, tunes from their favorite Broadway composers including Sondheim, and a gem from "Pippin."
"The song is 'Corner of the Sky,' and it's a perfect example of taking a song Broadway lovers know and putting our spin on it," said Liz. "It's a fresh arrangement of that song."
"Liz and I really love crafting a beautiful show, we work really well together," added Ann. "The show has an autobiographical element. It's our love of Broadway, and now these songs have impacted our lives—it's the way we have taken these songs and put them in a fresh context so instead of just musical theater songs, we become the characters and are having a conversation and breaking them down as duets. It's very interesting personal discussions of things that matter to us. People will know us better, and fall in love with these classics and relate to them on a personal and emotional level."
Ann said she and Liz love each other and have a lifetime of knowing each other, and it's that depth of a relationship that audiences will experience.
The Callaway sisters are backed in their show by what Ann described as "a top notch trio" of piano, bass and drums.
And stick around after the show—both Liz and Ann will be in the Samueli Theater lobby signing CDs.
Tickets to "Broadway the Calla-Way!" are $79 to $89. Visit www.scfta.org for tickets, or call the box office at (714) 556-2787.